Recipe: Braised Cabbage Of Dreams
Chef and food writer Olia Hercules' third cookbook Summer Kitchens is a colourful exploration of her Ukrainian culinary heritage. The idyllic cookbook is filled with delicious recipes that utilise seasonal ingredients, home-grown produce and traditional techniques of preserving surplus in preparation for winter. And while cabbage and potato are often associated with Eastern European cuisine, Olia's braised cabbage recipe is not to be overlooked.
"For a long time, I had a real, deep-rooted complex about Ukraine's cabbage and potato dishes, all too often the only things people in the West associated with Eastern European cooking. But now I embrace them all – none more so than a delicious braised cabbage. When my Cornish friend Sean cooked this recipe, the next day he texted me these beautiful words: 'I cannot convey how much I loved the cabbage last night, so amazing. It goes so far to disprove the stereotype. I had dreams about it.' Needless to say, that made my heart sing!"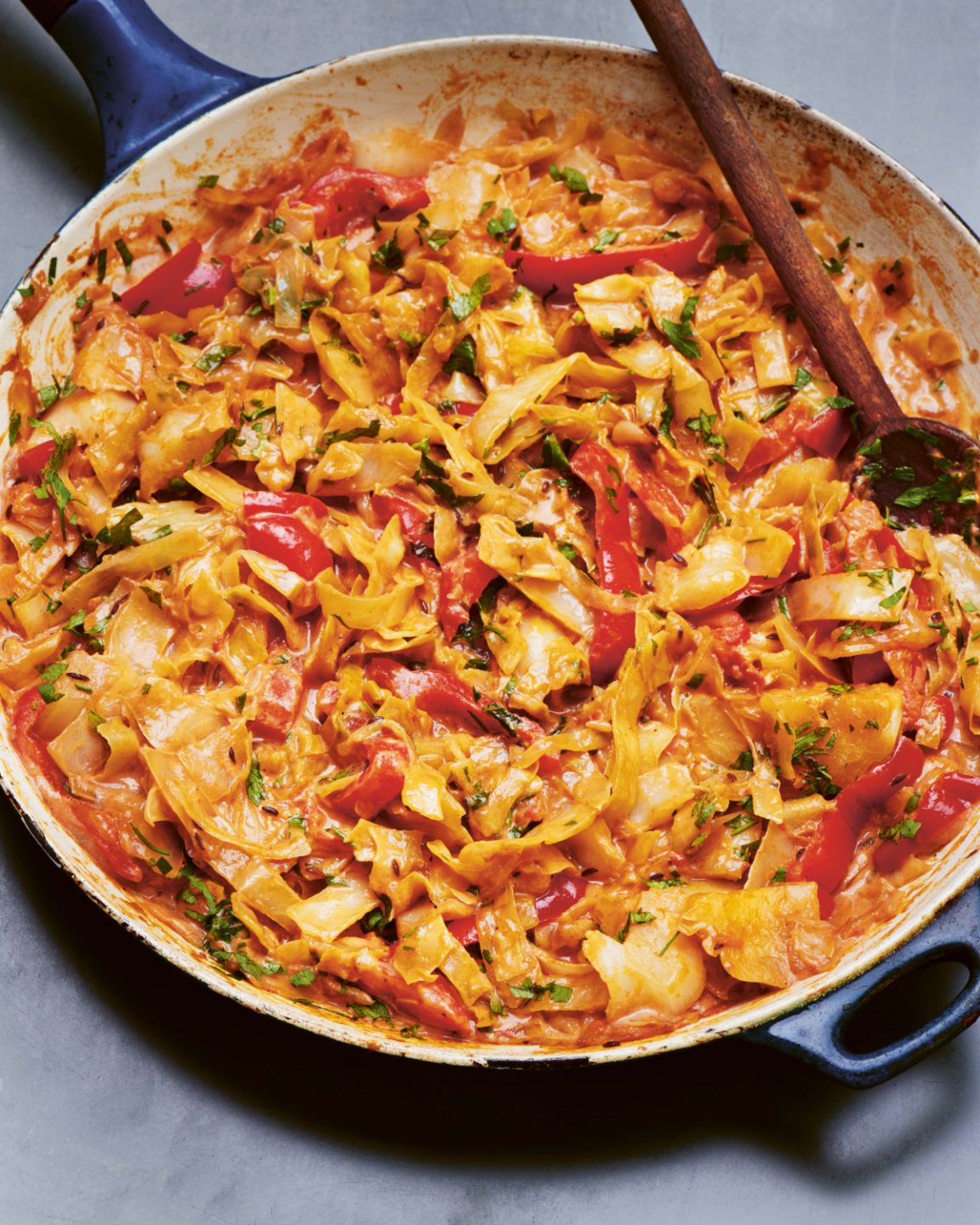 INGREDIENTS
Serves: 6
Serve this as an accompaniment to poultry or sausages, or on its own with bread.
1 small white cabbage
2 onions, thickly sliced
1 large red pepper, thickly sliced
100ml tomato juice (or use the juice from tinned tomatoes)
1 1⁄2 tsp caraway seeds
2 tbsp rapeseed oil
200g crème fraîche
1 tbsp chopped parsley
Sea salt and black pepper
METHOD
Slice the cabbage into 1cm wide strips and put it into a bowl. Add 1 teaspoon of salt and use your hands to massage it in well.
Heat the oil in a deep frying pan or shallow, flameproof casserole over medium-low heat. Add the onions, along with a pinch of salt to help release their juices and stop them from burning. You could also cover the onions with a lid or cartouche (a circle of baking parchment about the same size as your pan) to speed things up a bit.
Cook, stirring every so often until the onions are soft and turning a deep golden colour. Add a splash of water if they seem dry or are starting to catch a bit.
Now add the cabbage and caraway seeds and turn down the heat to low. Cover with a lid and cook for about 20 minutes, or until the cabbage starts softening. If it gets too dry, add a splash of water. Add the red pepper and cook for another 5 minutes.
Gently warm the tomato juice in a small pan, then stir in the crème fraîche and add to the cabbage. Taste the sauce and make sure it is well-seasoned, otherwise, the cabbage will be too bland and it will not become the cabbage of your dreams.
Cover and braise for another 30–40 minutes – when it is ready, the cabbage should be soft, but not falling apart. Stir through the parsley and serve.
The featured recipe is from Summer Kitchens by Olia Hercules.