Recipe: Cheesy Cornbread Muffins
Taken from The Flexible Family Cookbook by Jo Pratt, these cheesy cornbread muffins are the rustic, savoury snack that you'll keep returning to this autumn-winter. Whip up a batch and keep them as a grab-and-go option, or serve them as a side dish with your lunch and dinner. Packed with a multitude of flavours, and topped with an irresistibly crunchy crust, this is comfort food at its finest.
"The one thing most of us struggle with is finding a suitable savoury snack that's not packed with salt and fat. It's so easy to grab a bag of crisps or a bought pastry, but with a little pre-planning, this is where these muffins work really well." – Jo Pratt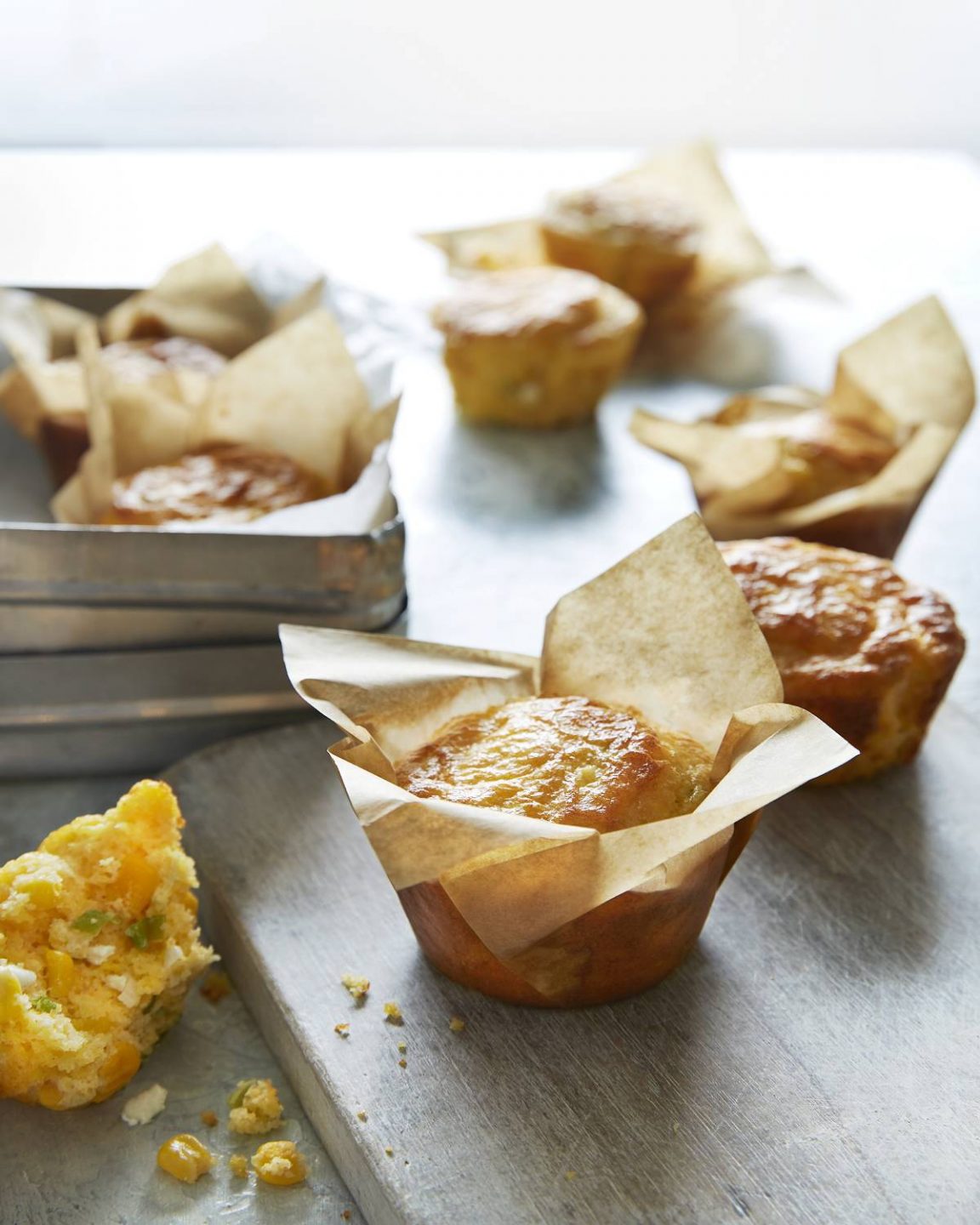 Makes 12-18
Batch size depends on the size of muffins you choose to make
150ml milk
200ml buttermilk
3 eggs
165g sweetcorn
3 spring onions
75ml rapeseed or olive oil
175g polenta
100g plain flour
1tbsp baking powder
50g grated cheddar cheese
50g crumbled feta cheese
flaked sea salt
1. Preheat the oven to 180°C/160°C fan/350°F/gas 4 and line a muffin tin with baking parchment or silicone cases. Larger 'tulip' paper cases will give you 12, but standard muffin cases will make up to 18 cooked muffins.
2. Put the milk, buttermilk, eggs, sweetcorn, spring onions and oil in a bowl and mix to combine.
3. In a separate bowl, mix together the polenta, flour, baking powder, cheeses and a pinch of salt.
4. Pour the wet ingredients over the dry and mix briefly to just combine. Avoid over-mixing as this will give you more dense muffins when cooked.
5. Divide the mixture between the muffin tins (for ease use an ice cream scoop). Bake for 18–25 minutes, depending on their size, until they are light golden brown and just firm to touch in the middle.
6. Cool in the tins for 10 minutes before cooling on a wire rack and serve them warm or at room temperature. Eat within a couple of days, or freeze any left over, defrosting them at room temperature or gently warming in the microwave or oven when it's time to eat again.
– To create gluten-free muffins, use gluten-free plain flour and baking powder.
– For a dairy-free alternative, swap the milk for a dairy-free option such as oat, soya or any nut milk. As a substitute for buttermilk, stir one tablespoon of lemon juice or white wine vinegar into your chosen dairy-free milk and leave it to sit for about 10 minutes until it thickens and looks like it's curdled slightly; then use in the recipe as above. Both the cheddar and feta cheese can be substituted for vegan/dairy-free alternatives.
– Finally, if you would like to upgrade the recipe, 50g of chopped ham, salami or chorizo can be added to the mixture before baking; and, for a touch of spice, add in a finely chopped red or green chilli.