Recipe: Cherry, Almond And Dark Chocolate Tiffin
This tiffin recipe from Signe Johansen's book Solo ticks all the boxes, with its dark chocolate, crunchy biscuits, nutty almonds and dried sour cherries. Often referred to as 'refrigerator cake', these sweet treats are a great alternative for when you're craving something other than cake or a chocolate bar.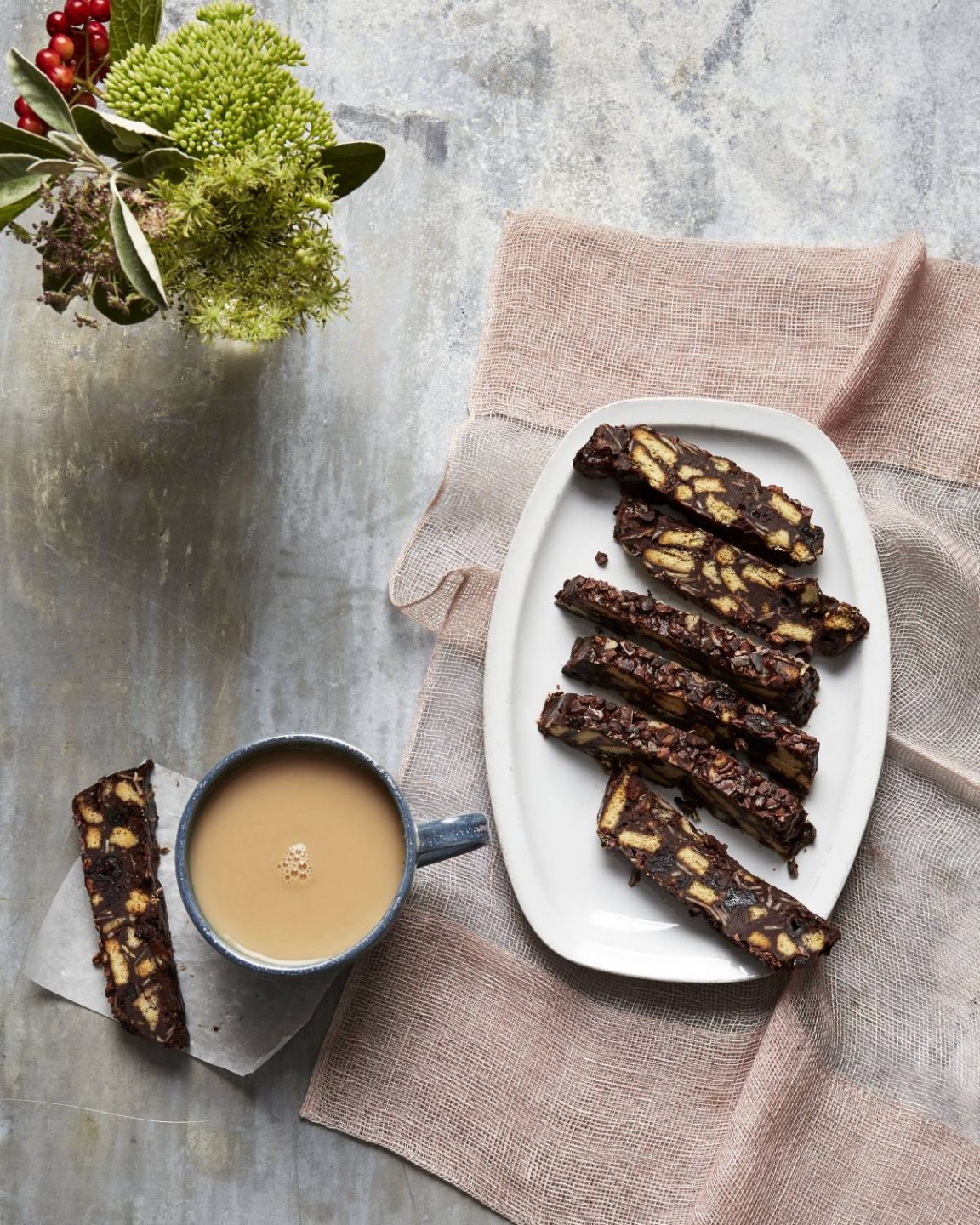 SERVES 8 to 10
150g dark chocolate broken into pieces
100g unsalted butter, softened
2tbsp golden syrup
1 tsp vanilla extract
1 egg
a handful of dried sour cherries (about 75g)
a handful of toasted flaked almonds
6 digestive biscuits
4 shortbread fingers
a sprinkle of fleur de sel or sea salt (optional)
a sprinkle of cocoa nibs
1. Line the base and sides of a 450g loaf tin with cling film (if it doesn't stick, greasing the base with a little oil will act as an adhesive).
2. Melt the chocolate in a heatproof bowl set over a small saucepan of simmering water, making sure that the bottom of the bowl doesn't touch the water, then remove the bowl from the pan and set it aside to cool slightly.
3. In a separate bowl, cream the butter with the golden syrup and vanilla for a few minutes until pale. Add the egg and beat rapidly. The mixture may split but it will come together again when you add the chocolate.
4. Add the melted chocolate, fold everything together and add the cherries and almonds. Roughly crumble the biscuits and shortbread into chunks (if they're too crumbly you won't get that nice crunch when biting into the Tiffin) and fold them in to make a lumpy, chocolatey mess.
5. If you'd like a little extra crunch, sprinkle the salt and cocoa nibs on to the bottom of the prepared tin, then spoon the tiffin mixture into the tin and press it down with the back of a spoon or spatula to level out the surface.
6. Cover with cling film and chill in the fridge for a few hours or overnight. Cut into slices or smaller bites and keep in the fridge for up to a week.