Recipe: Chicken Nasi Goreng
Lara Lee's debut cookbook Coconut & Sambal explores her Indonesian culinary heritage and is packed with flavoursome recipes that are easy to recreate at home. For weekends spent at home, this chicken Nasi goreng is a comforting dish for nights spent watching your go-to Netflix series.
"I've been eating chicken fried rice for as long as I can recall and it's a dish of which I never tire. This version of nasi goreng is my absolute favourite. The galangal and white pepper give it a good amount of heat, which is balanced by the sweetness of the kecap manis and the saltiness of the soy and fish sauce."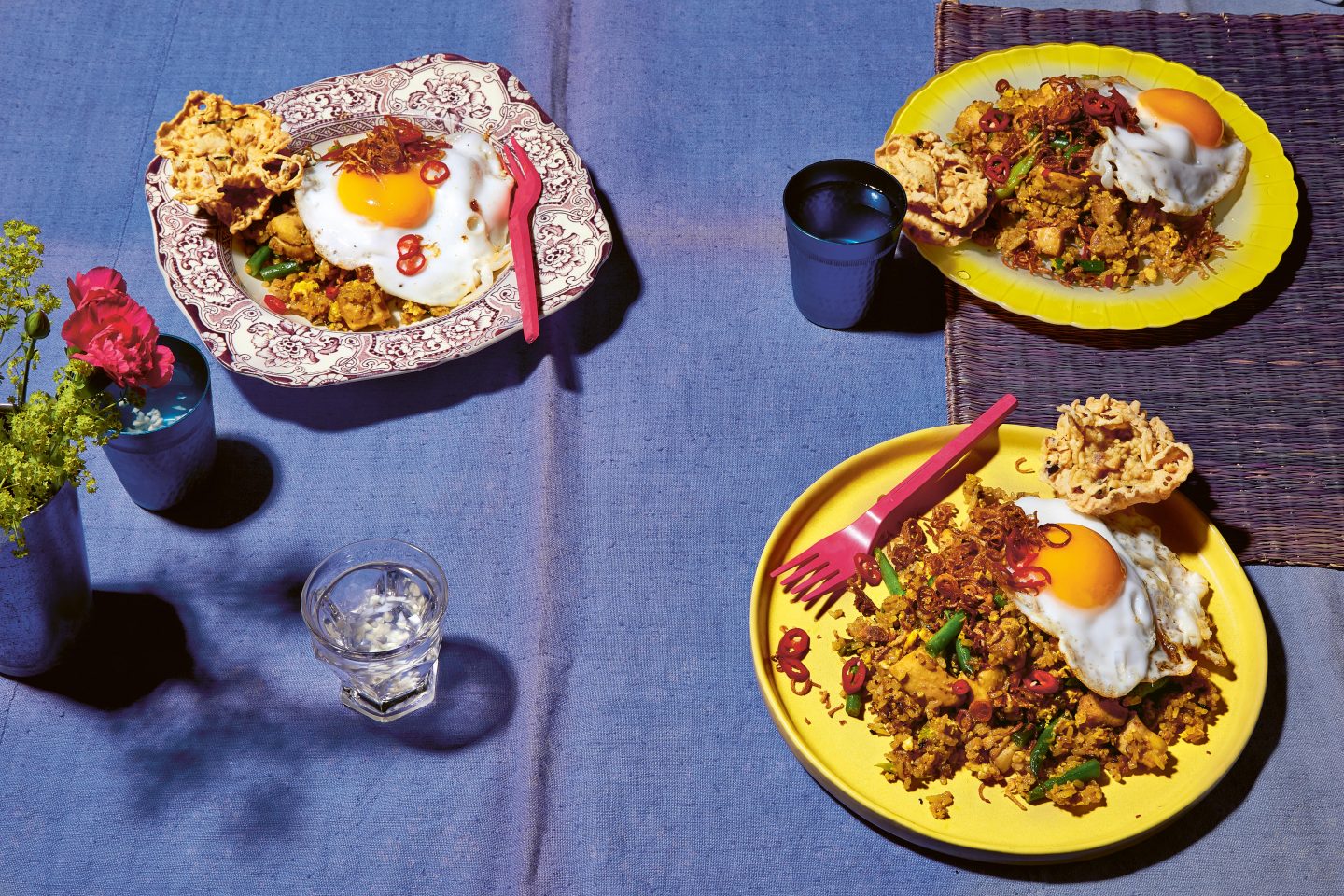 INGREDIENTS
Serves 2 as a main dish or 4 as a side
Sambal suggestion: Peanut sauce
2 skinless, boneless chicken thighs, cut into small, bite-sized cubes
2 garlic cloves, peeled and thinly sliced
8cm piece of galangal or ginger (about 40g), peeled and woody stem removed, finely chopped
1 small banana shallot or 2 Thai shallots, peeled and thinly sliced
A handful of green beans, chopped into small chunks
2 spring onions, chopped into large chunks
1⁄4 tsp ground turmeric
95g jasmine or basmati rice, cooked and cooled (240g cooked weight)
2 tbsp kecap manis
11⁄2 tsp fish sauce
2 tsp light soy sauce
Sea salt and white pepper, to taste coconut oil or sunflower oil, for frying
To serve
2 duck or hen's eggs
1 tbsp Fried shallots
1⁄2 long red chilli, thinly sliced Kerupuk or prawn crackers
METHOD
Season the chicken pieces with salt and white pepper. Heat 1 tablespoon of oil in a large frying pan or wok over a high heat and fry the chicken until cooked through, about 3 minutes. Remove and set aside.
Add another tablespoon of oil to the pan, add the garlic, galangal or ginger and shallots and cook over medium-high heat until fragrant. Add the green beans, spring onions and turmeric and cook for 1 minute.
Add the rice to the pan, breaking up any clumps with a wooden spoon. Ensure all the ingredients are well combined and the rice is warmed through. Return the chicken to the pan. Season with the kecap manis, fish sauce, light soy sauce and a large pinch of white pepper, and extra salt if needed.
Meanwhile, fry the eggs. Place a large non-stick frying pan over medium-high heat and add
1 tablespoon of oil. Once shimmering, crack the eggs directly into the oil. Cook for 2–3 minutes until the whites are partially cooked. Tilt the pan and spoon the hot oil over the egg whites until they are cooked (whether you prefer a runny yolk or not) – season with salt.
Divide the fried rice between two serving plates and garnish with the fried shallots, sliced chilli and fried eggs on top. Serve with crackers.