Recipe: Green Chilli And Mango Channa Dahl
Whether you're planning a dinner party or looking for new flavoursome dishes to try, The Spice Tree brings together a host of authentic curries to make with simple steps to follow.
 
Nisha Katona's sweet-sour and incredibly refreshing dahl works best with the flesh of big, happy South American mangoes that are available everywhere. This dish is all about sweet sunshine joy.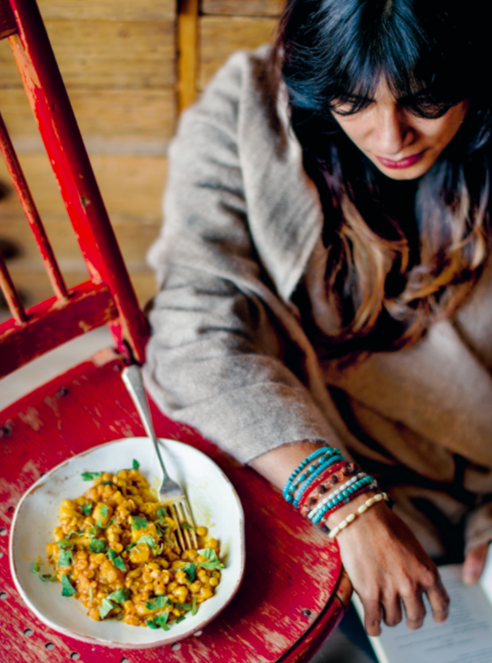 Prep Time: 10 mins
Cook Time: 45 mins
Serves: 4–6
Channa lentils 250 g
Tinned chopped tomatoes, 200 g
Ground turmeric, 1⁄4 tsp Water, 1 litre
Vegetable oil, 3 tbsp
Ghee, 1 tbsp (optional)
Cumin seeds, 1 tsp
4 medium green chillies, deseeded and chopped into 5 mm slices
Chilli powder, 1⁄4 tsp
1 large unripe green mango,
300 g, peeled and cut into 1 cm chunks
Sugar, 1 tsp
Salt, 2 tsp
Juice of 1⁄2 lemon
1 small bunch of fresh coriander, stalks and leaves, finely chopped
Obligatory backup jug of water, to loosen the dish to your taste
In a medium-sized saucepan, add the lentils, chopped tomatoes and ground turmeric, then cover with the water and stir together. Bring up to the boil, then reduce the heat to low, cover and simmer gently for 30 minutes, stirring occasionally and adding more water if necessary, until the lentils are tender, then remove from the heat and set aside.
 
Put the vegetable oil (and ghee, if using) in a large non-stick frying pan set over a medium-high heat. When hot, add the cumin seeds and fry for 30 seconds until they turn dark brown and fragrant. Turn the heat down to medium and add the green chillies, chilli powder and the chunks of mango. Continue to fry for 3 minutes until the mango just starts to soften around the edges.
 
Take the lentils and carefully ladle them into the pan, stirring until everything is fully mixed, then bring up to the boil and add the sugar, salt and lemon juice, then remove from the heat.
 
Add a splash more water to loosen if necessary – the dahl should have the consistency of thick porridge. Finish by stirring through the chopped coriander just before serving.