Recipe: Harissa Falafel Wrap With Quick-Pickled Cabbage
If you're looking for fresh lunchtime inspiration for spring, this recipe from The Vegetarian Kitchen is full of flavour and nourishing ingredients. You can also save time and make these falafels in bulk, so your lunches are prepared for a few days.
"This is a wrap even non-vegans can enjoy without feeling as though anything is missing – the falafels are packed full of flavour, and the pickled cabbage perfectly complements them. I never used to be a fan of pickles, and I still run a mile from a gherkin, so if you are like me, please give this pickle a chance; the cabbage is crunchy and zingy and nothing like the floppy grey-green things you find on a burger."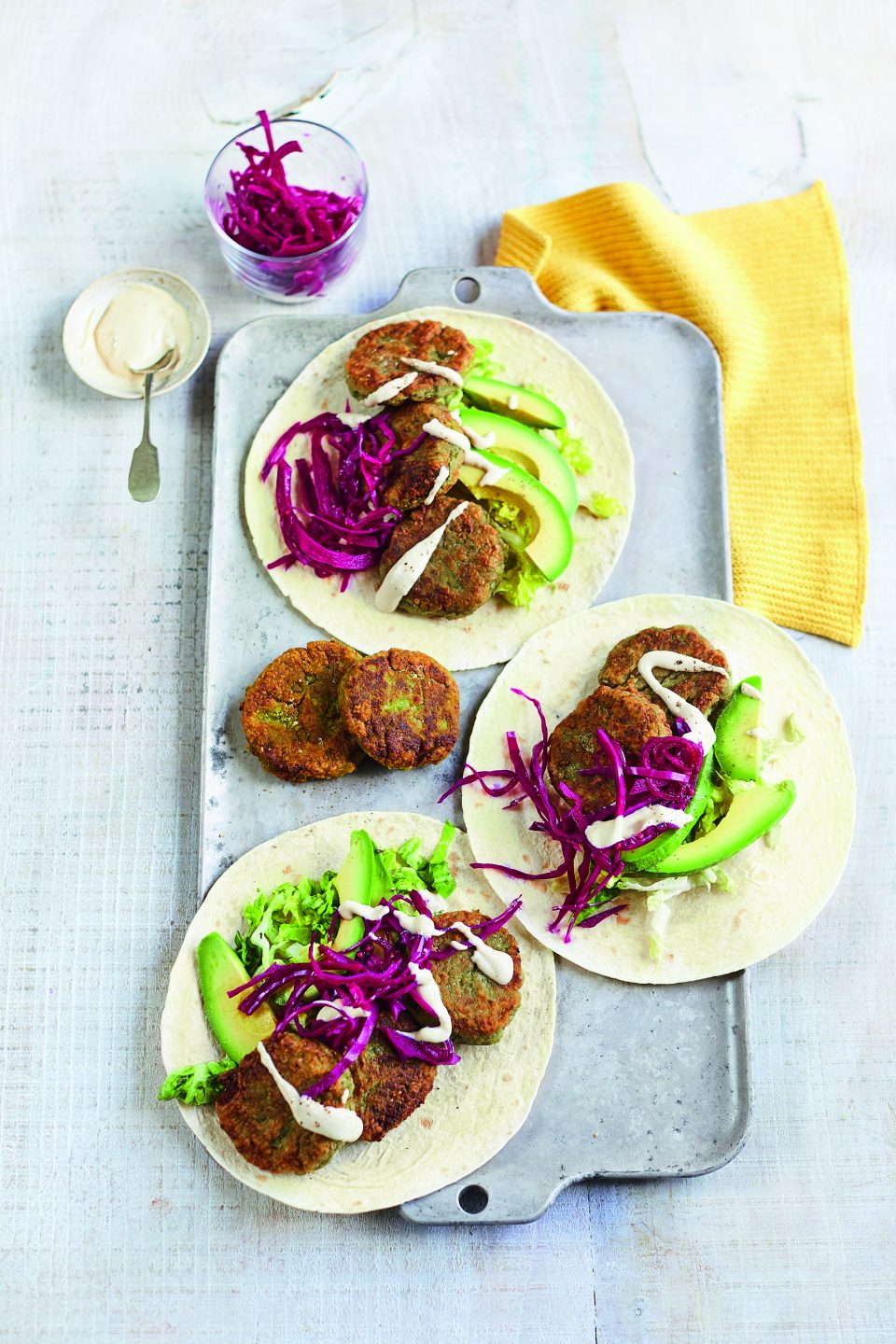 SERVES 4
4 soft tortilla wraps
2 baby gem lettuces, washed and chopped
1 avocado, halved, stoned, peeled and sliced
FOR THE QUICK-PICKLED CABBAGE
125ml apple cider vinegar
1 tbsp caster sugar
1 tsp salt
1 tsp yellow mustard seeds
1⁄2 tsp black peppercorns
1 shallot, thinly sliced
200g red cabbage, thickly sliced
FOR THE FALAFELS
50G quinoa (dry weight)
240g tinned chickpeas, drained
1 tbsp harissa paste
2 garlic cloves, roughly chopped
1⁄2 tsp ground coriander
1⁄2 tsp ground cumin
11⁄2 tbsp plain flour plus extra for coating
1⁄2 tsp baking powder
1 small onion, roughly chopped
a handful of flat-leaf parsley, stems removed
a handful of coriander, stems removed
5 tsp vegetable oil for frying
salt and pepper to season
FOR THE TAHINI DRESSING
2 tbsp tahini
2 tsp lemon juice
1⁄2 tsp white wine vinegar
METHOD
1. To make the pickling liquor for the cabbage, combine the apple cider vinegar, sugar, salt, mustard seeds and peppercorns in a small saucepan with 125ml water and bring to the boil. Remove from the heat as soon as it boils. Put the shallot and cabbage into a clean, heatproof jar, then pour the hot pickling liquor over it and press the cabbage down to ensure it's all submerged. Leave it to cool, then seal with a lid and refrigerate it for at least a few hours, ideally overnight.
2. To make the falafels, cook the quinoa in a large pan of boiling water for 10 minutes or until the quinoa is tender. Drain and allow it to cool.
3. Put the chickpeas, harissa paste, garlic, spices, flour, baking powder, onion and herbs in a food processor and blitz until smooth, adding a tablespoon of warm water if it is dry and crumbly. Keep adding warm water, a tablespoon at a time, blitzing between additions, until you have a paste that will hold together (you may need up to 6 tablespoons).
4. Transfer the mixture to a bowl, then stir in the quinoa, season to taste with salt and pepper, and chill in the fridge for at least 1 hour.
5. To make the tahini dressing, combine all the ingredients with 3 tablespoons of warm water in a small bowl and whisk until smooth. Season to taste.
6. Using clean hands, take egg-sized lumps of the falafel mixture into your hands and shape them into patties (the mixture should make around twelve). Press them together, then roll them gently in flour – they will be fragile, so handle them with care.
7. Heat the vegetable oil in a heavy-based frying pan over a medium high heat, then fry the falafels, carefully flipping them over halfway through cooking, until they are golden brown on both sides. Transfer to a plate lined with kitchen paper to soak up any excess oil.
8. To assemble the wraps, spread a generous spoonful of the tahini dressing on each wrap, then divide the lettuce, avocado and falafels between them. Add some pickled cabbage to each, then drizzle over a little extra tahini dressing. Wrap them up tightly and serve immediately.