Recipe: Minestrone With Brown Rice Spaghetti
Minestrone is a healthy and hearty family meal and an easy way to pack in a variety of veggies and herbs, whilst also boosting your good fats. Full of vitamin K, magnesium, protein and lycopene, this recipe from our spring-summer campaign star Rosemary Ferguson is the perfect comfort food to turn to.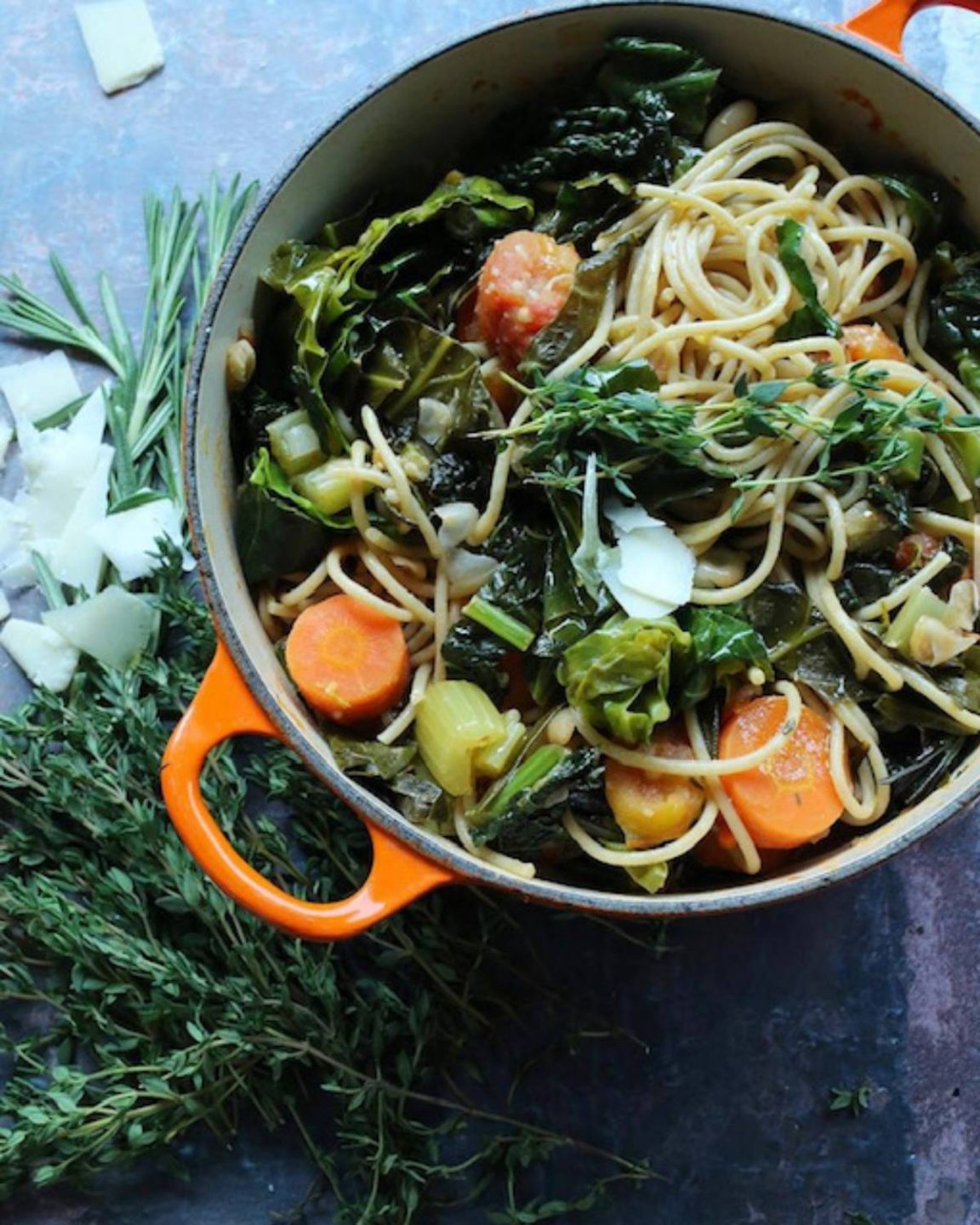 SERVES 4
2 tbsp olive oil
2 carrots roughly chopped
1 white onion, coarsely chopped
1 head of celery, coarsely chopped, keeping the leaves
1 head of garlic cloves peeled
1kg swiss chard, leaves shredded and stalks roughly chopped
a good handful of parsley, finely chopped
400g can plum peeled tomatoes drained of most of their juices, roughly chopped
1kg cavolo nero stalks removed, leaves shredded (or savoy cabbage)
400g can cannellini beans drained and rinsed
150g brown rice spaghetti
about 700ml vegetable stock
a few sprigs of thyme and rosemary
parmesan
extra-virgin olive oil, for drizzling
1. Heat the olive oil in a large saucepan and slowly fry the carrots, onion and celery until soft and dark. This will take about 20 minutes but it's worth it – the slow cooking gives a lovely taste. Add the garlic, chard stalks and half the parsley, and stir to prevent sticking. Stir in the tomatoes and cook for 10 minutes or until reduced.
2. Add half the Swiss chard leaves, half the cavolo nero, three-quarters of the beans, and the boiling stock. Bring to the boil, then reduce the heat. Simmer for 30 minutes. Pour in more stock if needed – don't add too much – it should be thick. At this point cook your spaghetti, drain, leave to the side and add olive oil.
3. Add the remaining Swiss chard and cavolo nero and blanch briefly so they remain green and crisp. Season when slightly cooled.
4. Purée the remaining cannellini beans coarsely in a blender with some of the cooking liquid. Add to the soup – it should be very green. Add your spaghetti and stir in the herbs and serve hot with Parmesan and a drizzle of extra virgin olive oil.