Recipe: Tomato And Thyme Eggs
Self-taught home cook, food writer and TV presenter Donal Skehan's simple yet effective recipes are guaranteed to become your weekday staples. Requiring minimal equipment and even fewer ingredients, Donal's Meals In Minutes use streamlined, quick-cooking methods that serve up minimum effort dishes with maximum results. With that in mind, whether you're looking for an easy dish to whip up in 15 minutes, or are in the mood to switch up your Sunday brunch go-to – this tomato and thyme egg recipe is the one for you.
"Need a midweek supper in a snap? This is your answer every time – a dish that feels delightfully sophisticated yet you've literally just thrown a few ingredients in a pan."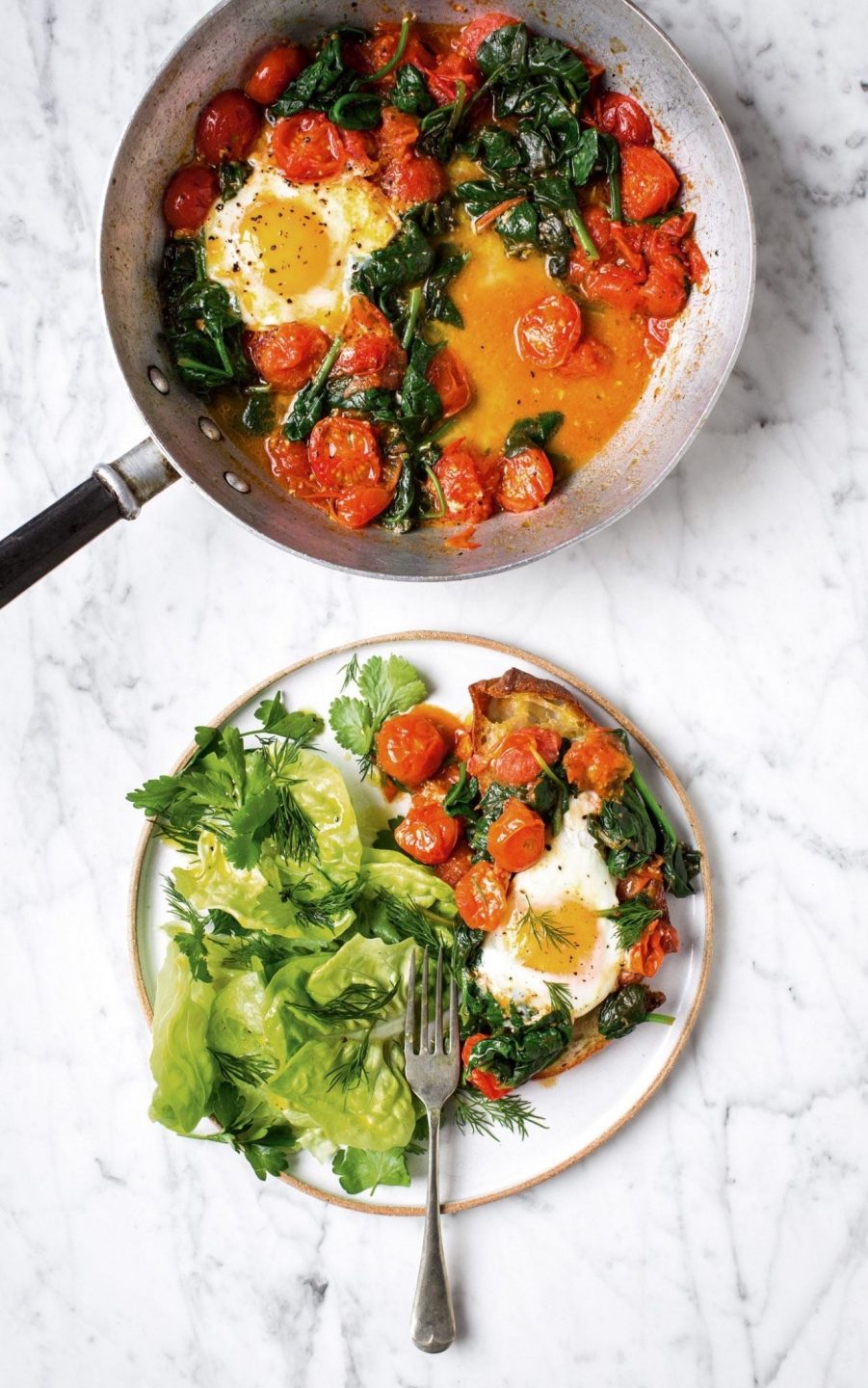 INGREDIENTS
SERVES: 2
3 tbsp extra-virgin olive oil, plus extra for drizzling
3 garlic cloves, 2 thinly sliced, 1 peeled and left whole
400g cherry tomatoes, halved
4 thyme sprigs
Small bag of baby spinach (80g)
2 large free-range eggs
2 slices of sourdough
Sea salt and black pepper
For the salad
1 tbsp white wine vinegar
Pinch of caster sugar
3 tbsp extra-virgin olive oil
½ butter lettuce, leaves washed
½ small bunch of parsley, leaves picked
½ small bunch of coriander, leaves picked
½ small bunch of dill, leaves picked
METHOD
1. Heat the oil in a pan, add the sliced garlic and cook over medium-high heat for 30 seconds then add the tomatoes, thyme and seasoning and cook over low heat for 5–10 minutes; they should soften and release their juices but not completely break down.
2. Add the spinach and allow it to wilt into the tomatoes. Make two hollows in the mixture and crack an egg into each. Cover with a lid and cook for 4–5 minutes until the whites are set but the yolks are still runny.
3. Meanwhile, whisk the vinegar and sugar together in a medium bowl with some salt and pepper, then gradually whisk in the oil to form a dressing. Add the salad leaves and herbs and toss well.
4. Toast the sourdough slices then rub each one with the whole garlic clove and a drizzle of extra-virgin olive oil. Put on two plates and top with the tomato and thyme eggs. Serve with the herby salad.