Your October Recipe: Dosa With Slow Cooked Aubergine
If you're looking to focus on your health and wellbeing this autumn, spend Saturdays and Sundays hosting family and friends with this nourishing, plant-based recipe.
"Our head chef, Thet, makes the best dosa. It is an excellent savoury brunch option, especially for slow weekends. Once you get this dish right – and it is easy – it will bring so much fun, variety and flavour into your kitchen, as with different toppings and fillings (raw and cooked) the possibilities are endless."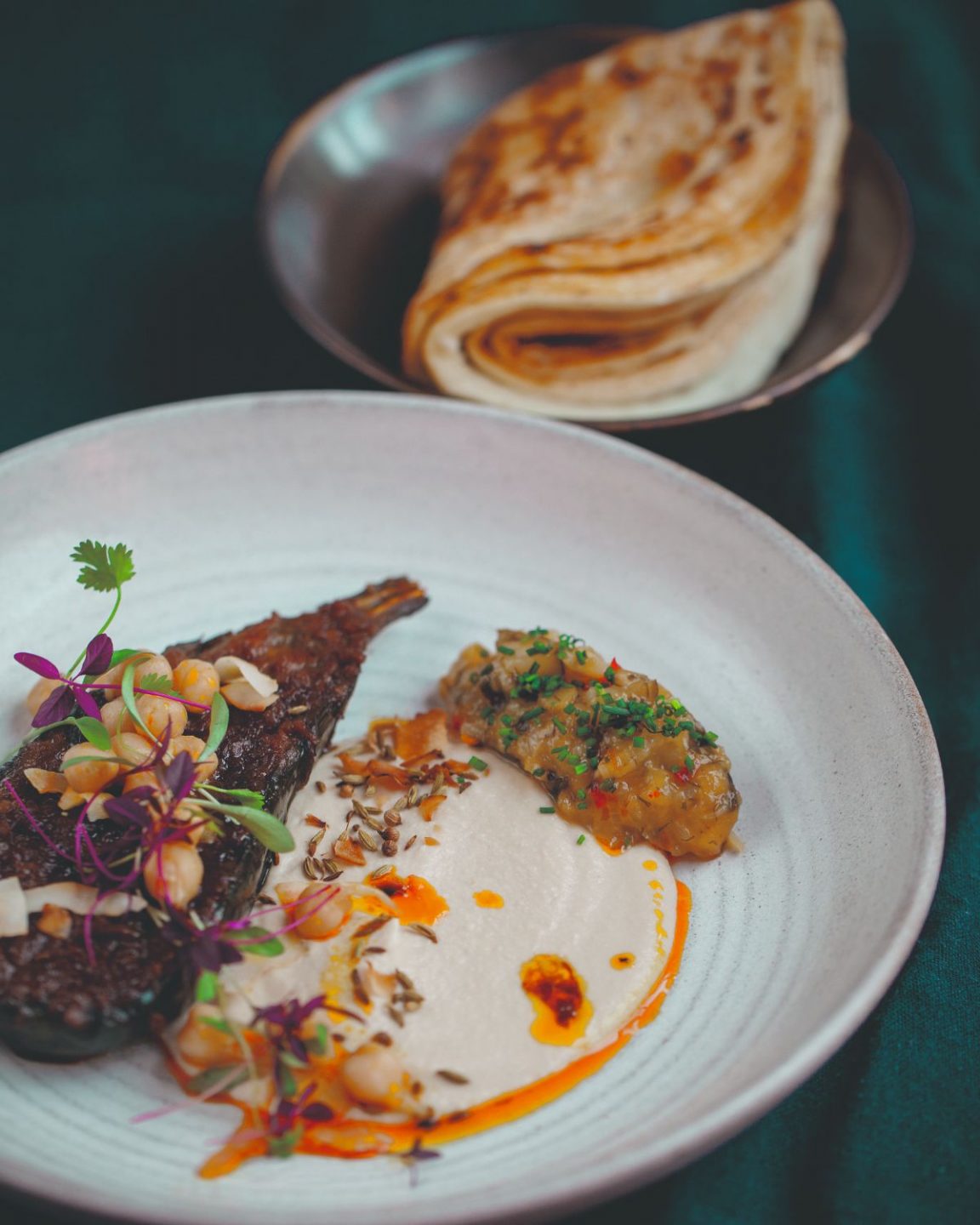 DOSA
 
Serves 2–4
 
–250g(9oz/1/3 cups) urid dahl
– 250g (9oz/1/3 cups) white quinoa
–25g(1oz)shallots –1tspbakingpowder
– 1/2 tbsp salt – sunflower oil, to grease – 180ml (6fl oz/3/4 cup) water
 
Method
 
Start preparing the dosa mix two days in advance. Soak the urid dahl and quinoa in 2 litres (31⁄2 pints/8 cups) of water overnight. Drain, wash the grain thoroughly and put it into a high-speed blender. Add the shallots and salt and 180ml (6fl oz/3⁄4 cup) of water and blend until a smooth consistency. Add the baking powder and blend again. Transfer to a bowl, cover and let it sit at room temperature overnight.
 
Mix the batter well before cooking. Grease a pancake pan with a small amount of sunflower oil over a medium heat. Pour a large spoonful of the dosa mixture into the middle of the pan and slowly spread it in a circular motion. Let it cook for around 2 minutes, add a bit of oil on top of the dosa and turn it over to cook for another 20 seconds. Serve hot with Slow-cooked Aubergine, Sprouted Chickpea Hummus and Mango and Fennel Chutney.
 
To serve
 
– Slow-cooked Aubergine (see below)
– Sprouted Chickpea Hummus (page 165)
– Mango and Fennel Chutney (page 165)
Ingredients
 
– 2 aubergines, cut in half lengthways
– salt, to sprinkle, plus a pinch
– 120ml (4fl oz/1/2 cup)sunflower oil
–70g (2 1/2oz) shallots, thinly sliced
– 20g (3/4oz) garlic, minced – 1 tsp paprika
– 1⁄2 tsp turmeric powder
–720ml (11⁄4 pints/3 cups) water
– 1 tbsp tamari
– 5g (1/8oz) fresh coriander, chopped
Sprinkle the aubergine with salt to reduce its bitterness, then place vertically into a colander. Leave to drain for about 15 minutes.
 
Add the sunflower oil to a deep saucepan and heat over a medium heat. Add the shallots and sauté for 3–5 minutes, until they are soft and fragrant. Add the minced garlic and cook for another 2–3 minutes – be careful not to burn it. Add the paprika and turmeric powder and stir for around 20 seconds.
 
Place the aubergine in the pan with the flesh side touching the pan. Add a pinch of salt, the measured water and tamari. Cover the pan with a lid and let it cook for 15 minutes over a low heat. Flip the aubergine over, cover the pan again and cook for another 15 minutes. Turn the heat off and let it sit for around 15 more minutes. Sprinkle some fresh coriander on top and serve.
wild wisdom
The cooking times will depend on the size of the aubergine. It should be ready when the water evaporates – poke it with a fork to make sure it is silky soft throughout.