Recipe: Baked Dhal With Tamarind-Glazed Sweet Potato
One-tray dinners are nothing new, but in One: Pot, Pan, Planet, award-winning cook and author Anna Jones packs over 200 mouthwatering recipes that show a flair for practical cooking and deliciousness. One: Pot, Pan, Planet is set to be every cook's kitchen manual, one that provides instructions to discover a new way of eating that is mindful of the planet while using up those leftover veggies and ingredients that often end up in our bins. In this example recipe from her fourth book to date, Anna cooks up a hearty dish that is guaranteed to become your new weekly go-to.
"In every book I write, there is a recipe that I love a little more than the rest. I don't feel good about it. Kind of like having a favourite child, no one wants to admit it… And this is it; turmeric, cardamom and ginger heavy dhal, topped with tamarind-glazed sweet potato, the stuff of my dreams. Luckily, I only have one actual child." – Anna Jones.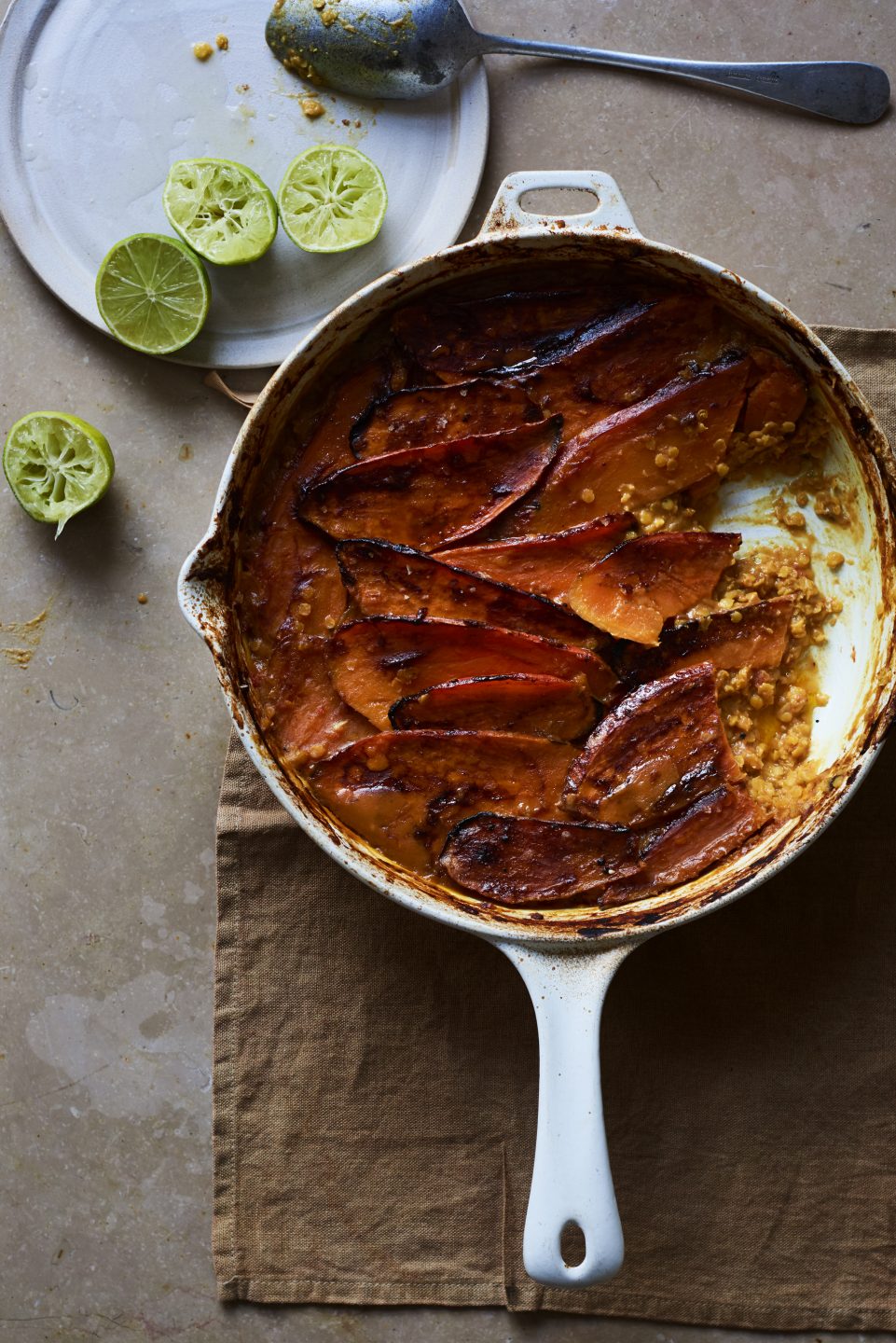 INGREDIENTS
SERVES: 4
250g split red lentils
2 tablespoons coconut or groundnut oil
1 onion, peeled and finely chopped
A large thumb-sized piece of ginger, peeled and finely chopped
2 cloves of garlic, peeled and finely chopped
1 teaspoon cumin seeds
10 cardamom pods
1 teaspoon ground turmeric
A pinch of dried chilli flakes
1 x 400g tin chopped tomatoes
750ml hot vegetable stock
1 x 400ml tin coconut milk
750g sweet potatoes
3 tablespoons tamarind paste
The juice of 2 unwaxed limes
METHOD
Preheat the oven to 200°C/180°C fan/gas 6. Wash the lentils in cold water, until the water is no longer milky, then leave to drain.
Warm the oil in a wide, shallow ovenproof pan over medium heat, add the chopped onion and cook until it is soft and pale gold, so about 10 minutes. Stir the ginger and garlic into the onion and add the cumin seeds. Continue cooking for 2–3 minutes.
Meanwhile, crack open the cardamom pods, take out the seeds, grind to a coarse powder, then stir into the onion together with the turmeric and chilli flakes. Add a good grind of black pepper and half a teaspoon of flaky sea salt, stirring for a minute or two.
Add the tomatoes, lentils, stock and coconut milk then bring to a simmer for a few minutes until everything has come together. You don't need to cook the lentils here, as they will cook under the sweet potato in the oven.
While the lentils simmer, cut the sweet potatoes into long slices about 5mm in thickness. Season them with salt and pepper, then place on top of the lentils to form a lid (don't worry if the first few sinks), brush the top with the tamarind paste and put them into the oven to bake for 30–40 minutes until the lentils are tender and have thickened and the sweet potatoes are crispy. Finish with a squeeze of lime over the top.
The featured recipe is from One: Pot, Pan, Planet by Anna Jones.