Recipe: Goats Cheese And Spinach Crepe Cake
Perfect for breakfasts, dinners and everything in between, these crepes are simple yet delicious – thanks to their goat's cheese mousse and buttery spinach interior. You can even make the pancakes and prepare the fillings in advance, then just bake them before serving.
Taken from Carpathia, the first book from Romanian born and bred food writer Irina Georgescu, this dish is the perfect place to start with familiarising yourself with the cuisine.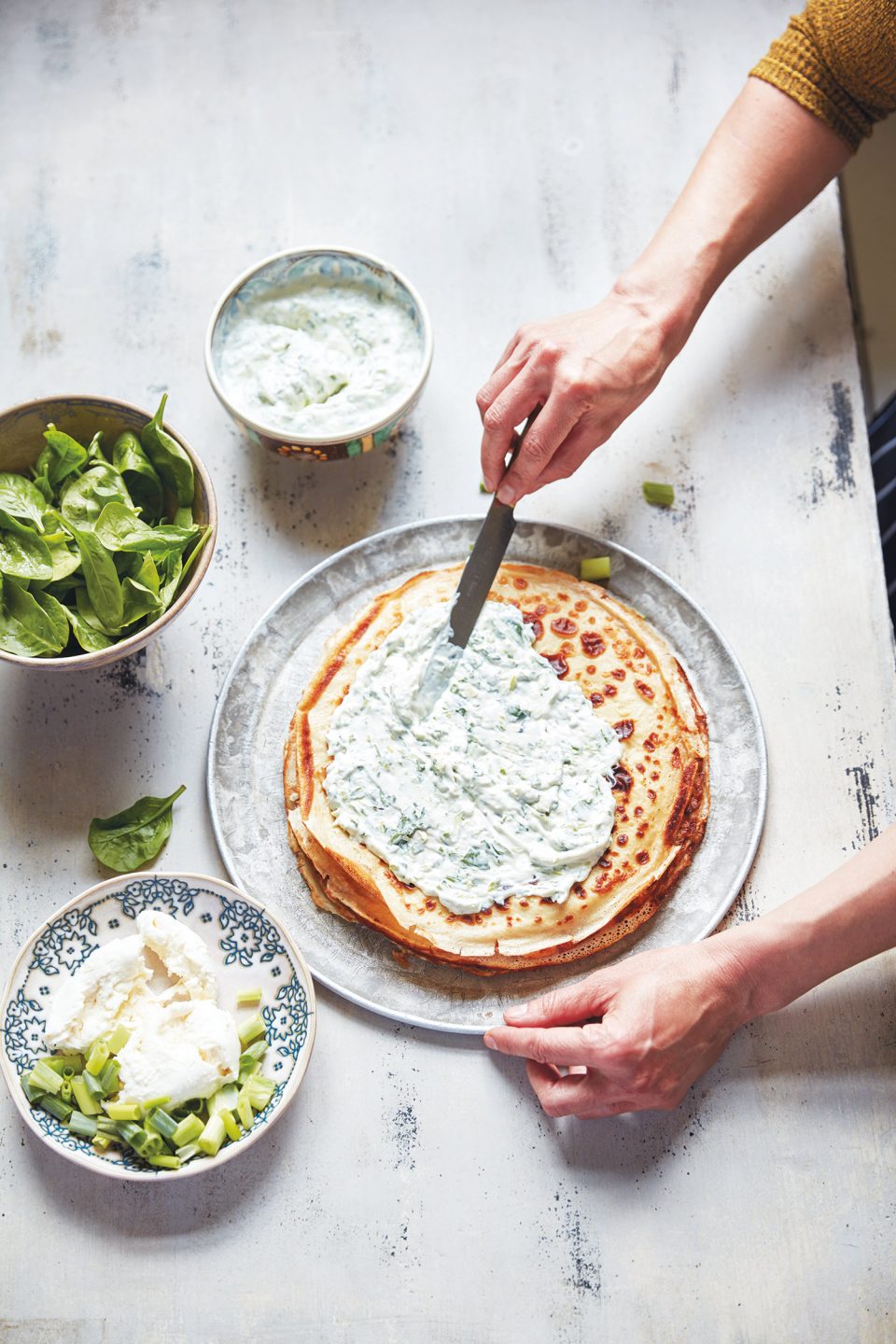 Ingredients
Serves 6–8
For the crepes:
200g (7oz) plain flour
2 eggs
550ml (18.fl oz) milk
Pinch of salt
Vegetable or sunflower oil
and butter, for frying
For the filling:
25g (1oz) butter
1 onion, finely diced
450g (1lb) spinach, wilted, squeezed of
water and blitzed in a food processor
1 bunch of dill, finely chopped
250g (9oz) goat's cheese
2 eggs
1 tbsp natural yoghurt
4 spring onions, finely sliced
Pinch of nutmeg
Salt and freshly ground black pepper
For layering:
150g (5oz) mozzarella, grated
For the egg mixture:
1 egg, beaten, mixed with
1 tbsp natural yoghurt
Method
To make the crepes, combine the ingredients in a bowl and refrigerate
for 1 hour. Heat a tablespoon of oil in a 20cm (8in) diameter frying
pan. Add enough batter to thinly and evenly coat the base of the pan,
tilting the pan to move the mixture around. Leave to cook for around
30 seconds until golden underneath, then ease a palette knife under
the crepe to lift and flip it over. Add a knob of butter each time you
flip, if liked. Cook for a further 30 seconds, then transfer to a plate.
Repeat with the remaining batter. You will need 12, which should
then be left to cool.
To make the filling, heat the butter in a pan over a medium heat
and saute the onions. Add the wilted spinach and combine briefly
while some of the water evaporates. Take the pan off the heat, add the
chopped dill and set aside to cool. Combine the cheese with the eggs,
yoghurt, cold spinach mix, spring onions and nutmeg. Season well.
The mixture should just fall off the spoon. Cover and set aside.
To assemble, I prefer to use a shallow dish slightly larger than
the crepes but you could also use a baking tray. Place 1 crepe in the
bottom of the dish, spread 60g (2.oz) of the filling on top, sprinkle
with a little mozzarella, then top with another crepe. Repeat the
layering until you run out of filling, finishing with a crepe on top.
Brush the top with the egg mixture and sprinkle with any leftover
mozzarella.
Preheat the oven to 180°C/350°F/gas mark 4 and bake for about
30 minutes, covering the top with kitchen foil half way through if it
looks too caramelised. Serve barely warm or even cold. The crepe
cake will keep in the fridge for a couple of days.