3 Daylesford Farm Recipes To Get You In The Festive Spirit
For many, gathering loved ones for Christmas dinner is one of our most cherished traditions — however, if you're the host, planning the meal can be a lot of work as well as a lot of fun. Make the process easier and more enjoyable with a few strategic moves: plan ahead, pick easy recipes with accessible ingredients and add a new variation to your repertoire each year to keep things fresh and exciting.
This season we teamed up with Daylesford Farm, who offered some modern selections that are sure to get you in the festive spirit, whether you're hosting dinner parties in the lead-up or planning for the big Christmas Day. From smoked salmon blinis to a shredded turkey salad, these recipes can be enjoyed in tandem together or as standalone selections.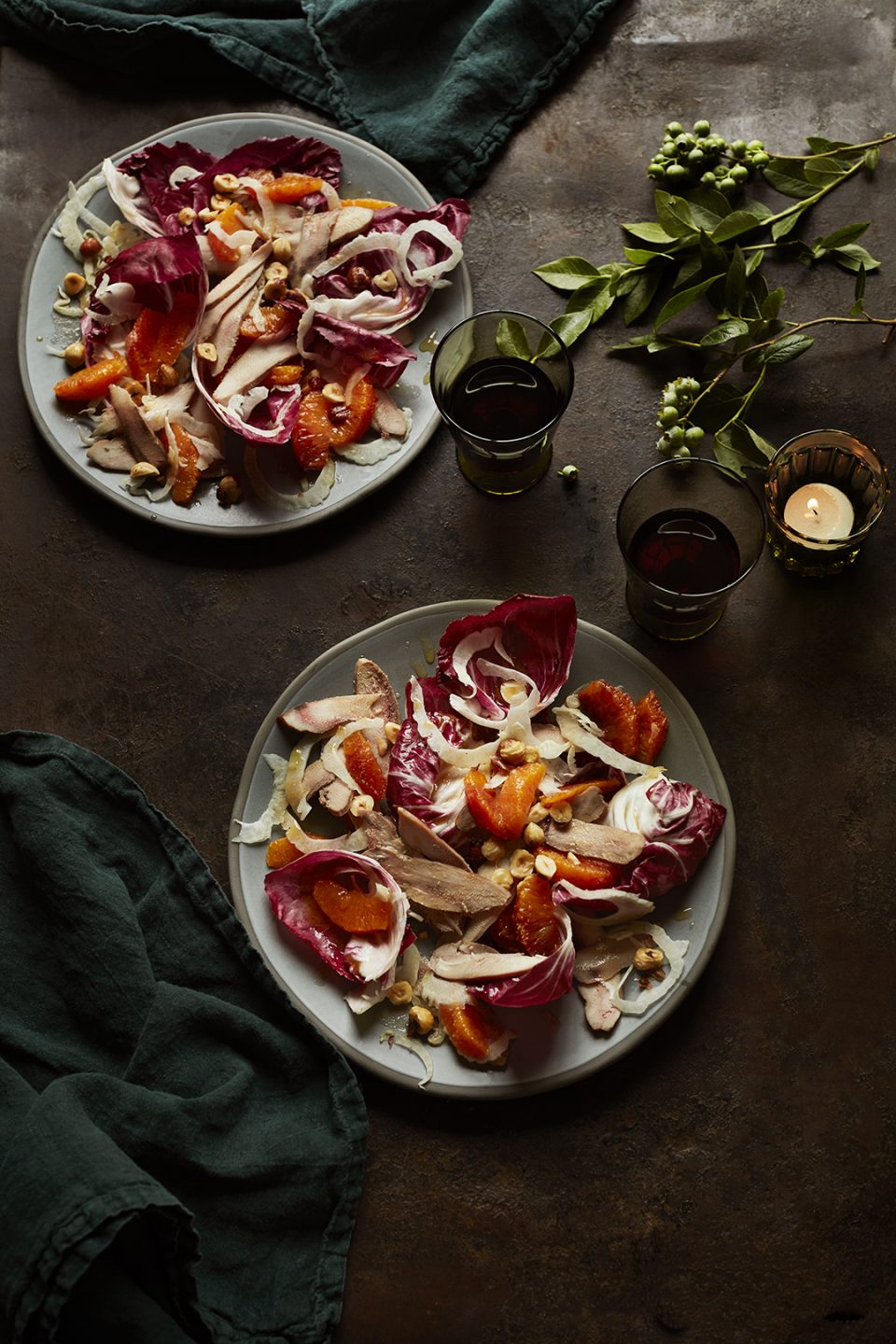 SMOKED PHEASANT SALAD WITH BLOOD ORANGE, RADICCHIO, FENNEL & TOASTED COBNUTS
SERVES 4
FOR THE SMOKED PHEASANT
100g salt
100g brown sugar
2 tsp juniper berries
4 bay leaves, shredded
8 black peppercorns, crushed
2 pheasant breasts
Smoking wood chips
FOR THE DRESSING
50ml blood orange juice
2 tbsp sherry vinegar
100ml hazelnut oil
1 tsp Dijon mustard
Salt and pepper
FOR THE SALAD
1 head of radicchio
1 bulb fennel, finely shredded
2 blood oranges, segmented
2 tbsp chopped chives
50g cobnuts, peeled and toasted
METHOD
1. Begin by smoking the pheasant. To prepare it for smoking, mix together the salt, sugar, juniper, bay leaves and peppercorns in a small bowl. Spread half of the mixture over the bottom of a shallow dish and place the pheasant breasts on top. Cover with the remaining salt and sugar mixture and pat down gently. Leave to one side to cure for 60 minutes.
2. Preheat the oven to 180°C. Remove the pheasant from the brine and rinse off any of the remaining cure, then pat it dry with kitchen paper. Place the smoking chips in an old roasting tin over a high heat until the chips begin to smoke, then add a wire rack over the tin, laying the pheasant on top of it. Cook it in the centre of the oven for 10-12 minutes, or until the pheasant is cooked through.
3. Once it is cooked, lift the pheasant from the rack and allow to cool before finely slicing it.
4. For the dressing, simply whisk together all of the ingredients until well combined.
5. To assemble the salad, gently tear the leaves from the head of radicchio and arrange over four plates. Top with the shredded fennel, orange segments and sliced smoked pheasant, followed by the chives and cobnuts. Drizzle with the dressing, serve and enjoy.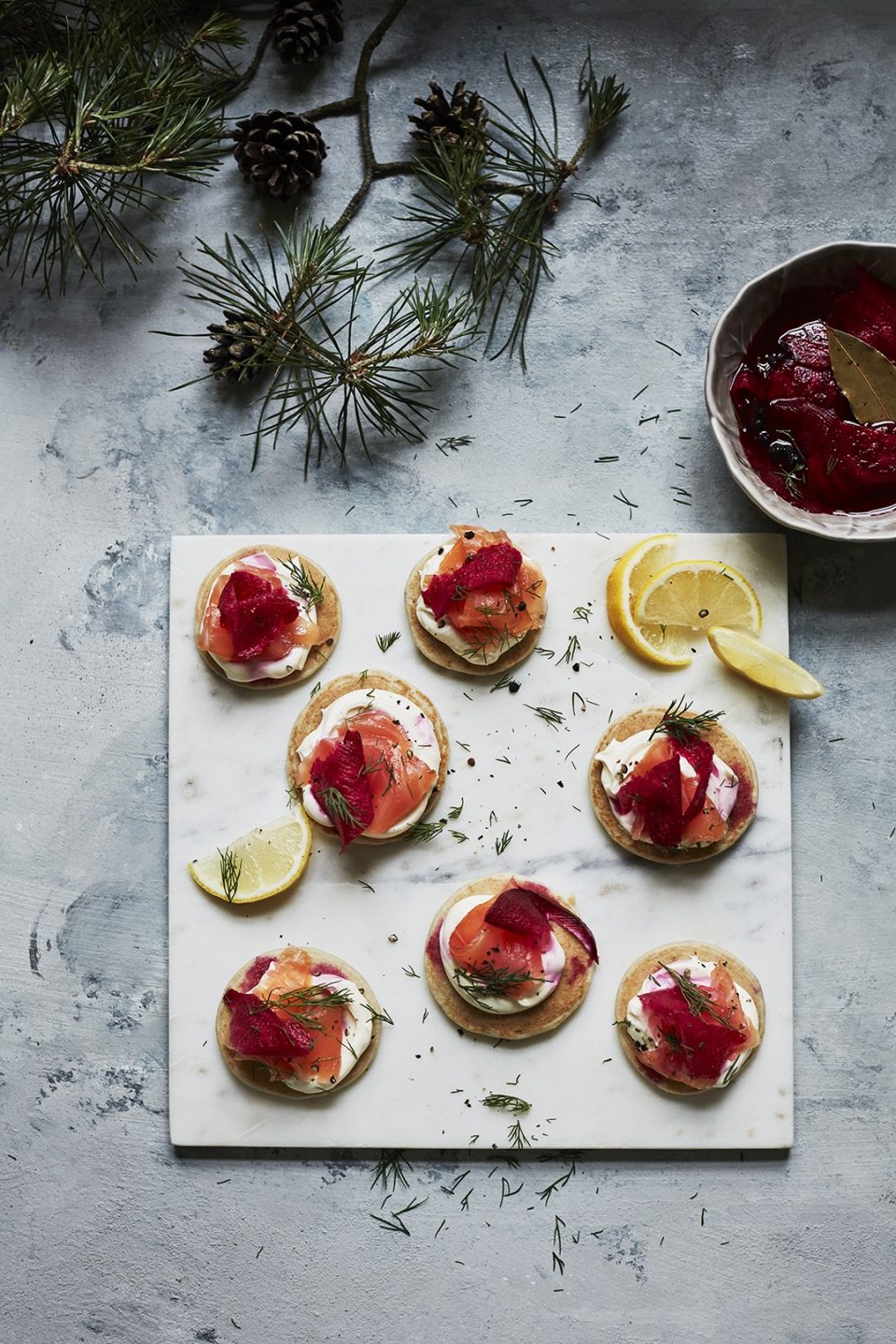 SMOKED SALMON BUCKWHEAT BLINIS
MAKES 18 BLINIS
FOR THE BLINI
120g buckwheat flour
5g dried yeast
100ml kefir
75ml whole milk
1 egg, separated
Pinch salt
Pinch sugar
FOR THE PICKLED BEETS
2 candy beetroot, peeled and very finely sliced
150g sugar
150g white wine vinegar
2 sprigs dill
4 peppercorns
2 bay leaves
Pinch salt
TO SERVE
Crème fraiche
150g smoked salmon, thinly sliced
A little fresh dill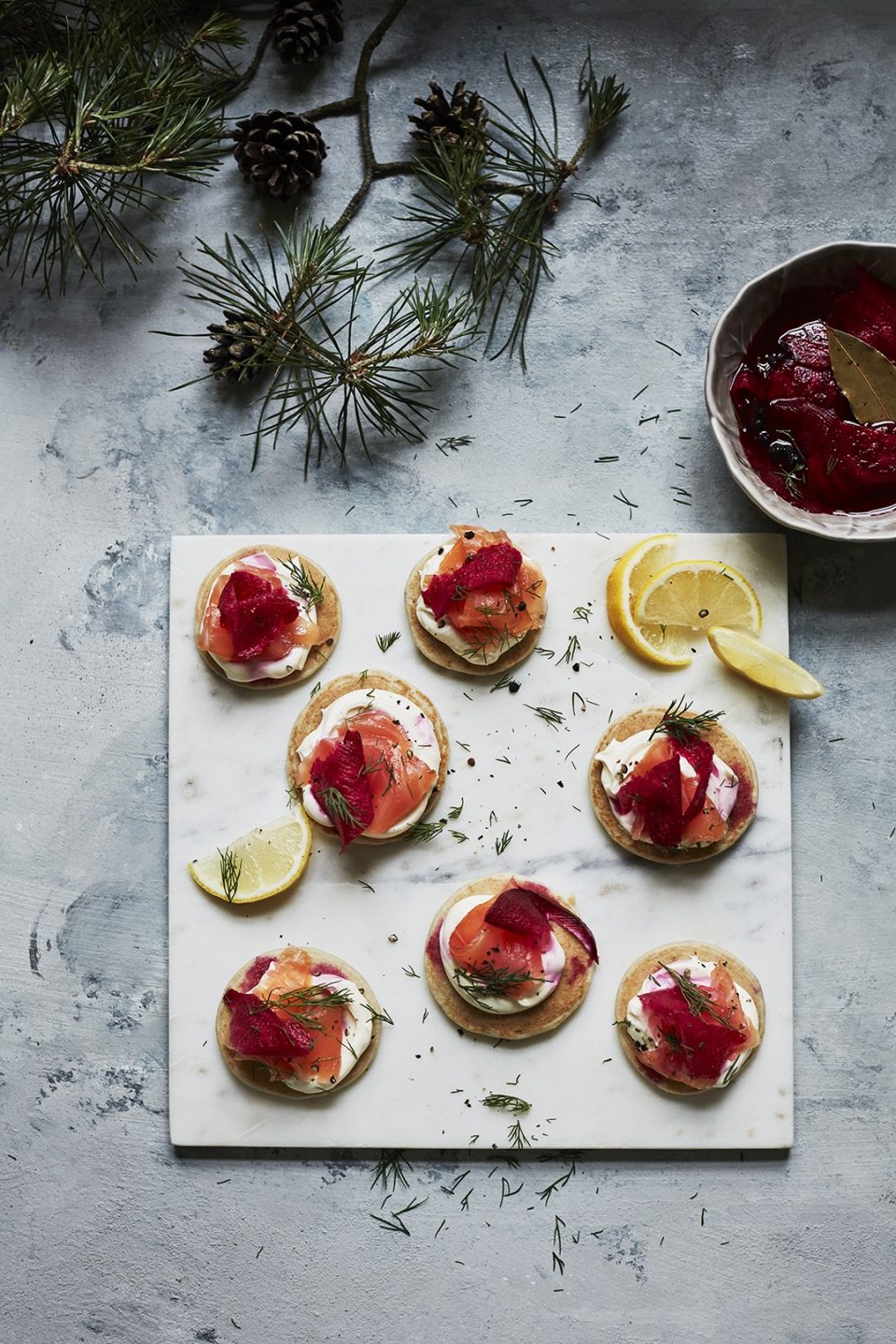 METHOD
1. Begin by making the blini batter. Combine the buckwheat flour, salt, sugar and yeast in a mixing bowl and stir together.
2. Warm the kefir and milk together in a small saucepan until lukewarm (body temperature) and then pour into the flour and yeast mixture.
3. Stir well until you have a completely smooth thick batter. Cover with a tea towel or cloth and leave to one side for 30 minutes.
4. To pickle the beetroot, place the sugar, vinegar, dill, peppercorns, bay leaves and salt in a small saucepan and bring to the boil. Stir to make sure all of the sugar has dissolved and pour over the sliced beetroot in a bowl. Leave to cool.
5. After 30 minutes stir the egg yolk into the blini batter. Beat the egg white until stiff and fold this into the batter until evenly combined.
6. To cook, heat a skillet or a thick based frying pan and lightly grease it with a little oil. Use a dessert spoon to drop the batter into the pan, forming small circles. Cook for 2-3 minutes until bubbles form on the top of the blini. Flip over and cook for 30 seconds longer before removing to a plate or tray.
7. To serve, simply spoon a little crème fraiche onto each blini, followed by a slice of salmon, a wafer of pickled beetroot and sprig of dill.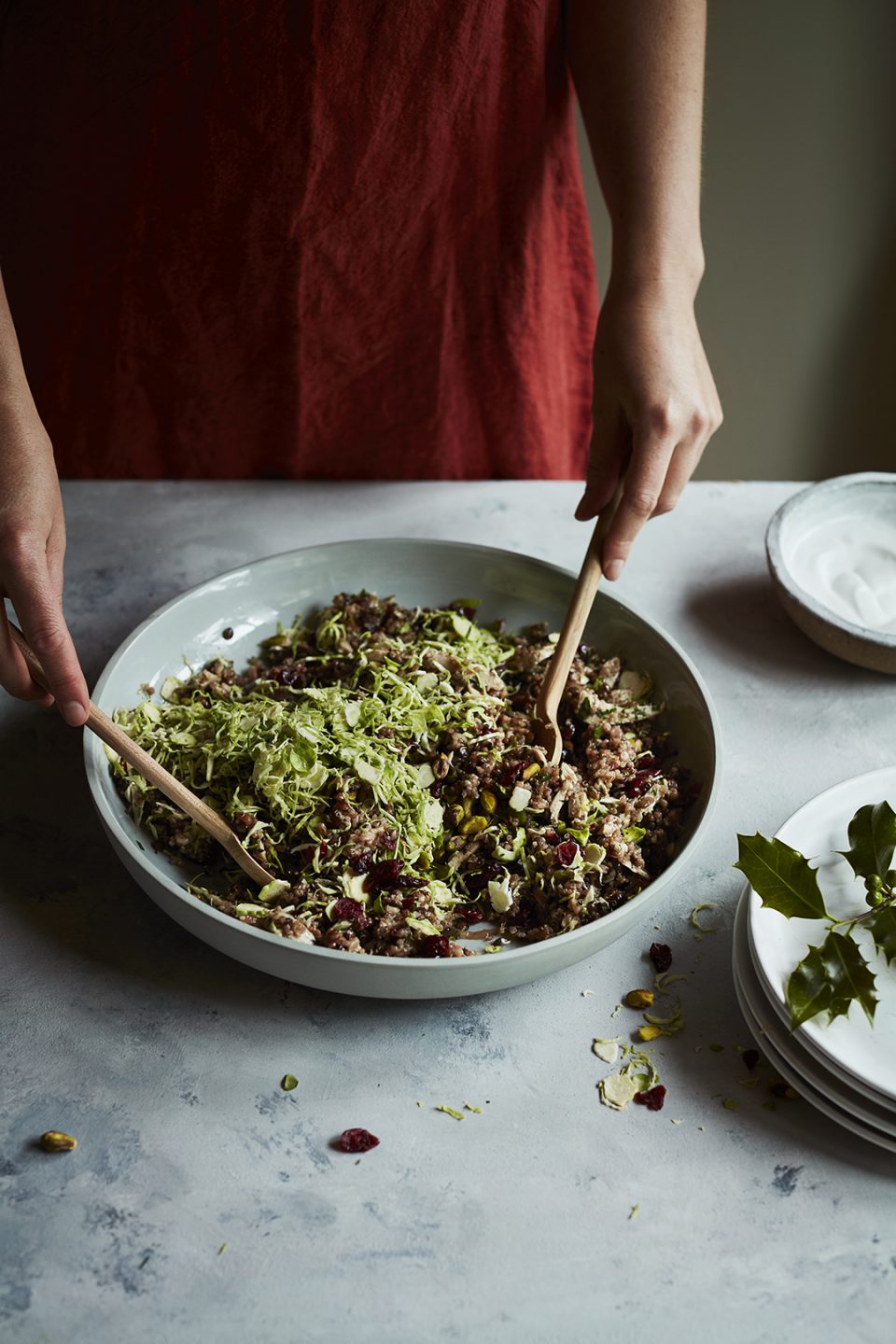 SHREDDED TURKEY, RAW SPROUT, TOASTED WILD RICE, QUINOA & LENTIL SALAD WITH CRANBERRIES & PISTACHIOS
SERVES 8
FOR THE SALAD
100g wild rice
2 tbsp olive oil
2 tsp nigella seeds
1 tsp yellow mustard seeds
1 tsp cumin seeds
400ml water
100g quinoa
80g lentil verts (or puy)
300g sprouts, finely shredded
350g cooked turkey, shredded
30g parsley, finely chopped
100g pistachios, toasted
Natural or coconut yoghurt, to serve
FOR THE DRESSING
3 tbsp olive oil
1 onion, finely sliced
120g cranberries
4 tbsp pomegranate molasses
8 tbsp white wine vinegar
75ml water
METHOD
1. Bring a pan of salted water to the boil and add the wild rice. Simmer gently for 25-30 minutes until tender. Drain and allow to cool.
2. Heat the olive oil in a saucepan and add the spices. Fry for 2 minutes until the spices begin to pop and then stir in the quinoa and lentils. Continue to fry for 3-5 minutes, stirring continuously until the spices and grains are aromatic and toasted.
3. Pour in the water, stir well and bring to the boil. Cover with a lid and simmer gently for 18-20 minutes until the water has been absorbed and the grains are tender.
4. To make the dressing, heat the olive oil in a shallow pan and add the onion. Cook gently for 8-10 minutes until the onion is soft and slightly golden. Add the cranberries, followed by the pomegranate molasses, vinegar and water. Simmer gently for 10 minutes until syrupy.
5. Combine the grains, sprouts, turkey, parsley, pistachios and dressing, and plenty of salt and pepper, in a large bowl and stir well. Add a little more olive oil if needed and a generous squeeze of lemon juice. Finally, serve with a drizzle of organic yoghurt.