3 Alternative Plant-Based Recipes To Enjoy On Slow-Living Weekends
As Easter approaches, you might be, like us, looking for something different to rustle up in the kitchen – whether you're hosting or having a more low-key weekend. We've rounded up three recipes from our new favourite book Nistisima that cater to laidback lunches, afternoon tea catch-ups and brunches that are worth getting out of bed for.
A beautiful meeting of ancient traditions and mouth watering plant-based cooking, Nistisima is a stunning collection of easy and delicious Mediterranean recipes that celebrate vegetables, pulses and grains and are naturally vegan.
Food writer Georgina Hayden draws on the history and culture around nistisimo cooking in the Mediterranean, Middle East and Eastern Europe to share the simple, nutritious and flavour-packed recipes at the heart of the practice. Whether you're vegan, vegetarian, or simply want to eat more plant-based food, Nistisima offers recipes that are enticing and easy to make.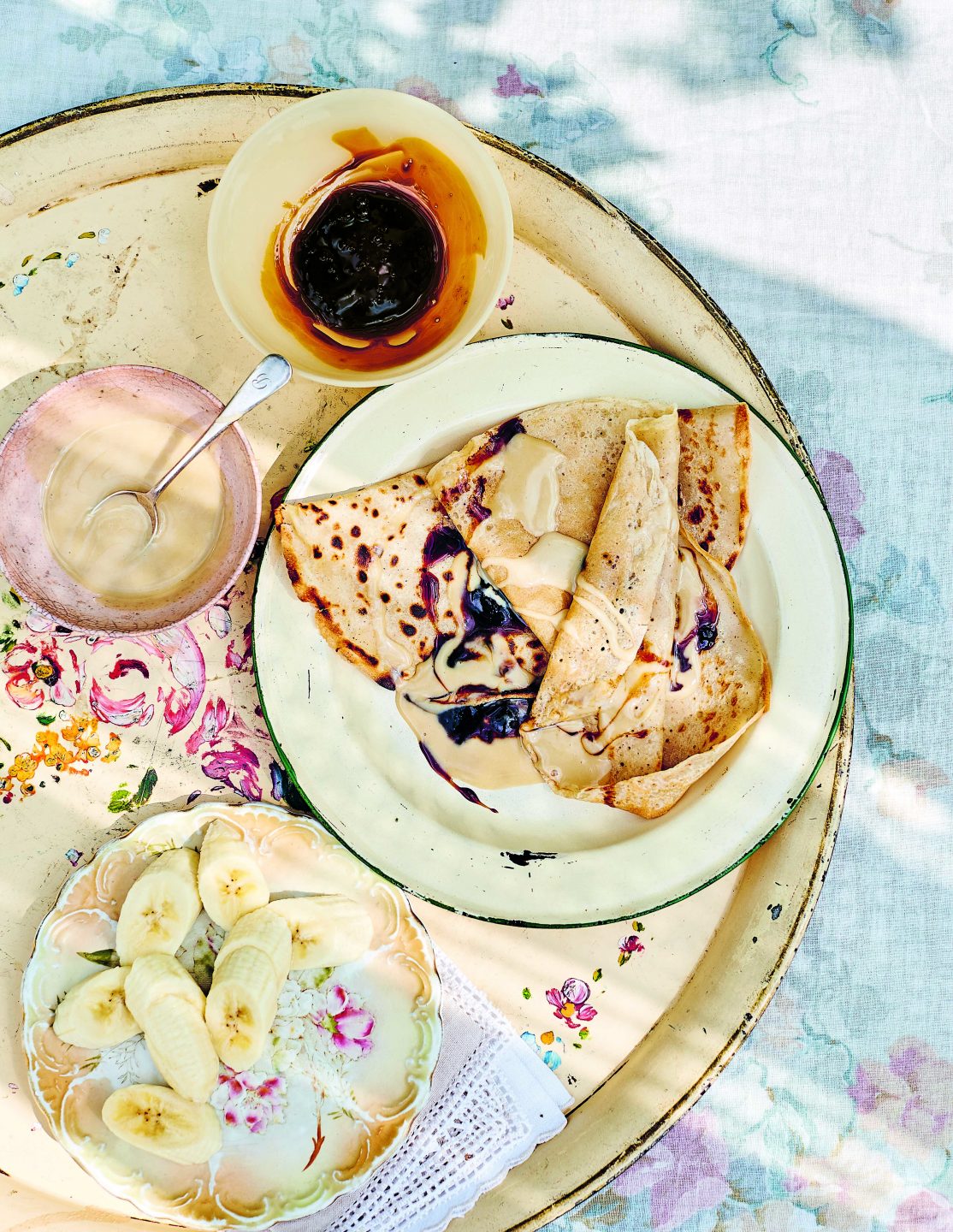 Tahini, cinnamon and carob pancakes
"Carob is a historic staple of Cypriot agriculture, and my paternal yiayia is from Limassol, an area famous for its carob trees, with an ancient carob mill at the centre of the old town. I grew up with bottles of the syrup – 'black gold' – in the family kitchens, ready to be used in baking and drinks. Tahini, cinnamon and carob is a dream flavour combination in my eyes; sweetened tahini drizzled with a touch of carob is the perfect adornment for pancakes. And with this topping being naturally nistisimo, making the pancakes egg-free means this is a treat breakfast to enjoy even while fasting. Carob syrup is rich, and a little goes a long way. If you haven't tried carob, it is often compared to chocolate. It's a subtle similarity; they are both dark and intense, so I get the comparison butI enjoy carob in its own right."
SERVES 4
250g plain flour
2 tablespoons caster sugar
½ teaspoon ground cinnamon
¼ teaspoon fine sea salt
500ml milk of your choice
(oat and almond work well)
2 tablespoons olive or vegetable oil,
plus extra for greasing
5 tablespoons tahini
3 tablespoons honey
(or caster sugar)
2 tablespoons carob syrup
2 bananas, optional
method
Place the plain flour in a large mixing bowl and whisk in the caster sugar,
the cinnamon and half the sea salt. Make a well in the middle and whisk
in the milk and oil until smooth. It should be the consistency of double
cream – if it is a little thick add a splash more milk. Leave the batter to
rest in the fridge for half an hour if possible. Put a kettle on. In a small
bowl, mix the tahini with three or four tablespoons of just-boiled water
until smooth, then stir in the honey and the rest of the salt. Set aside.
When you are ready to make your pancakes, place a large non-stick frying
pan on a medium heat. Drizzle in a touch of oil, and use kitchen paper to
spread it over the pan. You don't want too much oil, just enough to cover
the base. When the pan is hot, ladle in the batter and tilt the pan so it
covers the base. The first pancake often goes a bit wrong – chef's perks
for snacking – but it will help you figure out how much batter you need to
cover your pan. Cook for a few minutes until lightly golden underneath,
then flip over. Because there is no egg in the mixture, they don't quite
brown the way regular pancakes do, but you will know when they are
ready. Cook for a further minute or two, then serve or transfer to a plate.
You can either serve the pancakes as you go, drizzling them with the
sweetened tahini and then the carob syrup on top, or cook all the batter
and keep them warm on a plate in a low oven. Repeat with all the batter,
rubbing a little oil on the base of the pan every so often. If you've kept
the pancakes warm as you've cooked them, arrange them on a platter
and, when ready, drizzle the tahini and carob over the lot. I like them with
sliced banana – I think it works well with the nutty sweet tahini and rich
carob, but that is up to you.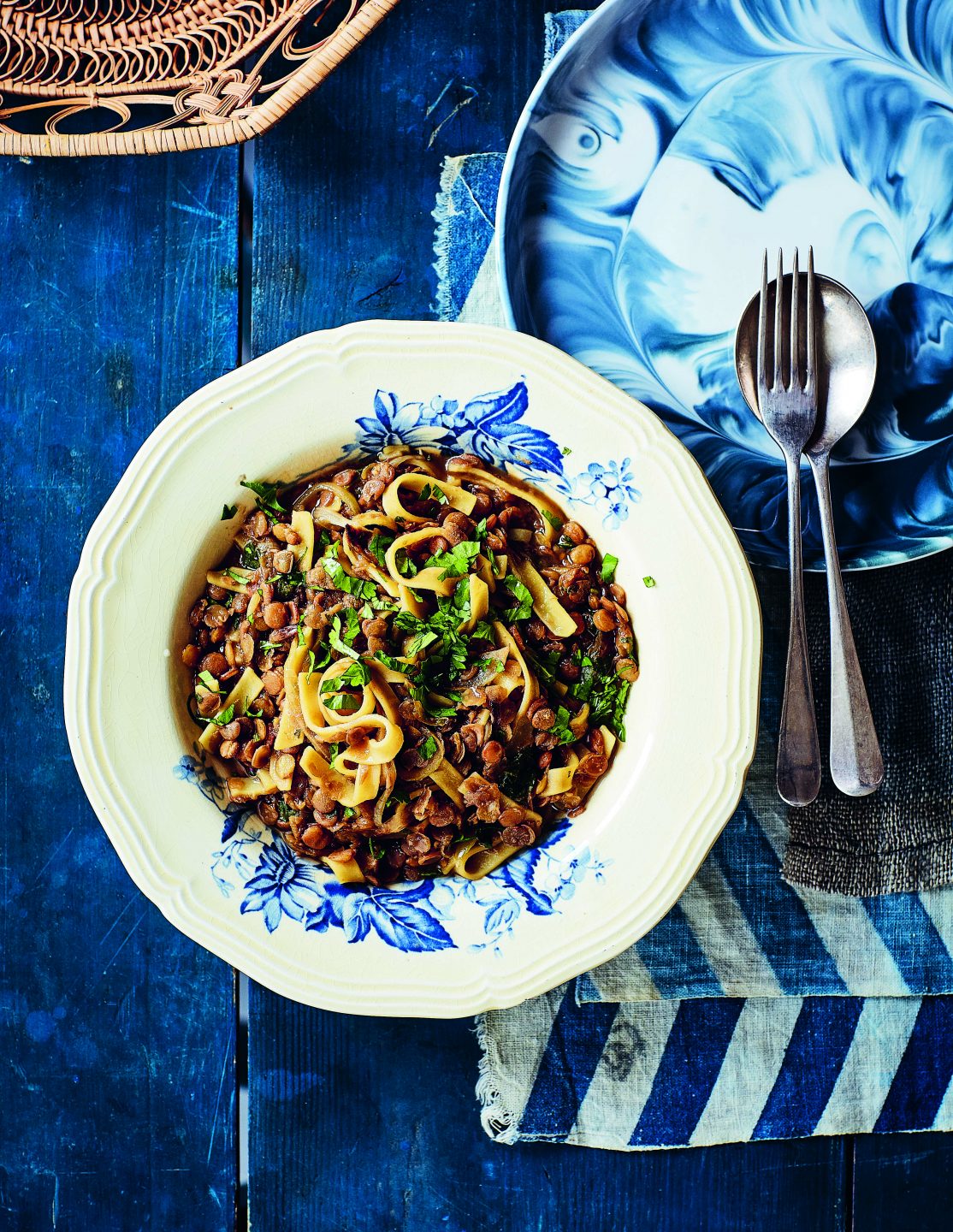 Rishta: lentil and pasta soup
"Big claim time: this Lebanese soup is my favourite recipe in this chapter, and one of my favourites in the whole book. Having grown up on a diet filled with lentils, I adore them, and the addition of chopped-up fresh pasta makes this soup rich and thick, as the starch gives it a velvety texture. Cumin, coriander, garlic and lemon are the holy quartet of flavours in my world, and the best bit is that this is pretty effortless to throw together. Also, it tastes great the next day. If you try only one recipe in this book, make it this one."
SERVES 4–6
200g green lentils
1.8 litres hot vegetable stock
2 onions
4 garlic cloves
4 tablespoons olive oil
1 bunch of coriander
1 teaspoon cumin seeds
1 teaspoon ground coriander
125g fresh tagliatelle
Sea salt and freshly ground
black pepper
1/2 lemon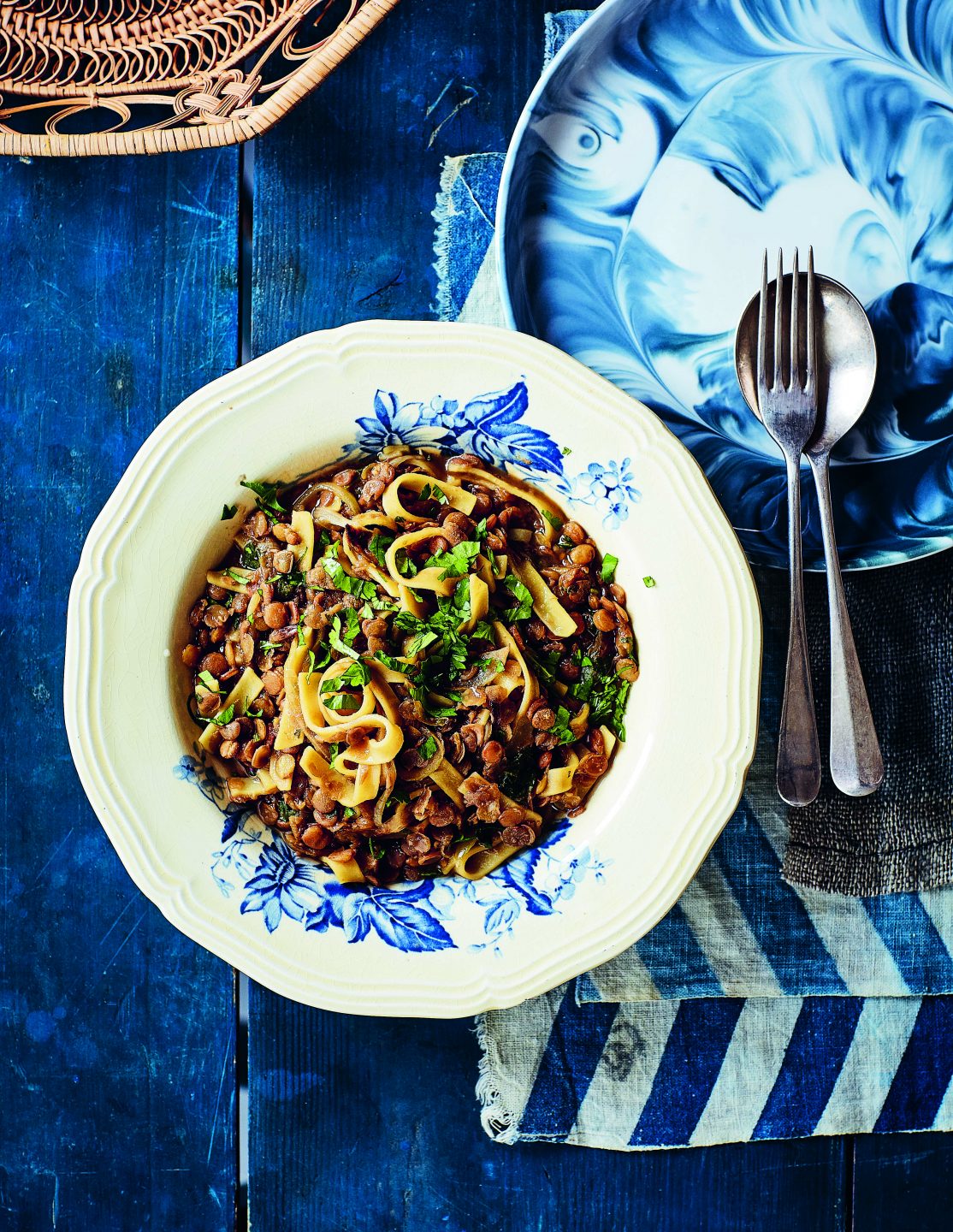 METHOD
Rinse the lentils thoroughly under running water, and pick out any stones.
Place in a large pan with the hot stock and bring to the boil. Reduce the
heat to low and simmer for 45 minutes. Meanwhile, peel and finely slice
the onions and garlic. Place a large frying pan over a medium-low heat
and add the olive oil and sliced vegetables. Saut. for 15 minutes, until
softened and just coloured. Finely chop the coriander. Stir the cumin
seeds and ground coriander in with the onion and fry for a minute. Stir in
half the fresh coriander to the frying pan, fry for a further 2 minutes,
then remove from the heat.
When the lentils are ready, stir in the sautéed onion mixture. Roughly tear
the tagliatelle into smaller pieces and add to the soup. Season generously
with salt and pepper and bring back to the boil. Reduce the heat and
simmer for a further 5 minutes. Squeeze in the juice of the lemon half
and finish with the remaining chopped coriander before serving.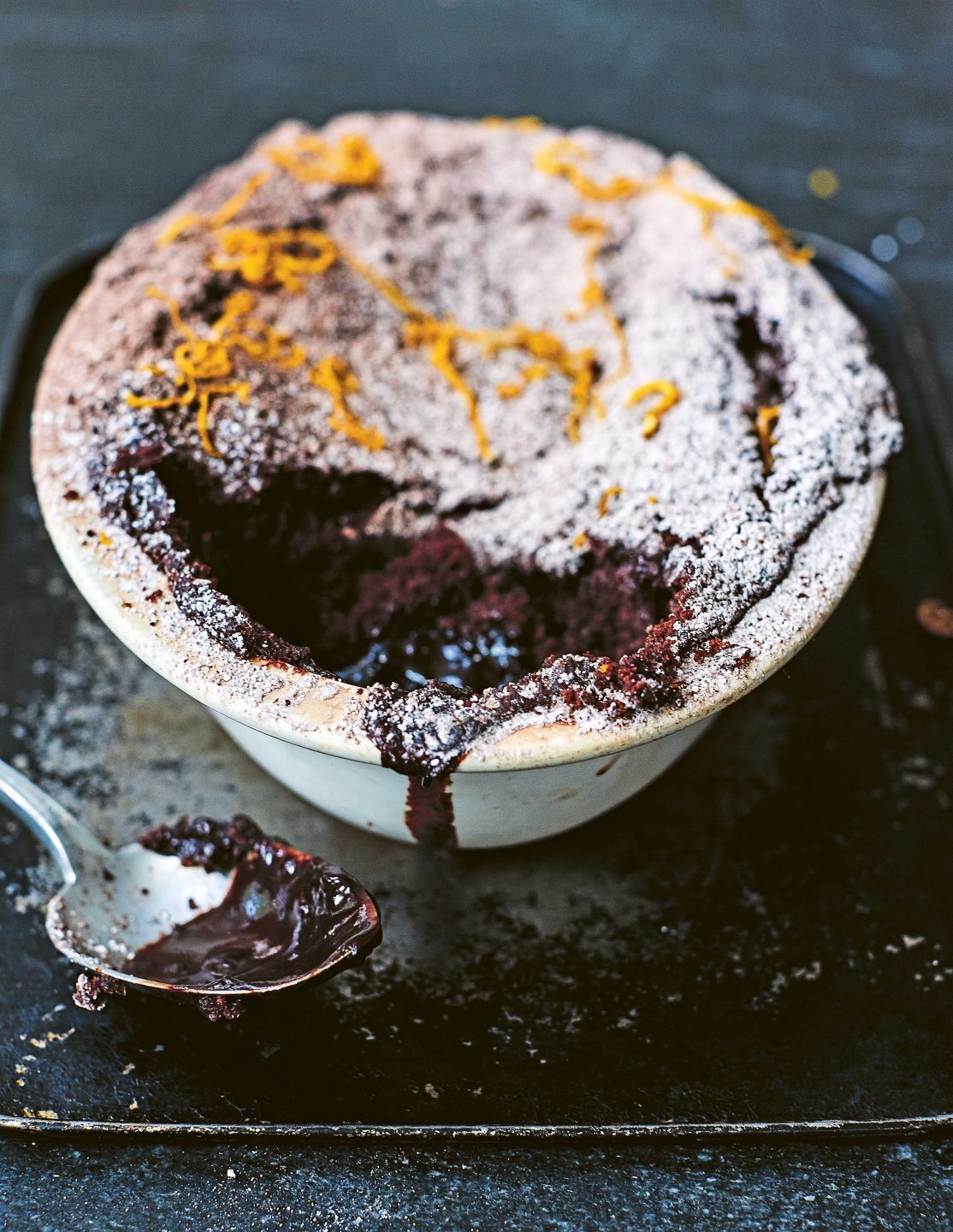 Sticky chocolate-orange pudding
"This is one of the more surprising recipes in the book – it sounds very modern but is based on an old Greek recipe for chocolate and tahini cake. The self-saucing element is my contemporary twist. Make it for your most chocolate-eating, traditional dessert-loving friends – I guarantee, no one will know it is nistisimo."
SERVES 6-8
80ml vegetable oil, plus extra
for the tin
250g caster sugar
130g plain flour
2 teaspoons baking powder
55g cocoa powder
. teaspoon fine sea salt
3 oranges, or 1 orange and
125ml orange juice
1 teaspoon vanilla extract
75g light soft brown sugar
Icing sugar, to finish
To serve: Ice-cream, cream
or yoghurt, dairy-free or regular
Preheat your oven to 200°C/fan 180°C/gas mark 6. Grease a deep oval
25cm ceramic dish with a little oil.
In a large mixing bowl whisk together 150g of the caster sugar, the
plain flour, the baking powder, 30g of the cocoa powder and the fine
sea salt. Finely grate in the zest of one of the oranges and then whisk
the dry ingredients all together. Finely grate, or pare and finely slice,
the zest from another orange, and set aside. Squeeze the oranges into
a jug to get 125ml of orange juice (alternatively, use 125ml of fresh
orange juice). Whisk the vegetable oil and vanilla extract into the juice.
Mix the wet mixture into the dry ingredients. Spoon the batter into the
prepared baking dish and even out across the top. Put a kettle of water
on to boil. In a medium mixing bowl, combine the light soft brown sugar
with the remaining 100g of caster sugar and 25g of cocoa. Sprinkle this
chocolate-sugar evenly over the chocolate sponge mixture. Pour 300ml of just-boiled water over the top and then pop the baking dish in the oven. Bake for 35–40 minutes, until set on top, then remove from the oven and leave to one side for 15 minutes. Sift over icing sugar and sprinkle with the reserved orange zest. Serve straight up, or with a dairy-free ice-cream, cream or yoghurt – whichever is your favourite!