All The Things We Learnt From Pan Pacific London's Serene Design
When life in the big city gets too frenetic and fast paced, there's an oasis of calm and serenity there to soothe you at Pan Pacific London. Sitting in Bishopsgate, moments away from Liverpool Street Station, and housed within a 43-storey bronze tower, the hotel has created its own inner sanctuary. With a heightened emphasis on wellness and a refined, tranquil design scheme, this is a venue that welcomes a sense of zen from the moment you step through the front doors.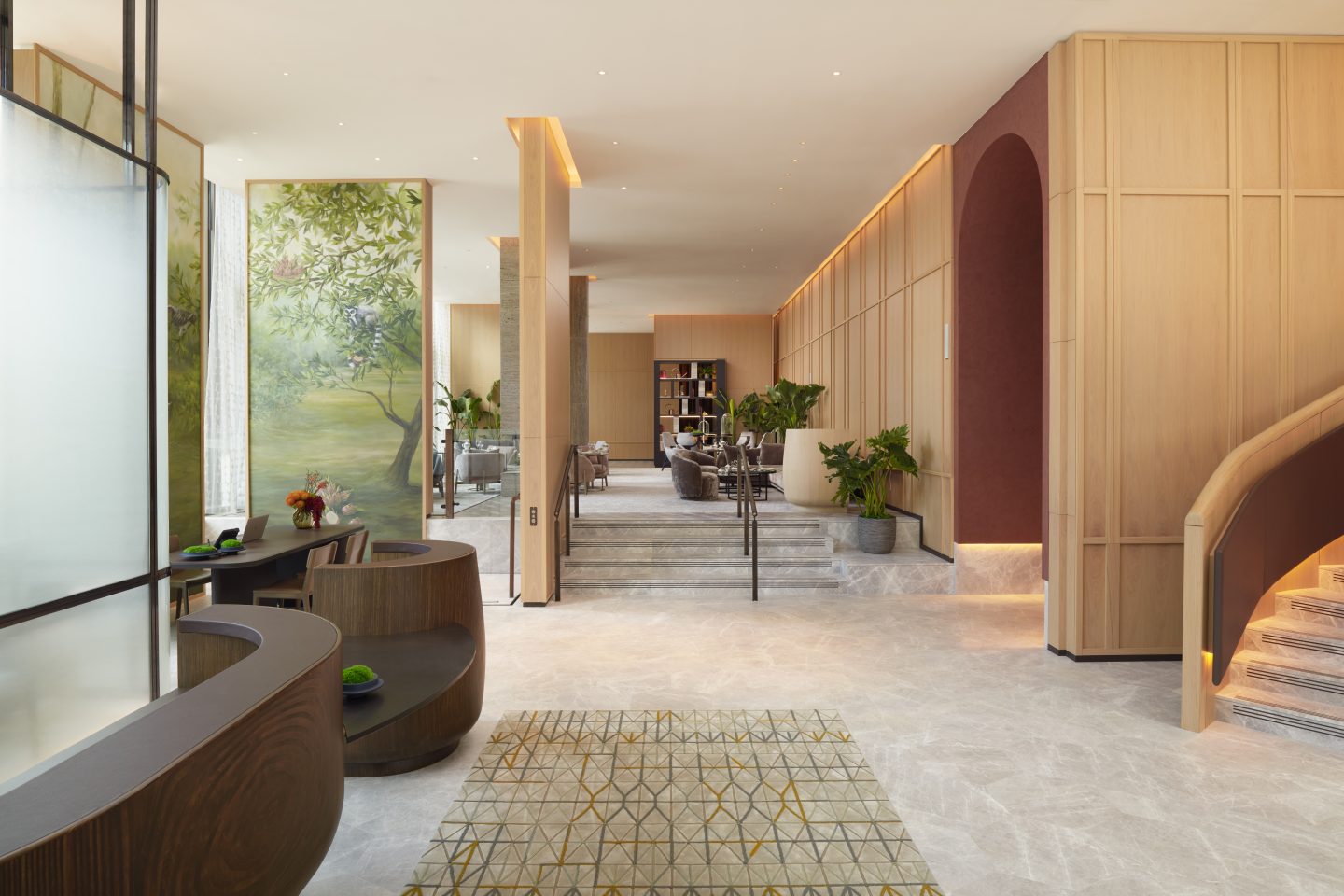 The interiors have been imagined by esteemed duo Yabu Pushelberg and the rooms, event spaces and public areas fuse together the intricacy of south-east Asian design with the elegance that's typical of British style. Choosing to avoid cliches that are often used in Asian-inspired interiors, the designers opted for a layering of subtle details that lend a sense of timelessness to the scheme. A tapestry hanging above the reception desk depicts a typically British image of a greyhound, however upon closer inspection details such as exotic birds and Chinese-style brushstrokes ooze the East Asian sensibility associated with the Pan Pacific brand.
Acknowledging nature as a means of creating a calming atmosphere, natural motifs have been woven throughout the property's whole design, as a commonality between Asian and British style. Thanks to help from sustainable and biophilic design experts Leaflike, public areas take inspiration from woodlands and rainforests, with smooth wooden panelling adorning the walls and an abundance of greenery weaved throughout. Arched walkways, rounded reception desks and a curved staircase soften the design, contrasting the straight lines that have been incorporated to the wall panelling.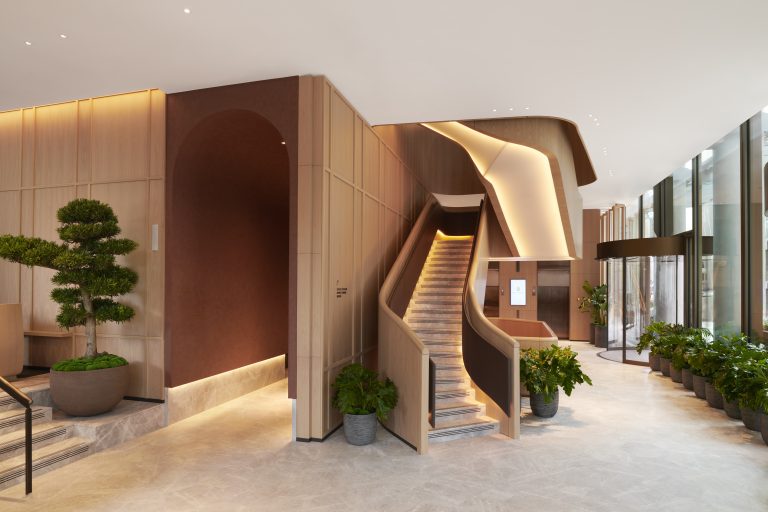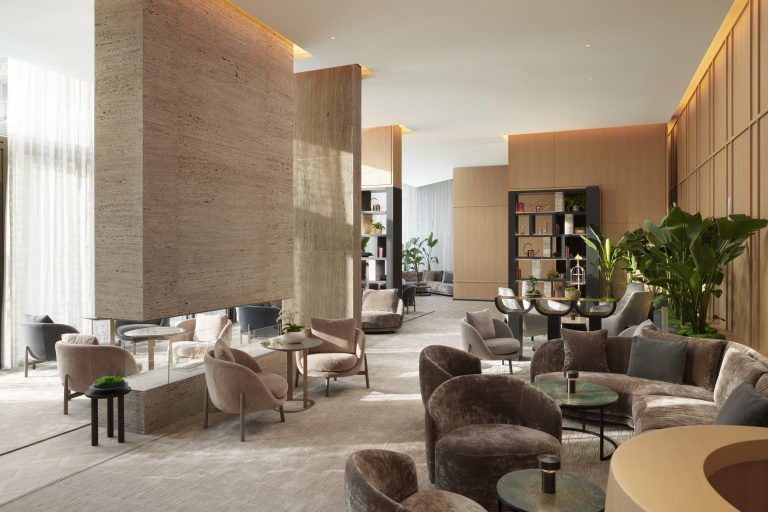 A retreat from the bustling streets below, guestrooms offer further refuge and serenity for those staying the night. Floor-to-ceiling windows flood rooms with natural light in the day, illuminating the colour scheme of soothing greys, soft pastels and fresh whites. Furthermore, an omission of 90-degree angles in the bedrooms and bathrooms, as well as further rounded lines seen on the sofas and mirror edges, create a gentle embrace. Custom headboards act as personalised art pieces, lending a feeling of tranquility through oak, elm, elder and maple trees. A tasteful selection of accessories, meanwhile, introduce small bursts of colour and organic forms that reinforce the tonal and tranquil feel of each guestroom.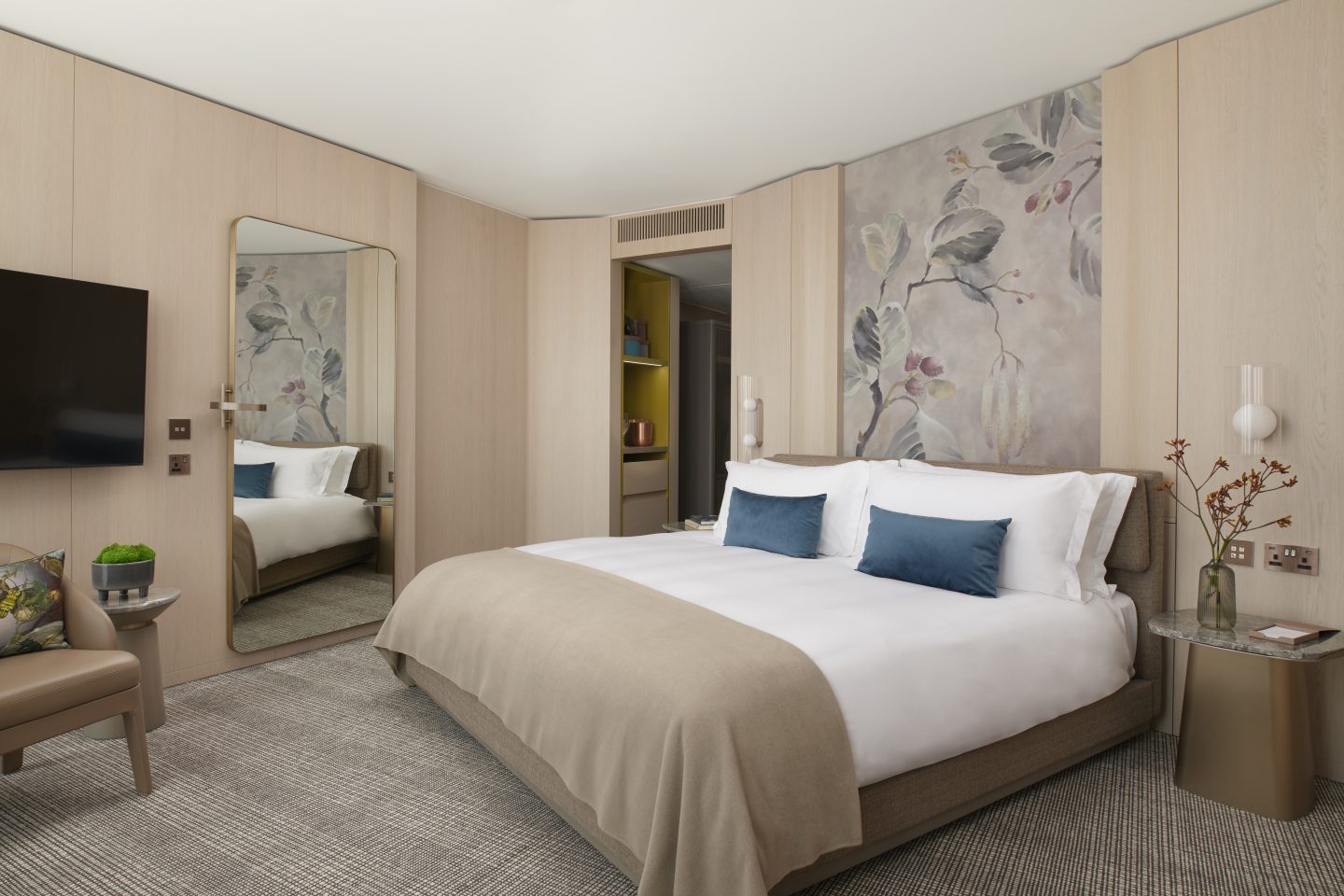 Pan Pacific London boasts five food and beverage venues, each incorporating the flavour, diversity and elegance of modern Singapore. Led by Chef Lorraine Sinclair and Executive Pastry Chef Cherish Finden, Straits Kitchen, Ginger Lily Bar and The Orchid Lounge delight guests with new and innovative flavours and utilise locally sourced produce to minimise the carbon footprint. Nutrition goes hand-in-hand with the hotel's emphasis on wellness. Integrating fitness, healthy eating, intricate treatments and mindfulness into the offering, an entire floor dedicated to rest and rejuvenation incorporates an impressive infinity pool, high-tech gym and individual treatment rooms.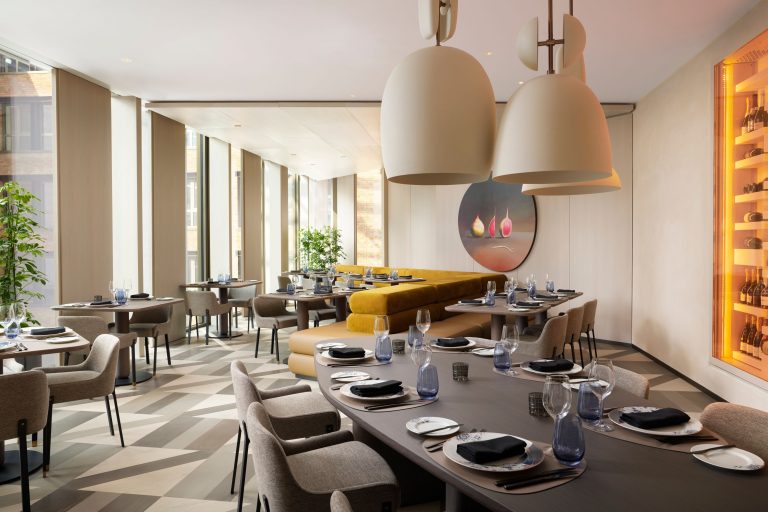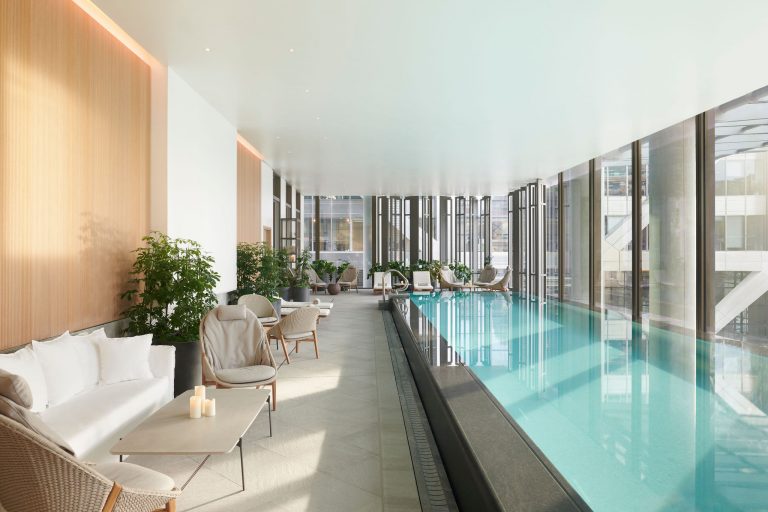 Through this 360-degree approach to personal harmony and health, Pan Pacific London has carefully crafted its design and facilities to offer one of the capital city's most contemporary and serene experiences. Book a stay to experience the hotel's allure first-hand, or take note of these five interior design lessons to take a helping of the hotel's charm home with you.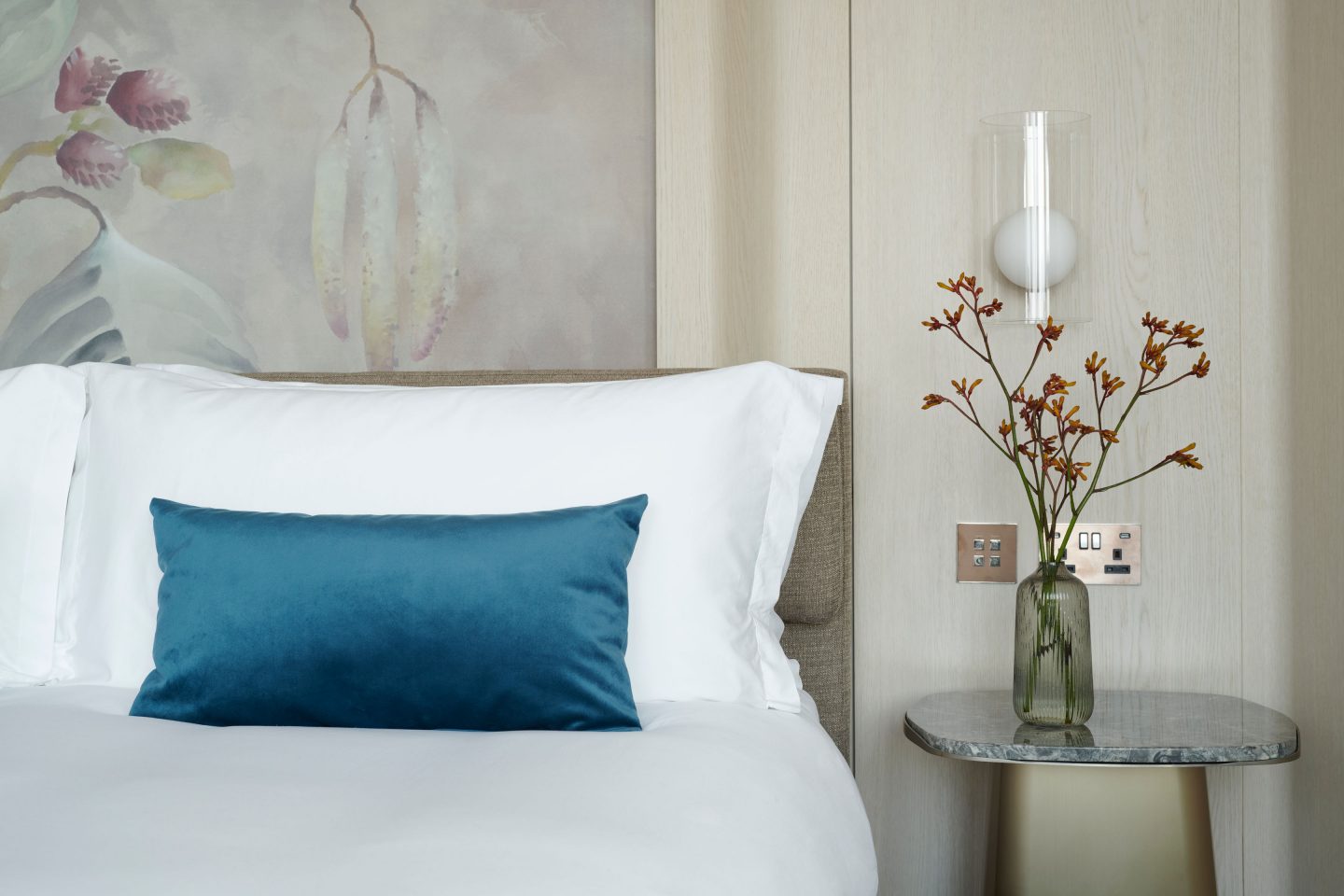 1. INTEGRATE NODS TO NATURE
Biophilia provides a holistic approach to design. We can learn from Pan Pacific's greenery and natural motifs to connect with the environment and feel the soothing benefits of nature even when we're indoors. Do this by opting for upholstery printed with such imagery or by introducing more plants and flowers into your space.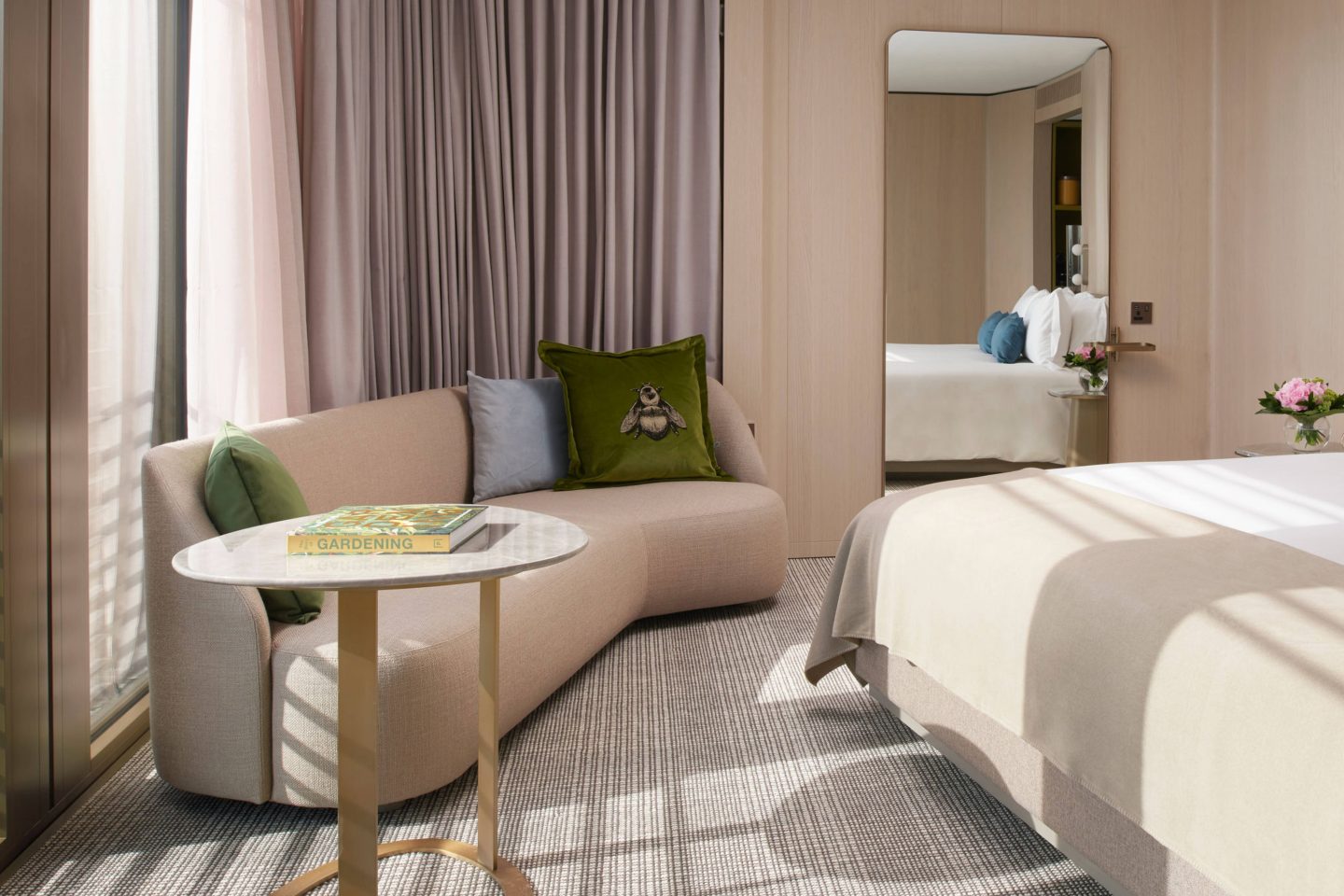 2. OPT FOR CURVED LINES
Arches and curved lines lend a human quality to interiors, offering rhythmic cadence and a welcome contrast to sharp, modernist lines.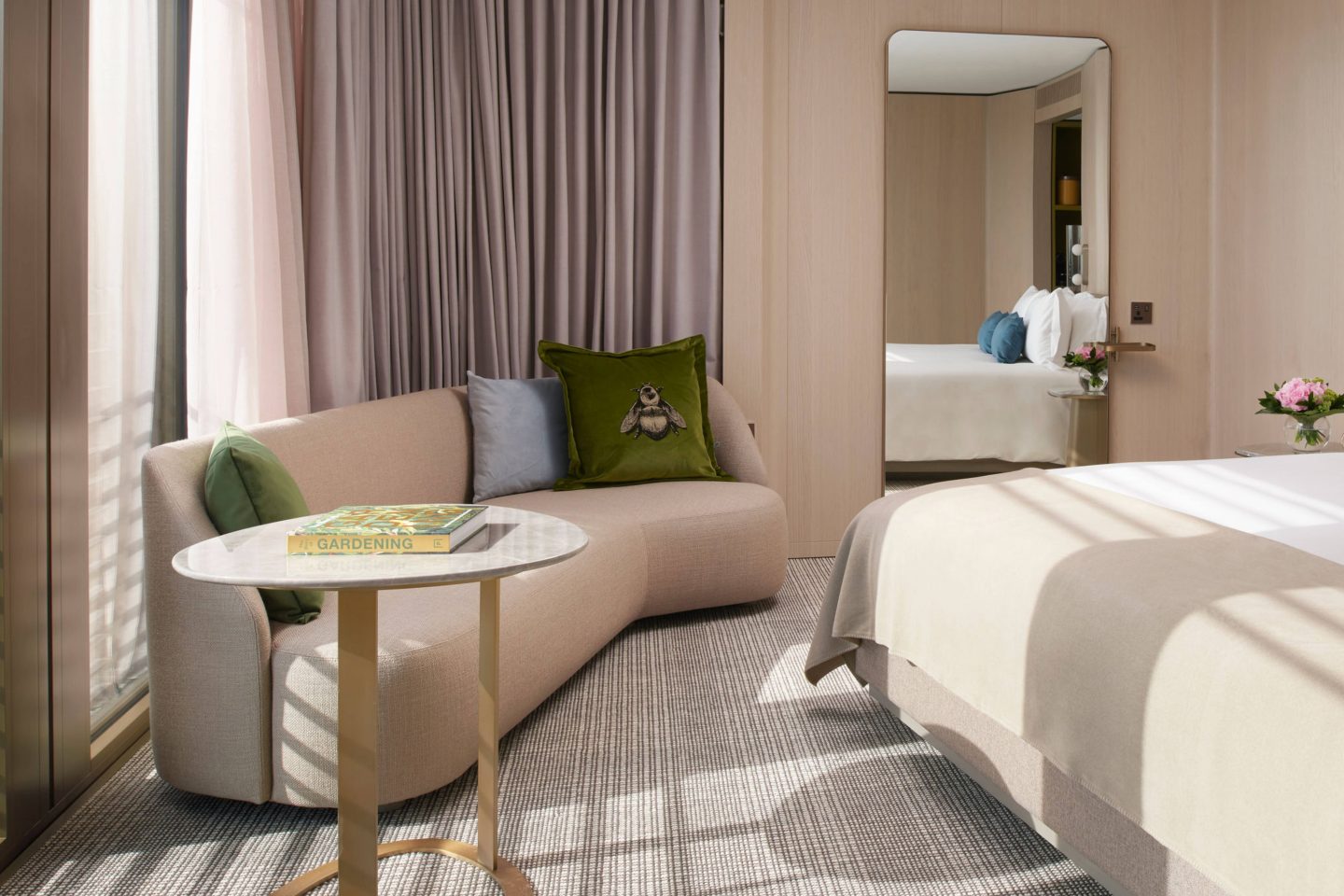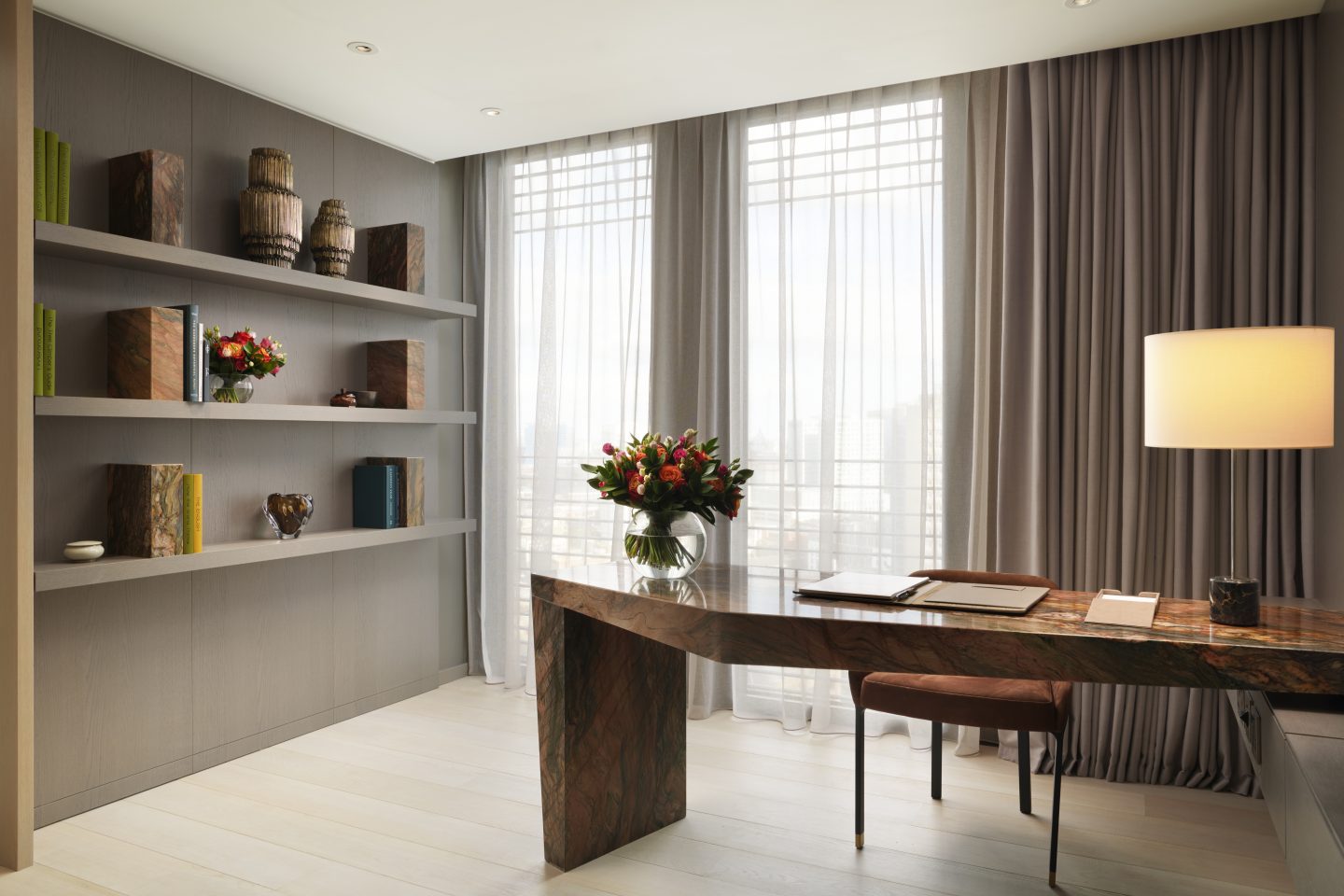 3. KEEP DECORATIONS MINIMAL AND CONSIDERED
Removing clutter and unnecessary items from your design scheme will help keep a clear frame of mind, but those you choose to keep on display should be considered and reflective of your personality.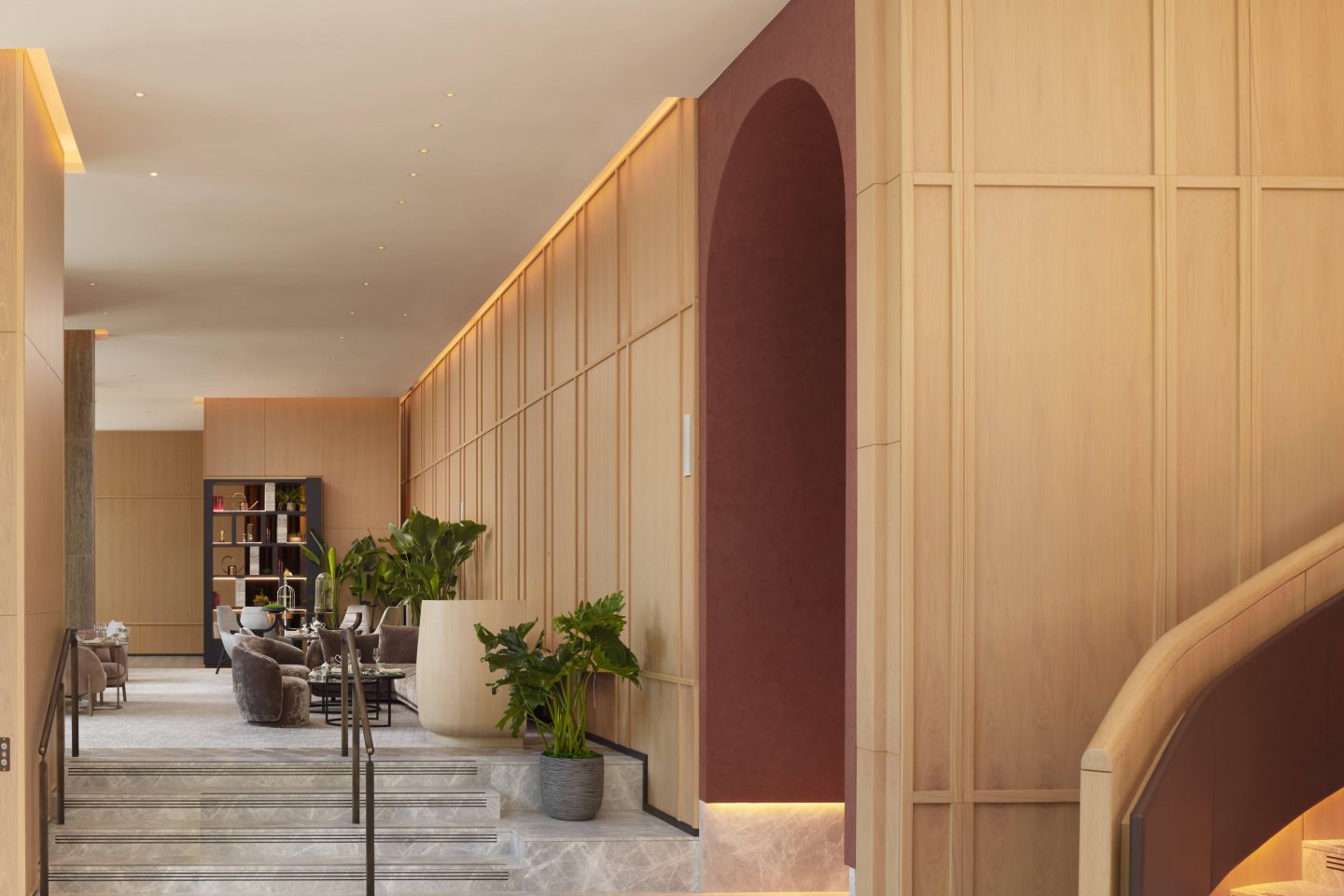 4. INTRODUCE A WOODEN TOUCH
Wooden textures will complement any interior style and bring a smooth, understated flow to interiors. Pan Pacific London features light wooden walls and a staircase in its reception area that instantly provides a unique, tranquilising backdrop.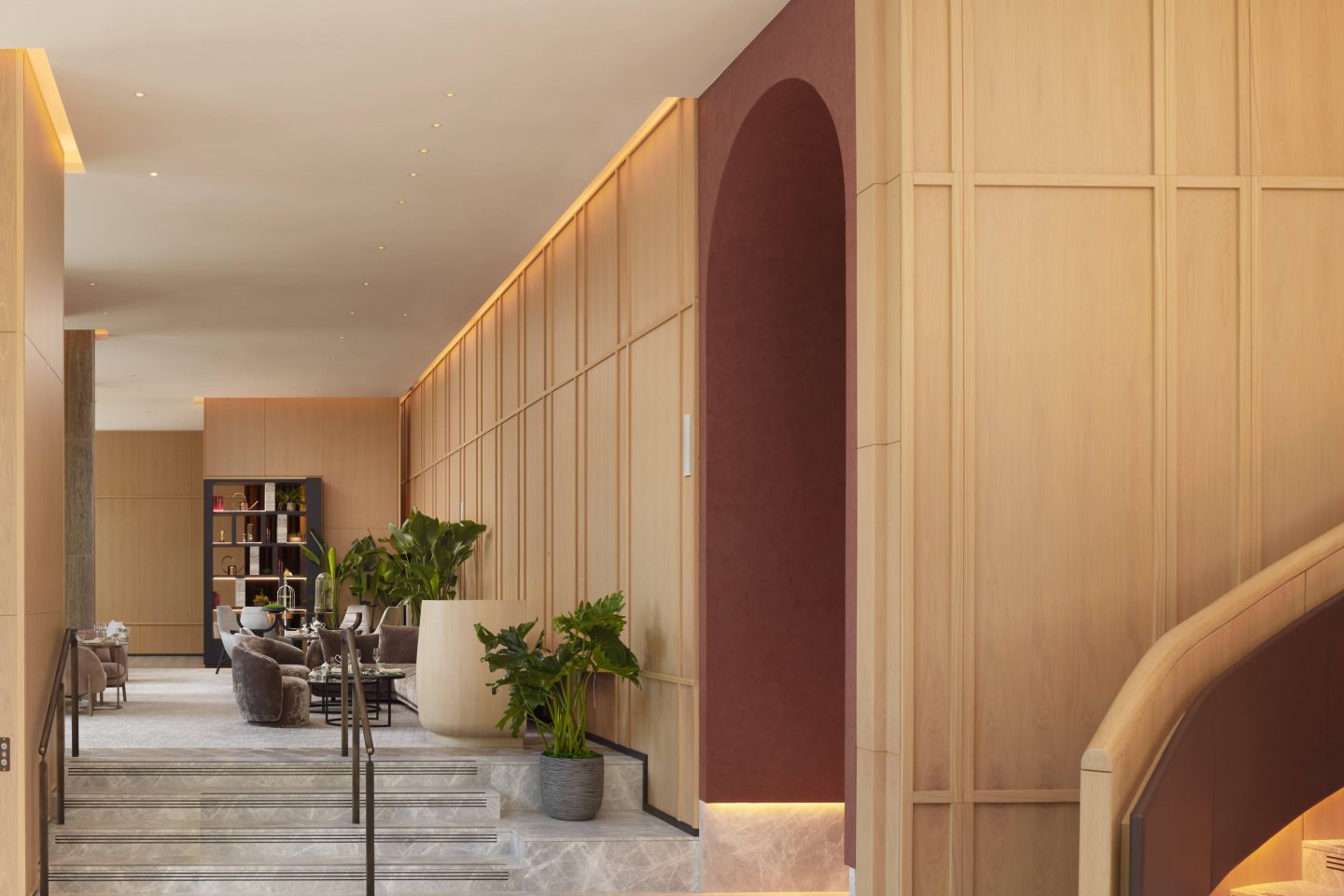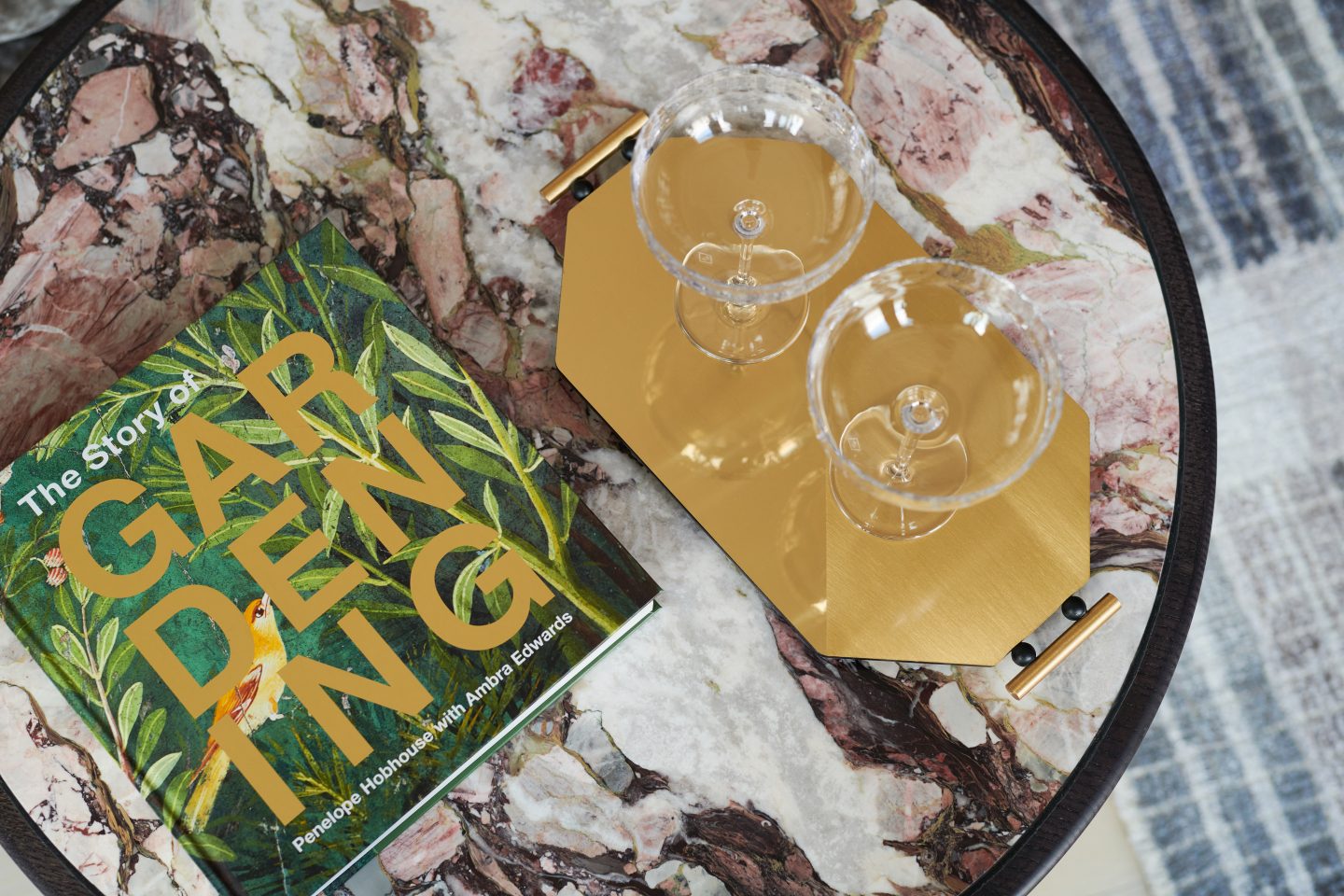 5. SHOP FOR SUSTAINABLY CRAFTED ACCESSORIES
Sustainability should be at the forefront of every design scheme today. We're drawing inspiration from Pan Pacific London's recycled planters and glassware to seek out responsibly sourced accessories for our own homes.
Book in for a stay at Pan Pacific London here. Located not far from Pan Pacific London, our Spitalfields store is home to our latest styles in a calm, modern boutique environment. So why not stop off for some shopping whilst in the area?