In Conversation With Rue Rodier's Marissa Cox And The Author Of Practising Parisienne
Marissa Cox, or known under the pseudonym Rue Rodier, wears many hats. And no, we don't mean physical hats. Boasting a career in and out of magazines, PR agencies and publishing houses, the British-born content creator found herself living in the 9th arrondissement of Paris, notably on the street of Rue Rodier. After moving to City of Lights eight years ago, Marissa has found a home away from home in the French capital and on the internet. Between documenting chic outfits, carefully curated interiors and envious destinations on her Instagram, Marissa is the friend you know would give you good advice. What started as a place to write about her new life in Paris, Marissa has cleverly used Rue Rodier to decode that elusive Je ne sais quoi whilst bringing her readers in on la vie Parisienne. She knows too well the French love the good things in life, and Marissa thoughtfully puts together, whether it's an Instagram post, a new article for Who What Wear or for Rue Rodier, meaningful content that encourages you to live better and wiser. After speaking to Marissa, we know we'll be re-downloading Duolingo to brush up on our French.
As she reflects on her formative moments living in Paris in her debut book, Practising Parisienne, we tasked Marissa to show us around the neighbourhood that made her stay away from London. Armed with a curated edit of autumnal styles to see her through the seasonal shift, we caught up with the woman in front of the camera for a lesson in French style – follow along and adopt her lead, and you may too be a practising Parisienne.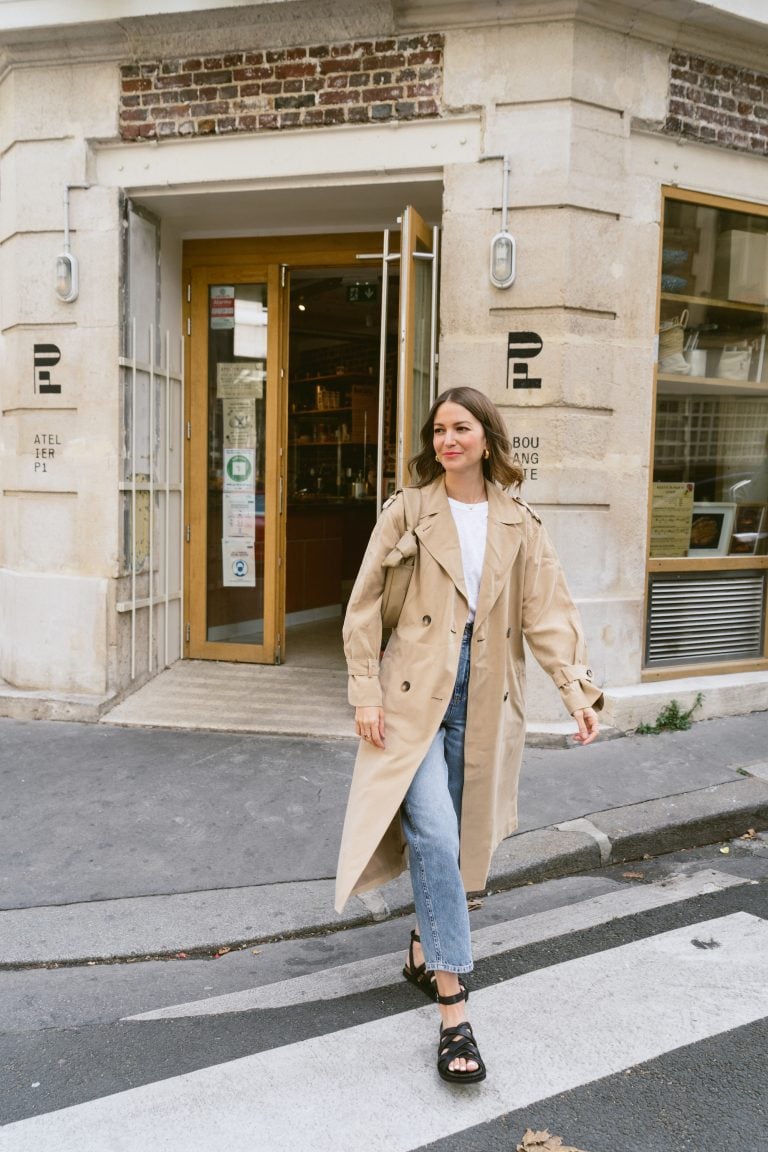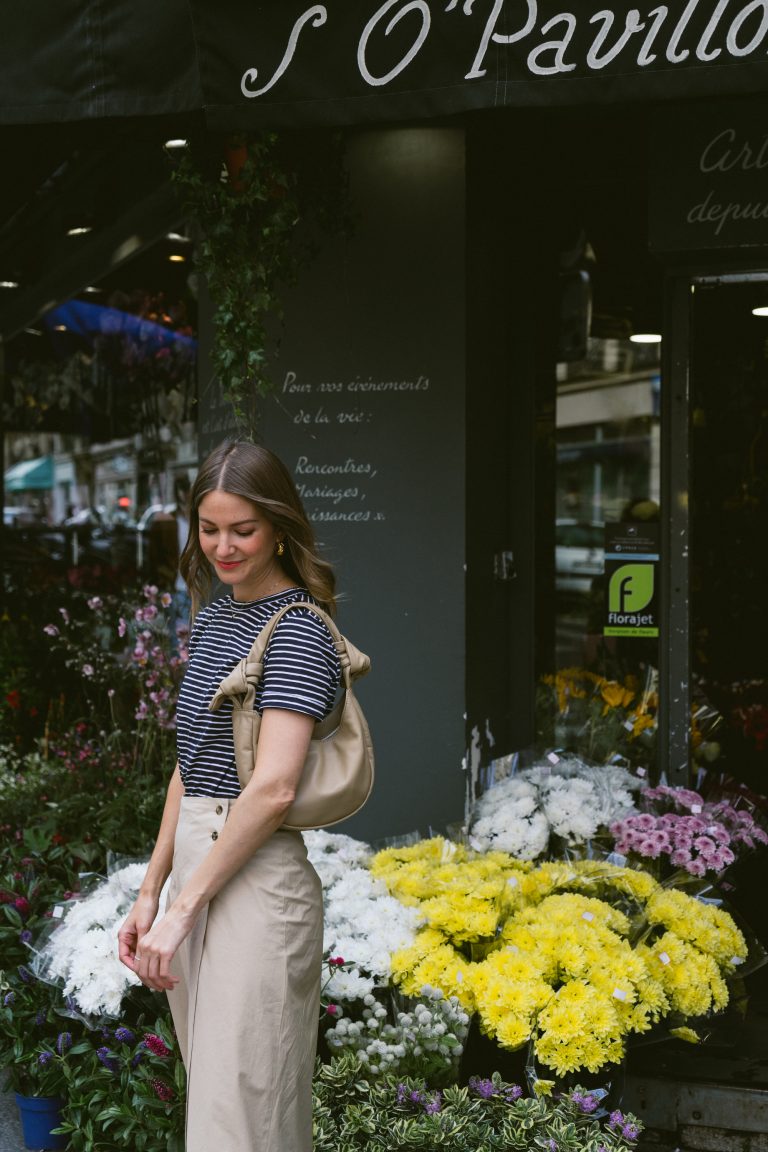 Let's start with the story behind Rue Rodier; what drew you to write and document your life?
I worked in PR and journalism in London before moving to Paris, and I was always interested in having my own creative outlet. Moving to Paris gave me something to write about and photograph – it gave me my raison d'etre, if you will… So I started documenting my life online and on Instagram. It just so happened 'Rue Rodier' was the first street I lived on in Paris, and I liked the alliteration of the double 'R', plus I used the name to create the byline: on the road to better living.
How would you describe your personal style?
It's pretty simple and minimal, verging on masculine at times. I'd certainly say I have curated a uniform and a capsule wardrobe that consists of denim and tailored items in muted palettes. While it does get a little more colourful and feminine during the summer months, my go-to look is a good pair of high-waisted, straight-legged jeans and a tank or tee that I can throw an oversized blazer over if I'm heading out.
How about documenting your outfits — has that influenced the way you use fashion?
I think it has, I don't have to think about my outfits too much in the morning or before taking photos. I've certainly pared back the items in my wardrobe, just to make dressing more straightforward and effortless – make like the Parisians do, of course 😉
What does your average day look like?
On a calm day, I try to do 10 minutes of yoga in the morning; then, I'll write my to-do list for the day. My days usually consist of emailing, editing photos, writing articles, posting to Instagram and creating content for my blog, Instagram and Stories. Plus, planning any upcoming shoots for content or just general outfit posts. I also spend a lot of time scouring the web for interiors products and I'm currently working on setting up a sourcing service for this, which is exciting.
And how would you typically spend a day off when the work can wait?
This is rare and a true luxury! But if I do have a whole day, I love to take a walk through the city or Bois de Vincennes – the largest public park to the southeast of Paris, which makes you feel like you're in the countryside and not in Paris at all. If I plan to stay in for the evening, I will visit the local farmers market to buy fresh seafood. I use cooking to decompress after a long day or enjoy getting stuck into a good book. I usually have around four books on the go, as well as interiors magazines like House & Garden and World of Interiors that I'll read cover to cover over a coffee on a Sunday morning.
Other than Practising Parisienne, what's on your bookshelf right now?
I studied English literature at university and used to work in publishing so my shelves are pretty stacked! But I'm currently reading All the Light We Cannot See by Anthony Doerr, The Testaments by Margaret Atwood, The 7 Habits of Highly Effective People by Stephen R. Covey and Solar by Ian McEwan.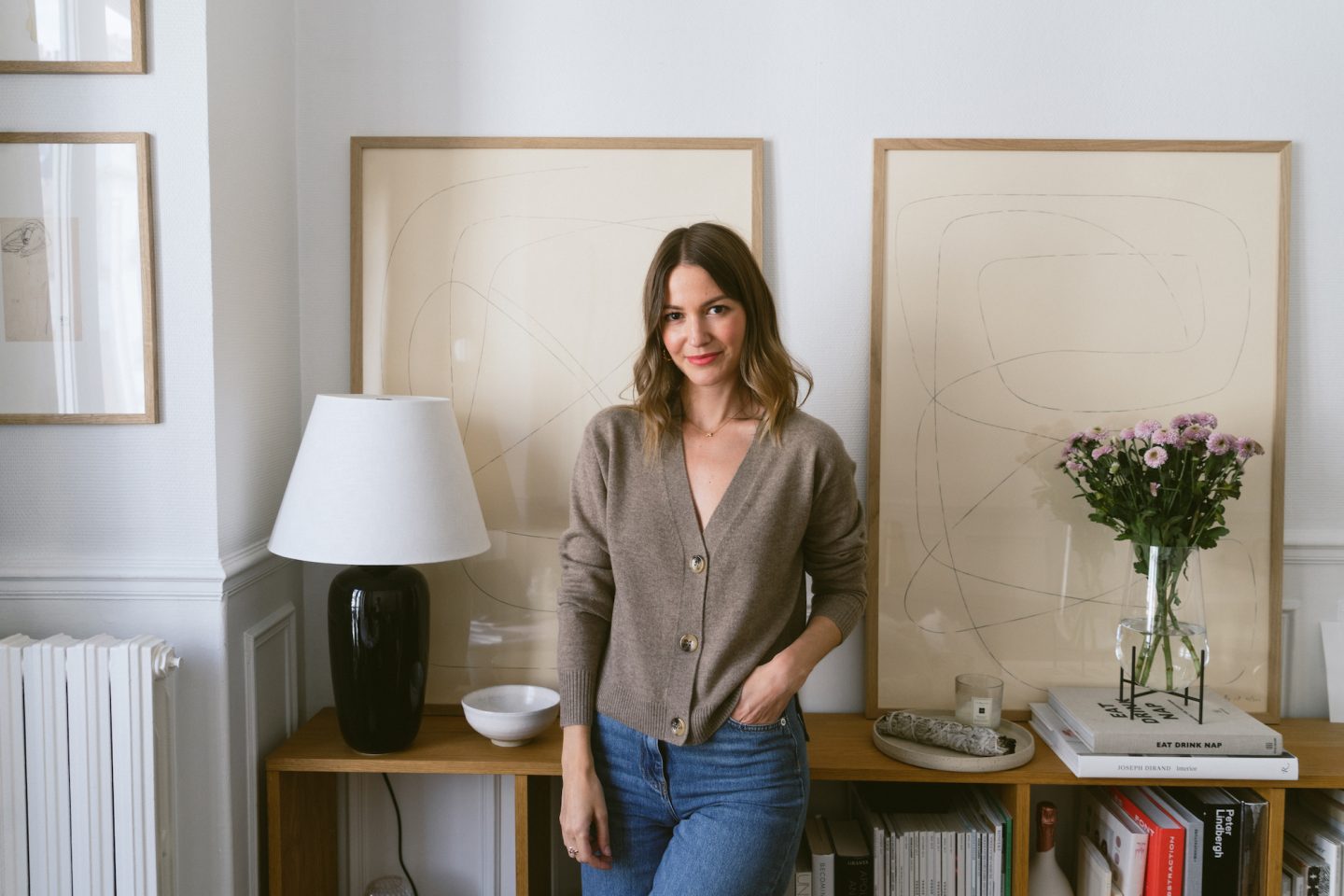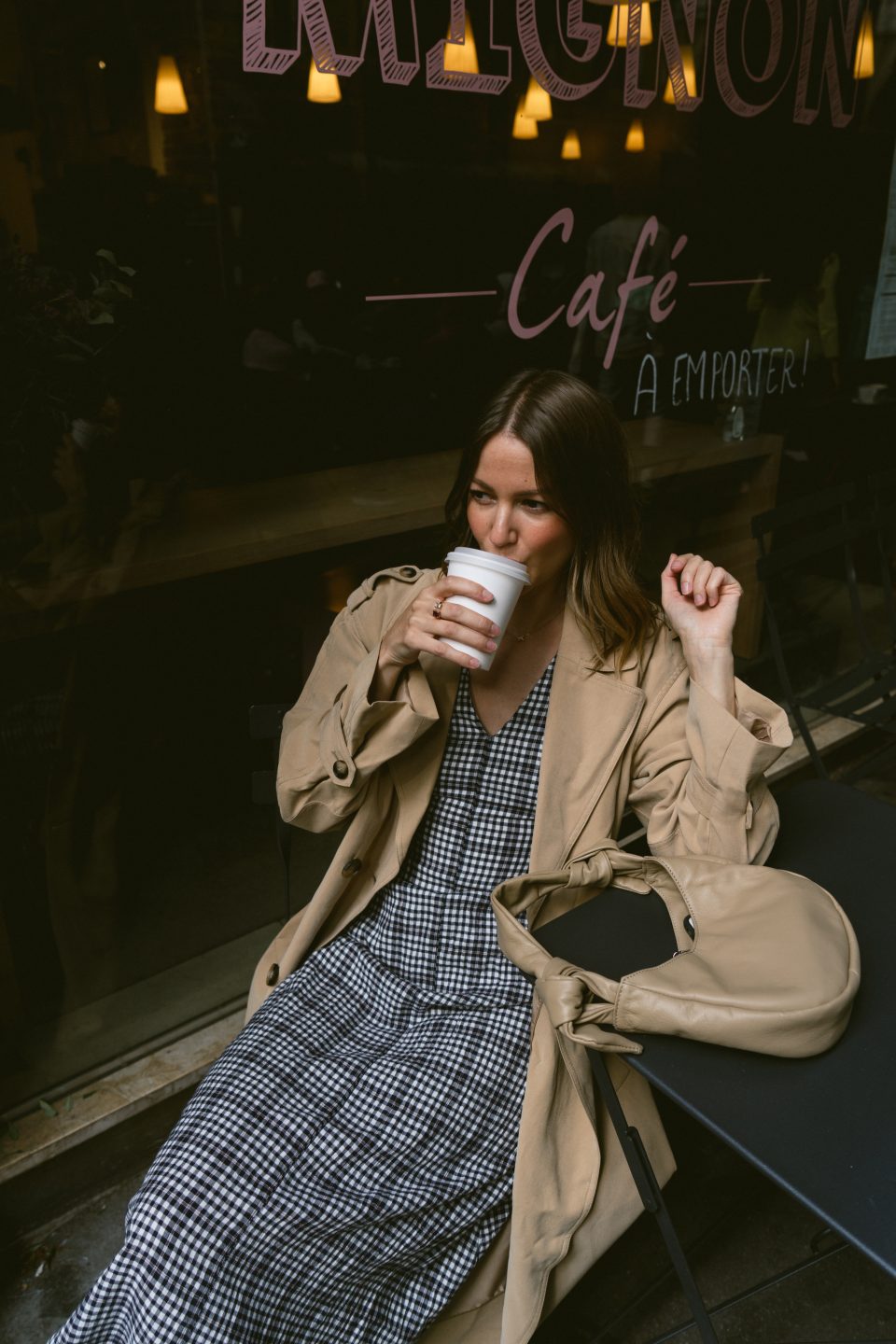 "Parisians have a much more laid back, effortless attitude towards life, which encompasses caring less about one's faults and focusing on the positive."
Let's talk about Practising Parisienne… What can we expect from your debut book?
It's a mix of my personal story – packing up my London life and moving to Paris for a relationship eight years ago and part lifestyle guide covering style and fashion; beauty, skincare and body image; interiors and home life; food and wine; and finally relationships, love and dating. Since moving to the French capital, it includes everything I've learned so far and is full of tips and interviews with a few of my favourite Parisians like ELLE France journalist Monica de La Villardière and VOGUE France Fashion Editor Eugénie Trochu. It's meant to be aspirational and practical and comes with beautiful illustrations, making a great gift, hint hint 😉
"To be Parisian is to have a certain attitude and outlook on life." Talk us through a bit more about the Parisian outlook… What have you learned from decoding that elusive Je ne sais quoi while living in Paris?
Parisians have a much more laid back, effortless attitude towards life, which encompasses caring less about one's faults and focusing on the positive. Contrary to popular belief, they are a lot less try-hard in most areas of their lives and are not trying to be perfect all the time. They also prioritise pleasure (joie de vivre is truly alive and well), which is why food and wine are such a significant part of their lives, as is romance and sex. I think as well, there is without a doubt they have a particular awareness of aesthetics, thanks to their beautiful surroundings, that has naturally seeped into how they curate their style and interiors.
We're intrigued to know how to adopt a more Parisian lifestyle into our every day – tell us what makes it so unique?
It's a well-used word, but a Parisian lifestyle is, on the whole, more effortless. If, like them, you want to adopt a simpler style, try wearing less make-up or focusing less on your flaws, you'll have more time to take full advantage of the good things in life. It's all about seizing the moment and enjoying what life has to offer.
Make us jealous, the best thing about living in Paris is…
Eek, tough choice as there's no one thing! I'd say the wine, food, architecture, and café culture; people-watching on a terrasse whilst drinking a glass of wine with a friend is mainly a favourite of mine.
Your favourite French idiom is...
Etre à côté de ses pompes, which translates: to stand next to one's shoes, but it means "to be away with the fairies" or "have your head in the clouds".
Would you say the Parisian style has influenced the way you dress – how does it differ from when you lived in London?
Since living in Paris, I've learned not to make so much of an effort. Their style has taught me to invest in timeless pieces and create a capsule wardrobe of essentials that can easily be worn together. I used to wear a lot of colours and crazy prints when living in London – I basically dressed like a teenager. So, it has for become more elegant and refined over the years since living here.
What does "dressing up" mean to you?
I don't think you can beat teaming a nice top with jeans, pairing it with low heels, some red lippy and throwing over a blazer. Perhaps a slip dress when the weather is warmer.
Are you an impulsive spender or conscious buyer?
I have been known to panic buy, but I've learnt to be more considerate in my buying choices.
The most extravagant thing you've ever bought?
A tiny velvet Gucci bag that I can't even fit my phone in, so I've hardly worn it.
The fashion piece in your wardrobe you are most sentimental about is…
It's actually a jewellery piece. It's a ring that I designed which my mum had made for me using two stones that I inherited from my grandmother.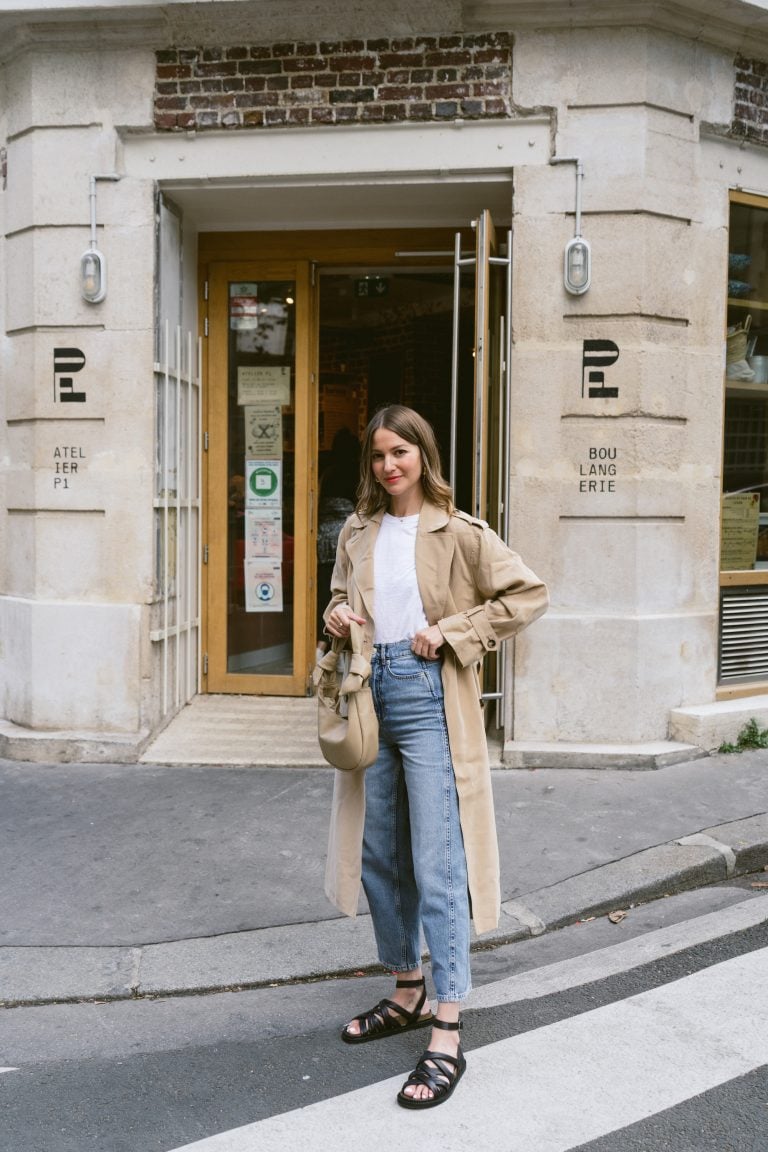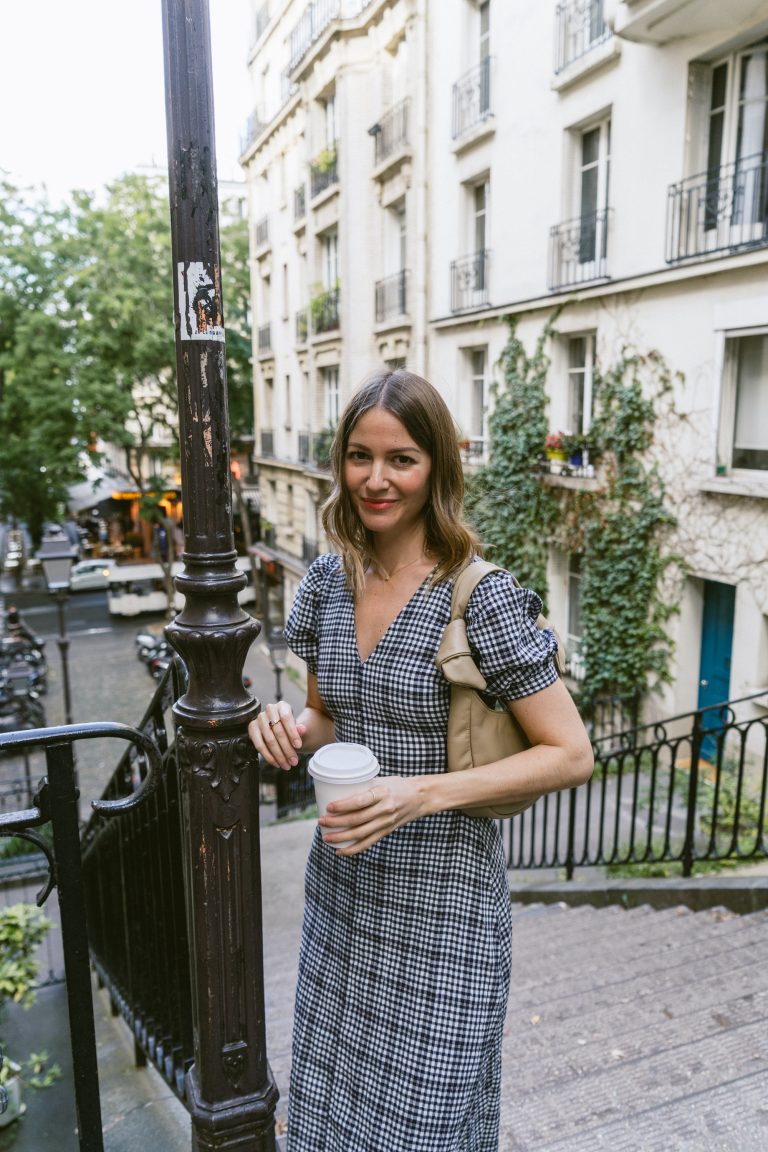 "It's a well-used word, but a Parisian lifestyle is, on the whole, more effortless. It's all about seizing the moment and enjoying what life has to offer."
What do you wear when you're spending the day comfortably at home?
I have some excellent loungewear – and am currently wearing a pair of tracksuit shorts and a matching jumper as we speak.
What does self-care look like for you?
Having time to do some yoga, meditation, face-yoga or reading a book, watching a good series and lathering my body in cream.
What's on your bedside table right now?
Books, a pretty marble lamp that I found on Selency, earplugs, eye mask (I'm a light sleeper), pillow spray by Aurelia, Goutal hand cream and lip balm from Augustinus Bader.
This has been a life-changing year for most of us; have you found comfort in any new routines or rituals?
I did get good at practising yoga in the morning, and I've found I cook a lot more now.
Social media plays a significant role in your work; how do you find ways to disconnect from the noise?
I make sure to take time to exercise or take a walk in nature. Even picking up a magazine or a good book or chatting on the phone with a good friend.
But when you are scrolling, which social media accounts brighten your day?
I'm a big fan of memes and animal accounts. There's a brilliantly funny french account that writes in Franglish called @yugnat999. I also love @mignonettetakespictures, and then I'm also a fan of interiors accounts, such as @eyeswoon and @ateliervime.
What have you learned about yourself this year?
That I can write a book! It was always a dream of mine, but I wasn't sure if it would ever become a reality, and now here we are.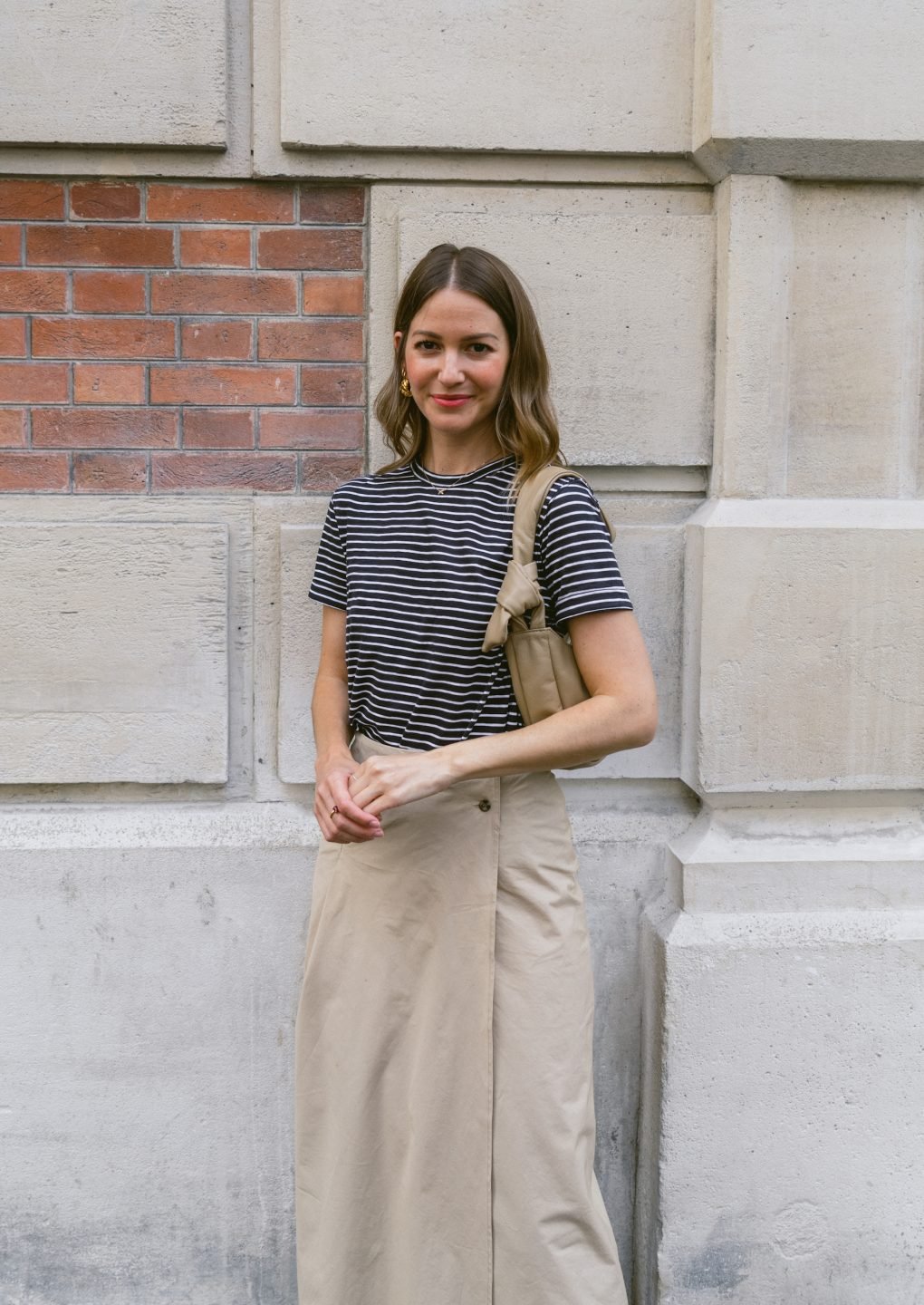 What drives your passion for art and photography; where do you find creative inspiration today?
Artbooks. I have quite a few at home that I've collected over the years from travelling and visiting exhibitions.
How do you like to spend your evenings?
When I'm not cooking, I love a good TV series. I love anything that offers a bit of escapism, fantasy or historical fiction like Outlander, The Mandalorian, Shadow & Bone, Vikings, The Last Kingdom, and GOT. I'm a bit of a geek.
Talk us through your favourite dining spots we shouldn't pass up on…
Too many to list… There's Clamato for seafood, Yard Cave for wine and small plates, Ippudo for Chicken katsu. Go to Jah Jah By Le Tricycle for vegan, Bistro Paul Bert for classic French, Septime for contemporary fine dining, and lastly, Au Passage for small plates.
And what about your favourite hangouts; where can we find you?
This is tricky as I haven't been out a lot in the past year, but I do love caves à mangers; Septime la Cave, Yard, Aux Deux Amis or Martin are all my go-to's.
Where is the best place to bring a friend visiting Paris for the first time ever?
Place des Vosges, Île Saint-Louis, Merci, Place Dauphine, and Musée Picasso.
Tell us something underrated about Paris…
Eating oysters (when they're in season) at Marché Bastille for lunch.
And, controversial or not, what is overrated?
Going up the Eiffel Tower. Purely for the reason, you can't actually see it in your view when you're up there, which is one of the reasons for going. But to get a great view of Paris, I suggest climbing the Arc de Triomph or take a visit to Fondation Louis Vuitton instead.
What's the biggest misconception about Paris?
That Parisians are rude.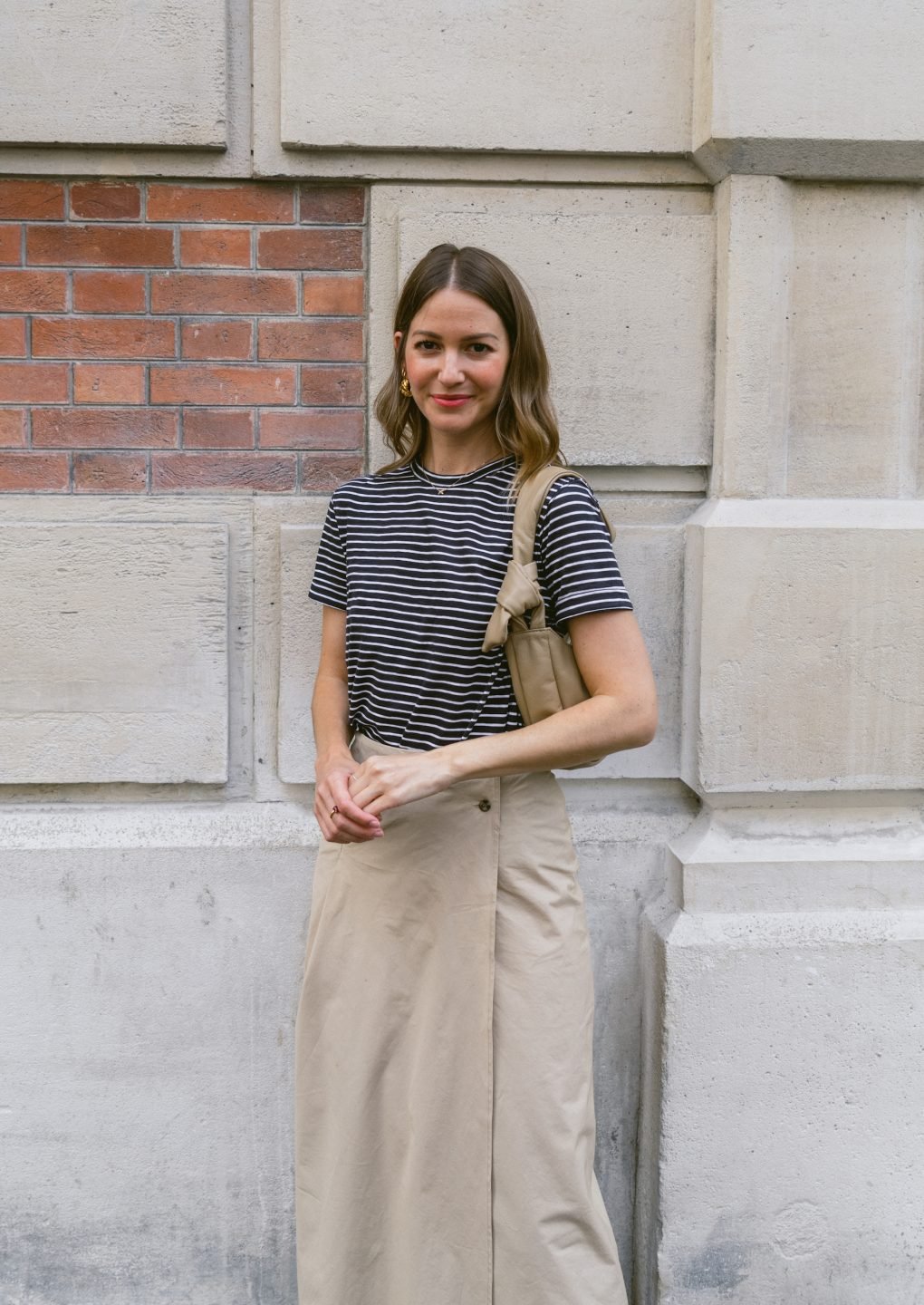 You're looking to escape the city, where do you like to go for weekends away in France?
I love Marseille right now, and I also recently discovered Arles. But, of course, Bordeaux is beautiful too and always worth exploring.
If not Paris, where else would you live?
Speaking of Bordeaux, I could see myself living there. It's quite like a smaller yet warmer version of Paris. If not France, I could easily live in New York or Los Angeles.
And lastly, what's next for Marissa?
Continuing to write and document about style and interiors. I also hope to write more books in the future, ideally, a coffee table one focusing on interiors and home life. Maybe even create my own range of homeware products and design more interior spaces…
 
 
 
Marissa Cox is the content creator and founder of lifestyle blog Rue Rodier, and author of Practising Parisienne, out now.