At Home With Model, TV Presenter and Influencer, Rabea Schif
"A jack of all trades and professional at nothing" is the way Rabea Schif likes to swiftly describe herself. Never pinning herself to any one thing, Rabea's impressive resume boasts a career in and out of fashion magazines, talent management, art directing and styling photoshoots. She's also a model with a list of feature credits in music videos, an avid art collector and has her foot in the door as a TV presenter and host – not to mention the multitude of other projects she often juggles. It's not hard to see why people want to work with Rabea when she radiates joy, whether that shines through in her beaming smile, the way she ends a written sentence with a winky emoticon, or through her playful knack for putting outfits together.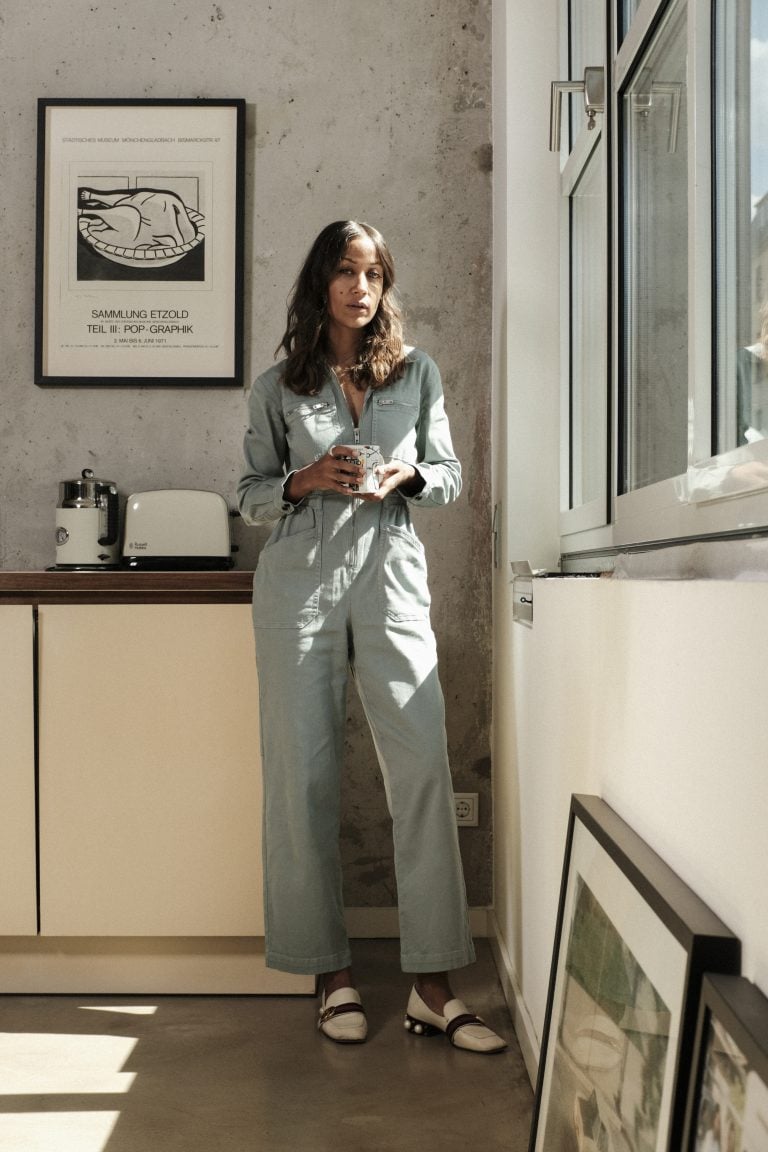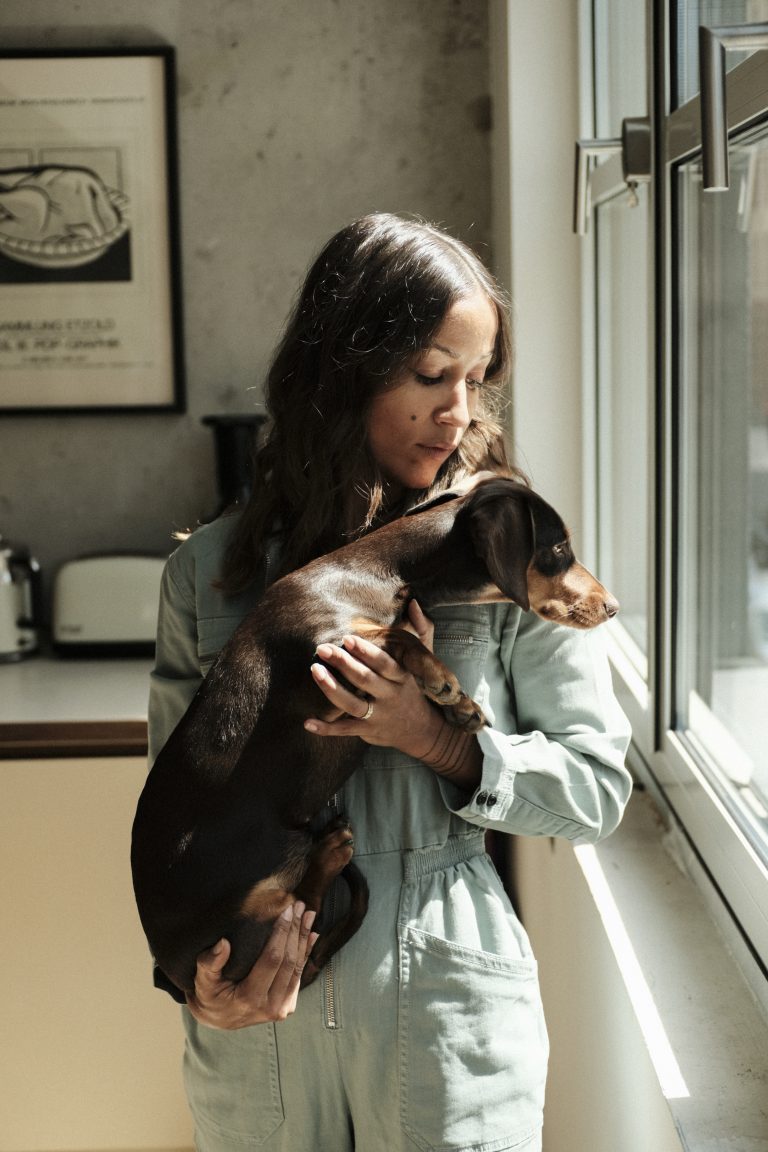 At the time of our chat, she's racked up an impressive 19k-worth of followers over on Instagram. "I guess some people might call me an influencer…" Rabea is being modest, her followers have not surprisingly tuned in and stayed put for her curated blend of lust-worthy mid-century interiors, her hi-lo style mixing vintage and designer clothing, and her endless parade of colourful suits. Her unique aesthetic is one that would feel at home in the '60s, and wouldn't look odd in a Gucci campaign, yet still doesn't feel too far-removed from reality that you wouldn't see it on the streets of London or Paris today. An influencer? Definitely – she has me convinced that I need to rethink my suit game.
So where does Rabea Schif retreat to once her work is done? We took a virtual visit to her apartment in Frankfurt, a tranquil space for a busy mind and home to her sleepy dachshund, Bailey Rose. Here, via email, Rabea opens up about her life in fashion, the wardrobe treasures she won't forgo, and what "downtime" actually looks like for her – when she has a spare minute, that is.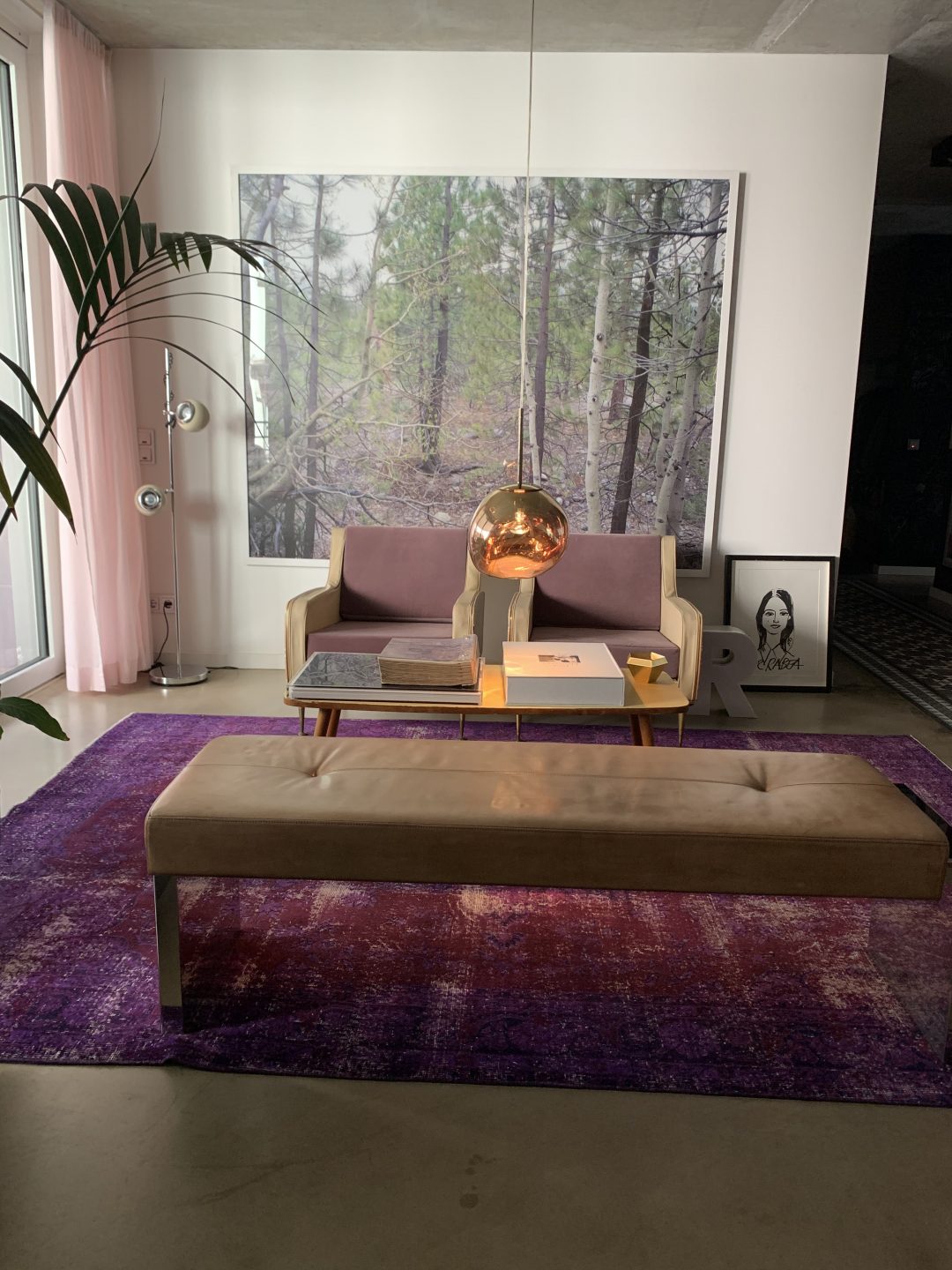 Rabea, would you like to introduce yourself?
Hi, I'm Rabea Schif! I am an avid art collector and the dog mother of my dachshund puppy, Bailey Rose. I like to say that I'm a jack of all trades as I love doing so many things and don't like pinning myself down to one thing.
What does your average day look like?
Usually, my days consist of travelling, preparing for my job as a host, attending red carpet events or shooting campaigns and editorials.
What are the projects you're working on at the moment?
I'm busy researching my capsule collection and have been art directing and styling photoshoots too. Since Fashion Week is coming to Frankfurt next year, I've also been meeting with brands to help organise events and discuss what we can do to make our mark in the industry. There are also some things in the pipeline that I can't share yet… So stay tuned 😉
How did you get your start in fashion?
My real start in fashion was my first job in London at Smile Management; a high-profile agency representing photographers, stylists and make-up artists such as Ellen von Unwerth and Mert & Marcus.
Of all the people you've met, who has surprised you the most?
Lady Gaga for sure. I interviewed her for a TV show I used to host and was expecting her to be pretty unapproachable, but she was super kind, interested and even took some extra time to chat with me afterwards.
You have three minutes to change: what do you wear?
Denim overall, white frilled or statement collar shirt, and a loafer. If it's cold outside, I'll pair with either a leather jacket or a blazer to finish.
How would you describe your personal style?
My style depends on my mood, it's eclectic yet distinct – it can range from tomboy or '60s mod, to rock 'n' roll-inspired and Jane Birkin-esque. I love to dress up in suits and I am a big fan of vintage shirts. Maybe to sum it up – my style is always refined yet casual, with a bit of an edge.
And how about documenting your outfits — has that changed you?
Not really, though I guess being photographed by the press has made me more aware of attention to detail and watching out for your colour combinations.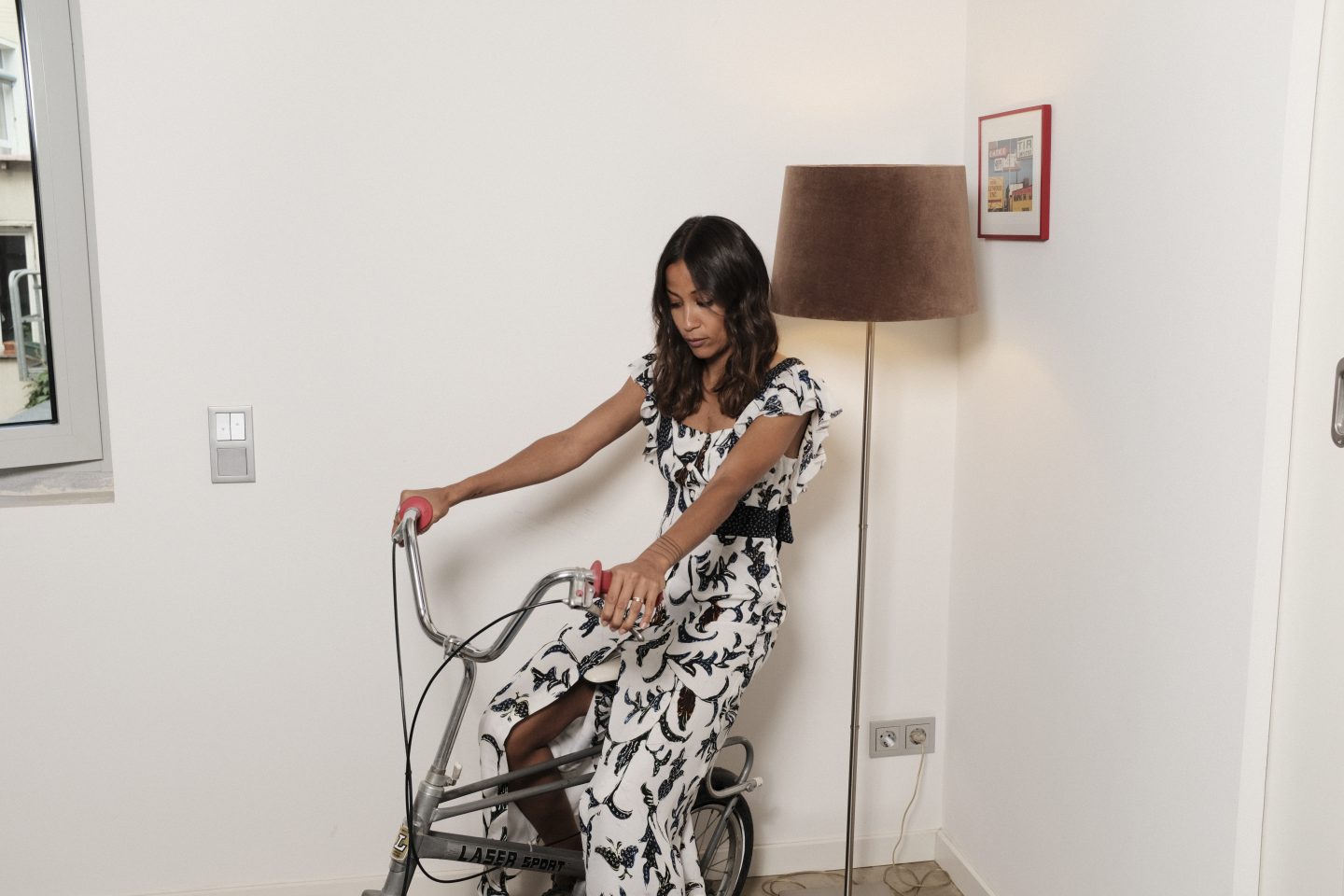 Are you an impulsive spender or conscious buyer?
I used to be an impulsive buyer but nowadays I am aiming to be more considered.
The most extravagant thing you've ever bought?
Bailey Rose – my dachshund! 😉
How do you balance playful pieces with classic investments?
Less is more. If you have a playful top or bag, for example, I'd recommend toning down the rest of your outfit to not overdo your overall look.
What trends are you loving this season?
I absolutely love big statement collars and puff sleeves and I am a huge fan of Bermuda suits which are – fortunately for me – very big this season.
Colour and print can be intimidating but you don't shy away from it — how did you start being more experimental?
It's quite simple but I guess the older you get, the less you start to care about what other people may think of you and your personal style.
The style in your wardrobe you are most sentimental about is…
My mom's vintage Missoni wedding outfit which she gave me. I would never let go of that…
What're some of your best flea-market or vintage shopping finds?
A white 70s shirt which I bought in Paris and a beige trouser-suit which I found on Portobello Road market.
A contemporary wardrobe should not be without…
A great pair of blue jeans.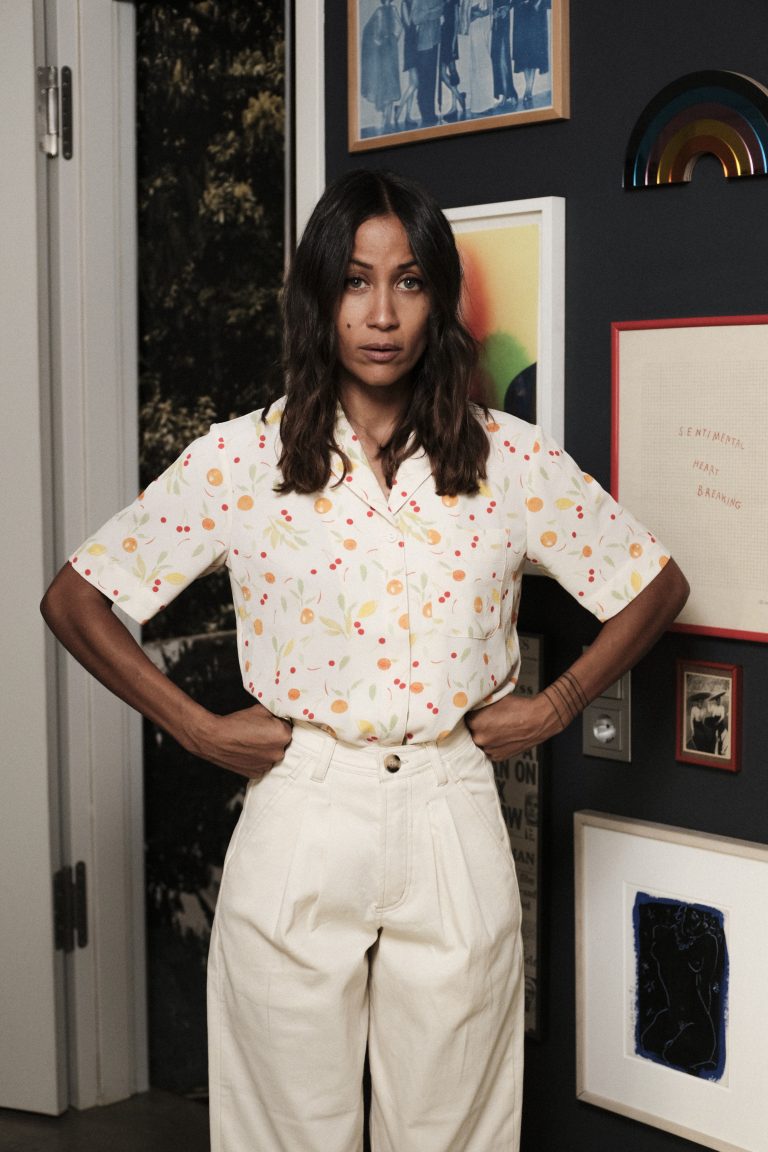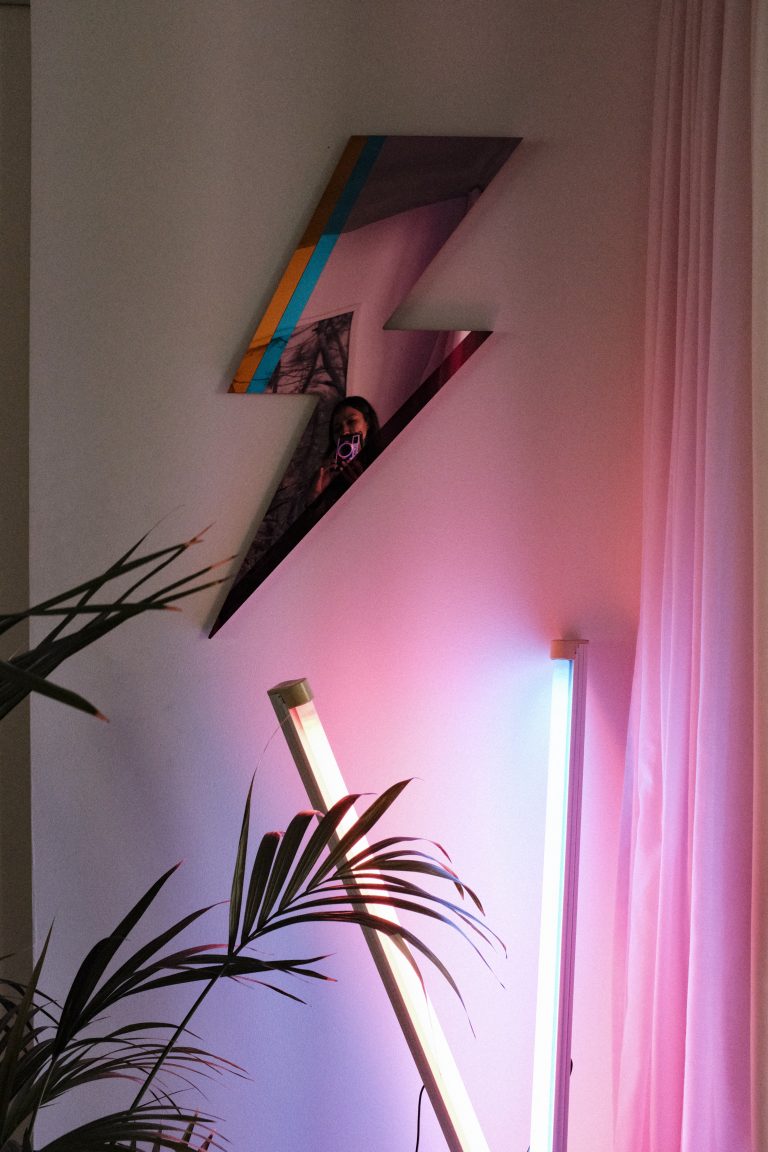 "It's quite simple but I guess the older you get, the less you start to care about what other people may think of you and your personal style."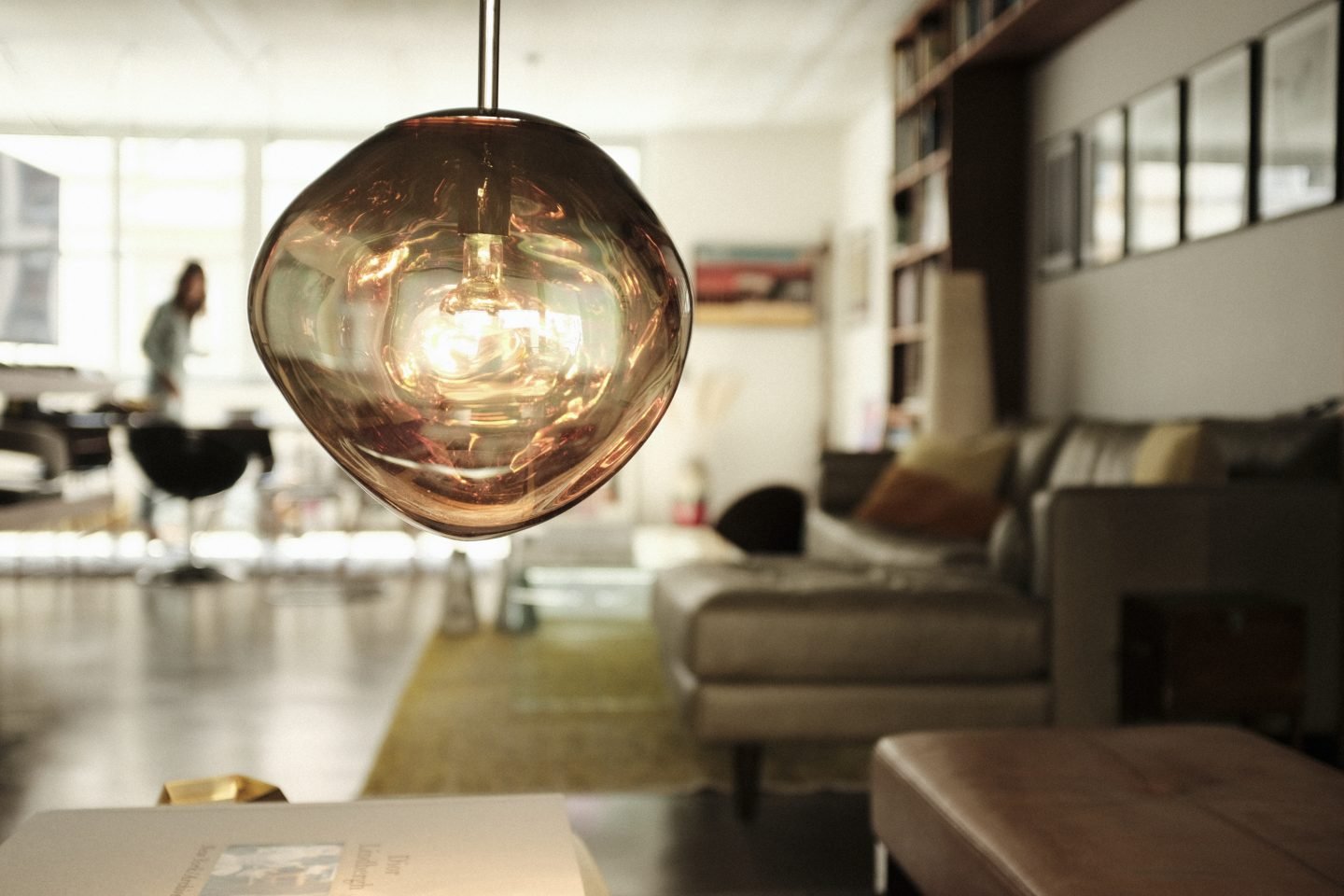 Where's home?
Frankfurt am Main, Germany.
The best thing about living in Frankfurt is…
…that the city is quite small and you can easily get around. You can easily travel to other cities and it has an international vibe. We have a great subcultural scene here, with lots of new restaurants, bars and clubs popping up.
Which German fashion brands should we look out for?
Check out LALA Berlin for that cool laidback Berlin style or MALAIKA RAISS for more refined pieces.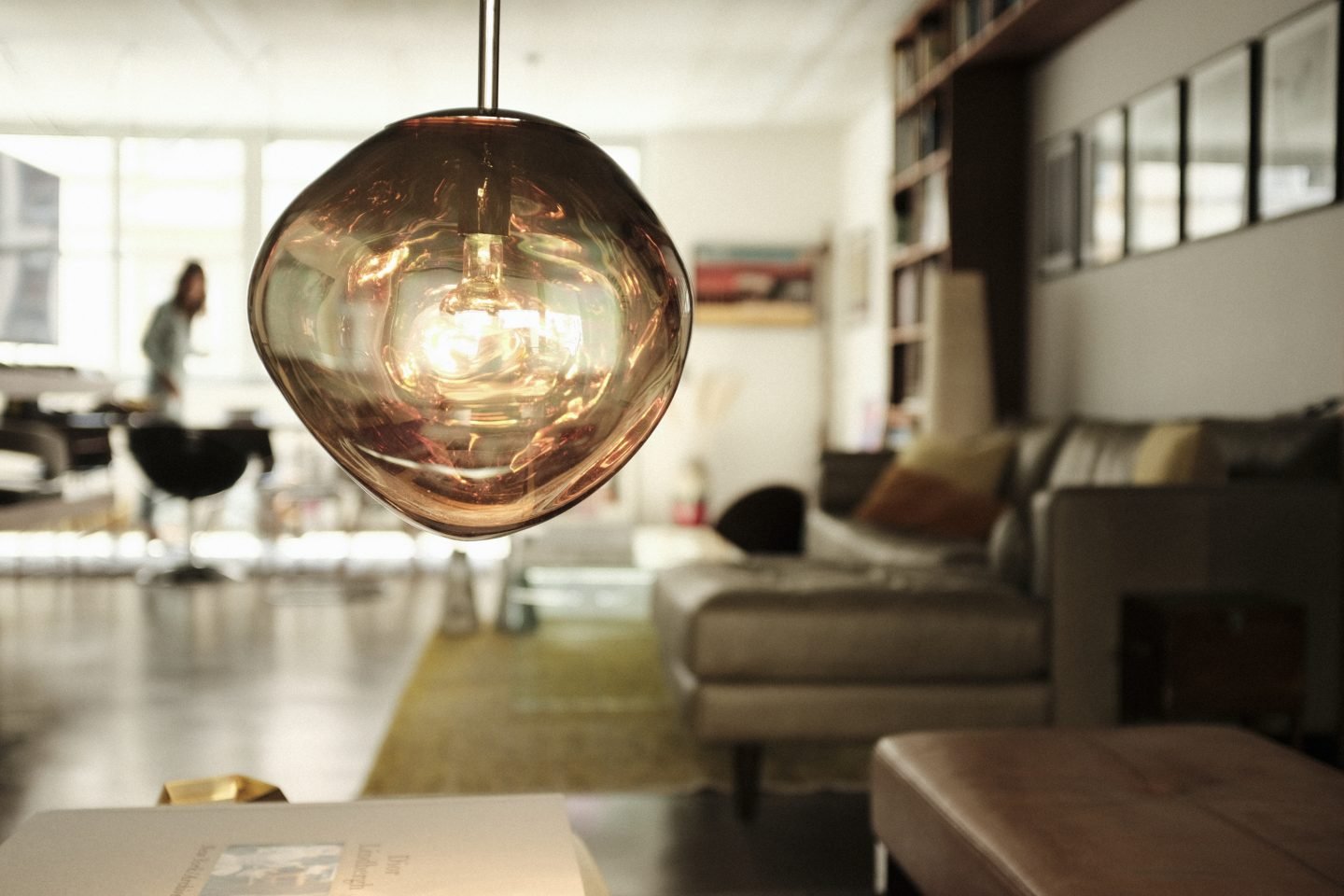 What does "dressing up" mean to you?
Putting on a chic suit or a dress with a sophisticated pair of loafers.
What do you wear when you're spending the day comfortably at home?
Karl Lagerfeld wouldn't be too happy about this, he famously cited that "sweatpants are a sign of defeat", but I must admit I love lounging about in sweats and one of my husband's t-shirts!
What does self-care look like for you?
Making sure that I get lots of quality time with my friends, and spending as much time as possible outdoors in nature with Bailey Rose the dachshund.
Have you introduced any new routines or rituals since staying home?
I am meditating 10 minutes a day and have reduced my daily time on social media to an hour a day – I can't recommend this enough.
What are you listening to?
I like to listen to such an eclectic mix of music – from Bowie, Drake, Kate Bush to Blood Orange and The Cure. I guess one could say I'm a big fan of music from the '60s and '70s but I also love R'n'B, Hip-Hop and a bit of Pop. My favourite thing to do is to discover new musical talents like Kean Farrar and Jimothy Lacoste.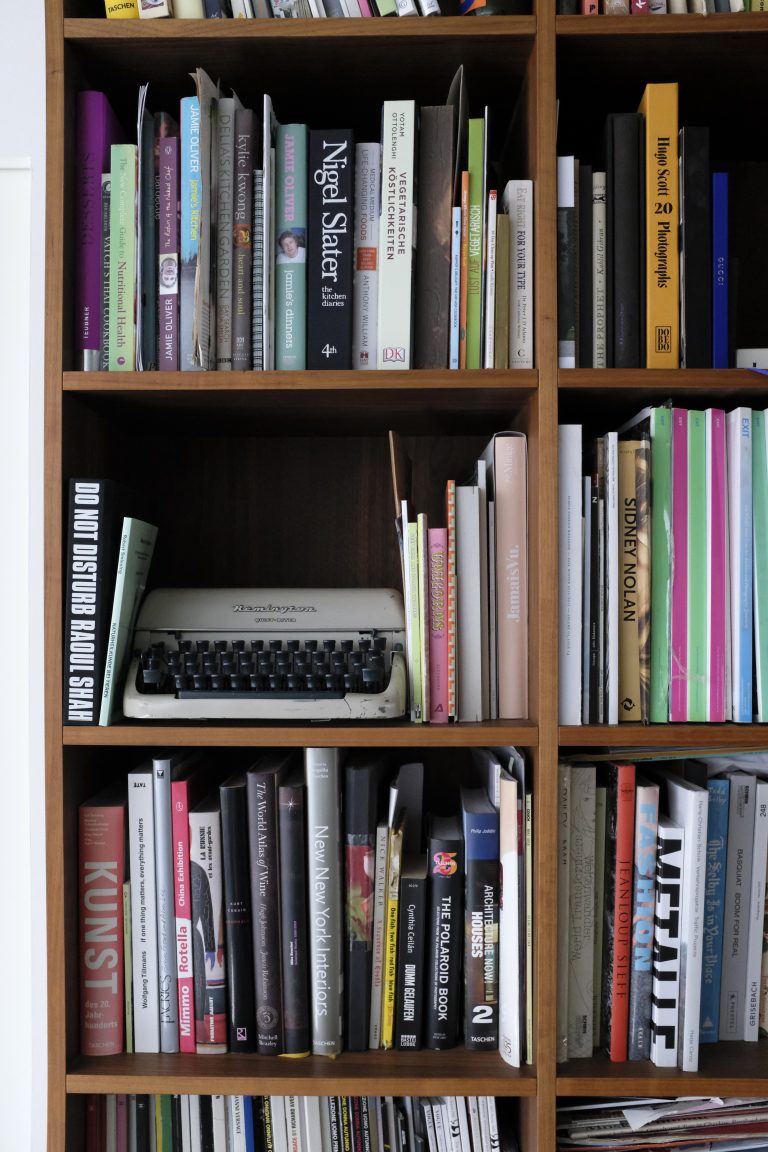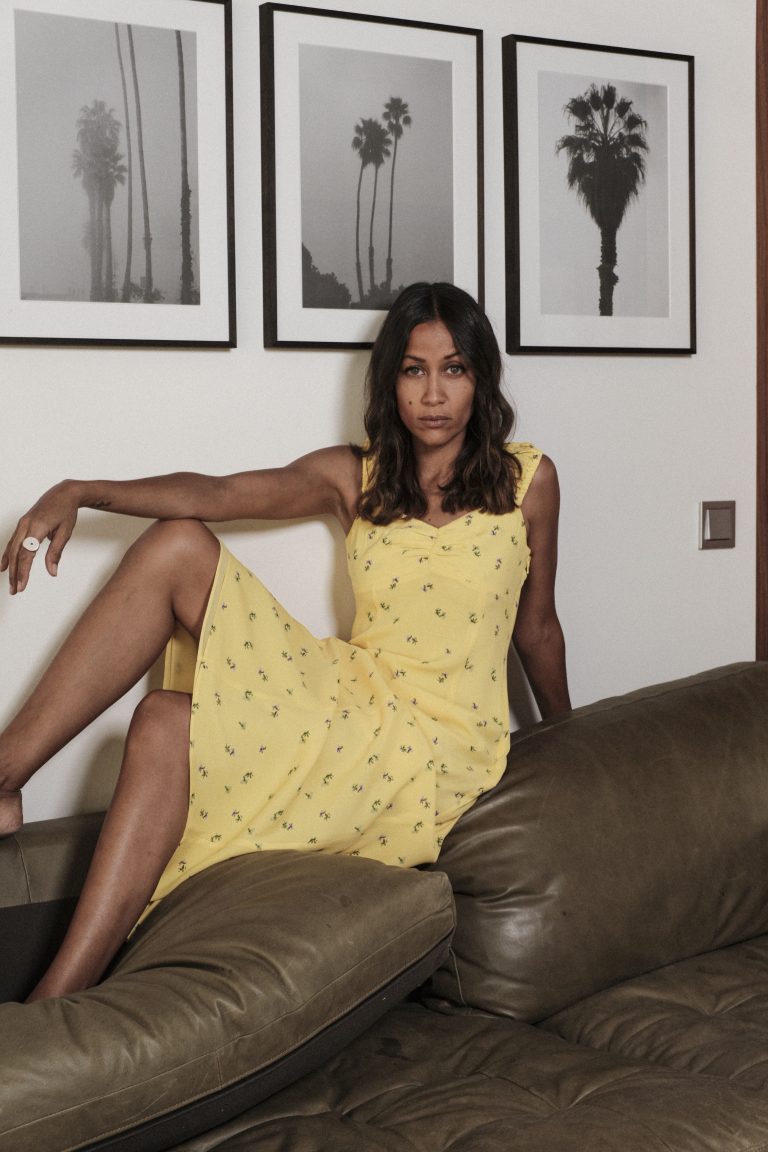 Which social media accounts brighten your day?
Ok, so there are a few…
For my daily fashion fix: @emlabowe, @luvalyssamiller, @kristingallegos, and @janebirkindaily.
For interior design, I check out: @rsrrealestate, @dream–casa, @gimmeshelter.la, @midcenturyhome, @somewhereiwouldliketolive and @fernandamarquesarquiteta.
General beautiful imagery and art come via: @marrakech_brooklyn, @c__l__o, @nowness, @maisonnue, @egealaura, @wrong__generation, and @martine.emdur.
What (or whom!) is inspiring you right now?
My mum is always my biggest inspiration.
Are there any principles or practices you live by?
Trust – Let go – Alles ist gut (Everything is fine). I even have those words tattooed on my arms as a little reminder.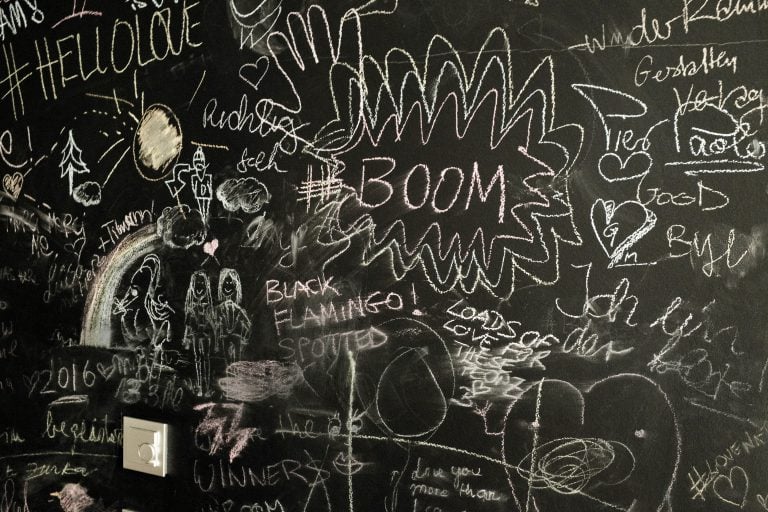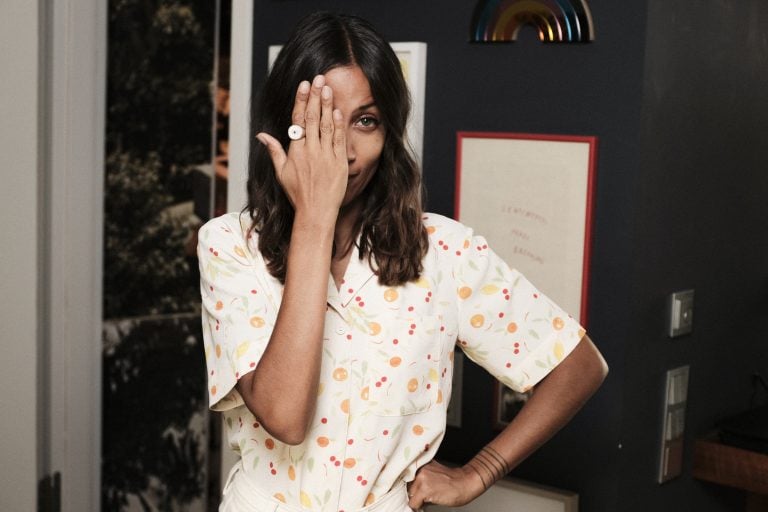 How would you describe your interiors style?
It's a playful blend of vintage and contemporary design, kind of Mad Men-esque and Frank Lloyd Wright with a contemporary spin. Our apartment has concrete finishes for the ceiling and the floor which are offset with dark wooden features. We added warmth through our choice of carpets, a mix of vintage and new furniture and a lot of artwork.
What's on your bookshelf right now?
Honestly, I've got such a big book collection that I don't know where to start! In terms of novels I'm currently reading In the Name of Gucci by Patricia Gucci, a gripping family drama about the Gucci family. Since I tend to read a couple of books at the same time, I'm also browsing through Letters to a Young Poet by Rainer Maria Rilke, which I got for my birthday not long ago. For inspiration, I tend to look at my coffee table books like The Wardrobe of Cecil Beaton, David Bowie is Inside or Italiana – Italy through the Lens of Fashion 1971-2001.
Your favourite meal to cook is…
A summer salad. Mix watercress, rocket, halloumi, chopped pear, dates, peppers and honey-coated seeds and as a dressing add apple cider, lemon juice, honey and sweet mustard to your olive oil and vinegar – done and done! For colder nights, I gravitate towards hearty meals like fried shitake mushroom pasta with garlic and parsley.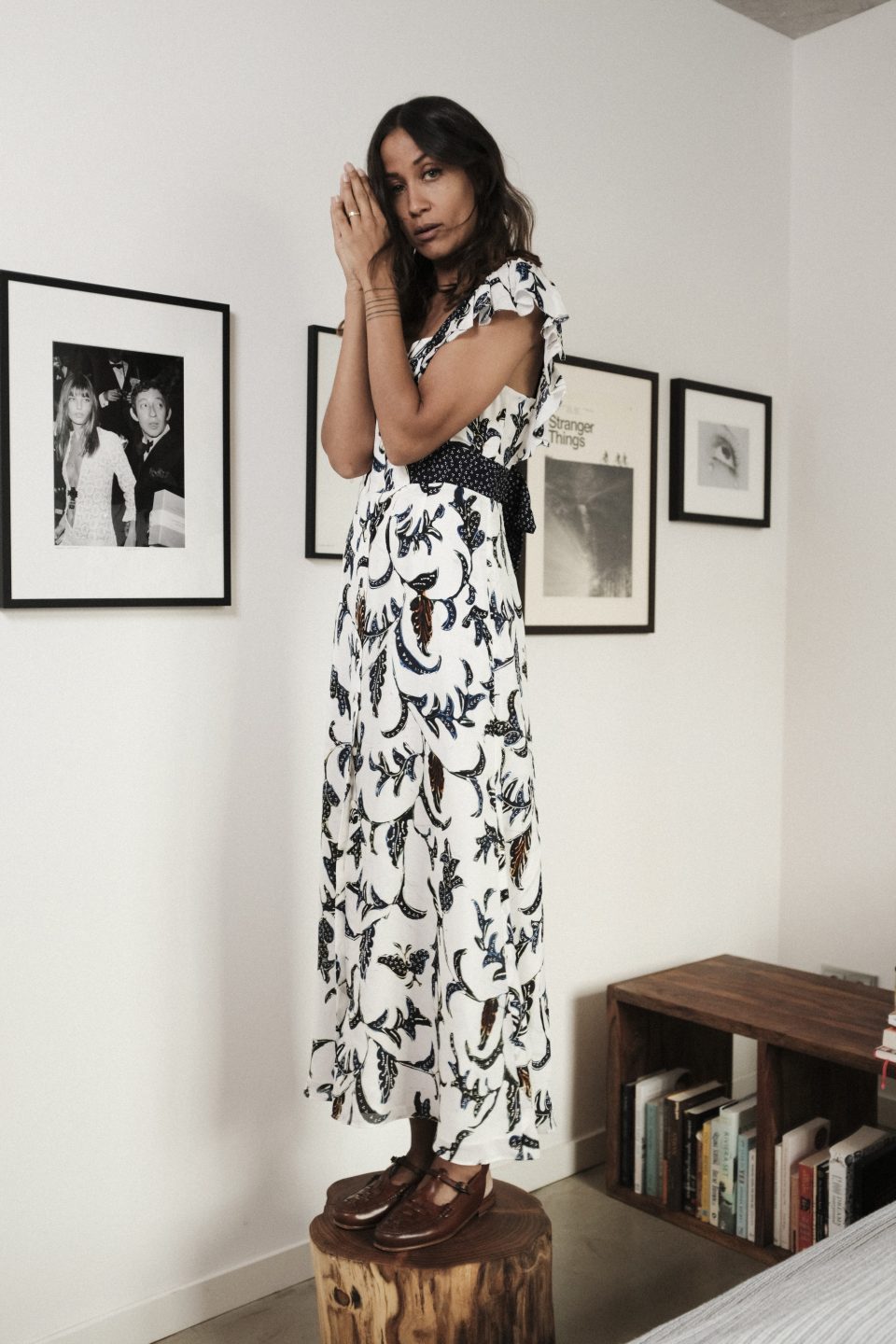 How do you like to spend your evenings?
I'm a total Netflix/Amazon Prime/Apple TV (you name it) addict. I'm binging on shows like Euphoria, Good Girls, Big Little Lies, Stranger Things, #blackAF, and The Morning Show.
What's on your bedside table?
My gratitude journal, the book I'm currently reading and CBD Oil to help me fall asleep.
If you could take an Uber anywhere in the world, where would it be?
Right, this minute? To the Maldives or somewhere by the ocean.
And lastly, what's next for Rabea?
Who knows! I know right now you'll find me enjoying the hot weather with Bailey Rose and a chocolate sorbet in hand.