Behind The Scenes With Our Favourite Storyteller, Liv Little
Ever since we started working with Liv Little, we've admired her ability to take a story and relay it in different ways, across multiple platforms, defying the status quo. With a portfolio that ranges from journalism and podcasts to script-writing and fiction, the founder of gal-dem is constantly inspiring us. We took another chance to catch up with her at our Signatures shoot about literature, style evolution and how sometimes, the most influential people to look to can be those closest to us.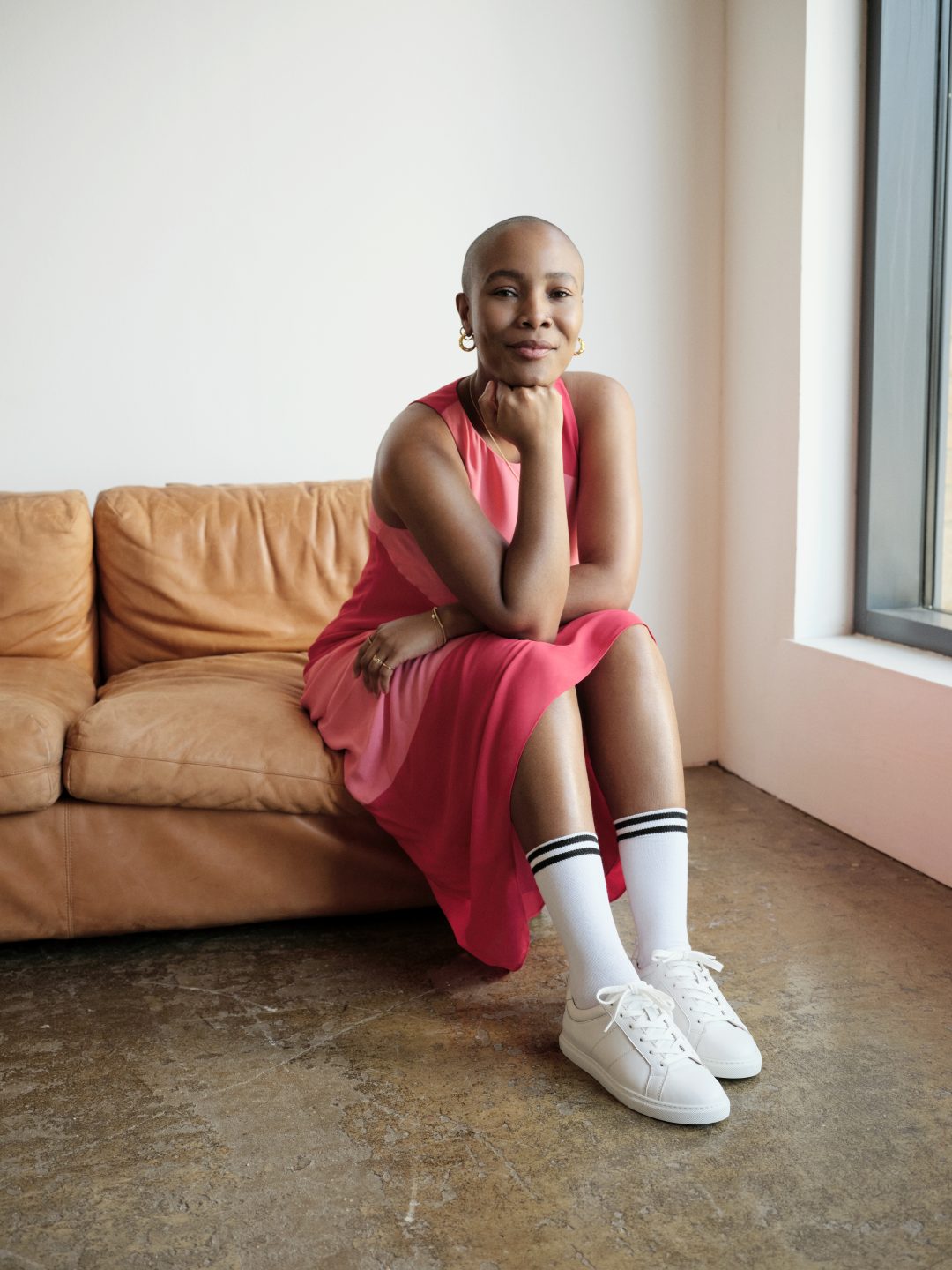 What first drew you to storytelling?
Good question. I don't think I've been asked that in a long time. Growing up the subjects I was always drawn to tended to be English, Philosophy and Politics, which are in some way all about storytelling. Initially I wanted to study law to better understand perspectives of those who are less heard. I quickly realised I wanted to explore perspectives in a less academic framework and started to look at other forms of storytelling – journalism and documentaries – mediums that present a story in a more accessible way that reaches more people.
From there I went and I did a trainee scheme with Channel 4 – my first foray into the industry. Everything has evolved from there. I've done training in video, audio and other mediums, as well as exploring the fiction space and scriptwriting. For me, there's no one way to tell a story.
Do you have a favourite way of working at the moment?
At the moment it's all fiction-based projects and I'm doing some script writing for the BBC. It's so exciting, you can build whole new worlds – I leave every meeting full of energy.
The most important book you read last year?
Raceless by Georgina Lawton, which is about growing up and discovering your identity. It's really emotional, honest and just beautifully written. I'm also reading Stay With Me by Ayobami Adebayo too and revisiting the Bernadine Evaristo archives, which I'd really recommend.
This is probably a hard question for someone who has read so much but is there a book that has stayed with you?
There is actually and it's called Here Comes the Sun by Nicole Dennis-Benn, which I read a few years ago. She's an incredible writer and I love that it explores three intergenerational perspectives. She's also writing as a as a queer, Black Jamaican woman and as someone who embodies this myself, it was the first time I had read a book where I felt I could really relate to the author.
Have you read it more than once?
Not the whole thing but I've revisited certain parts. There are other books I've read multiple times, but this is still the book that really stays with me.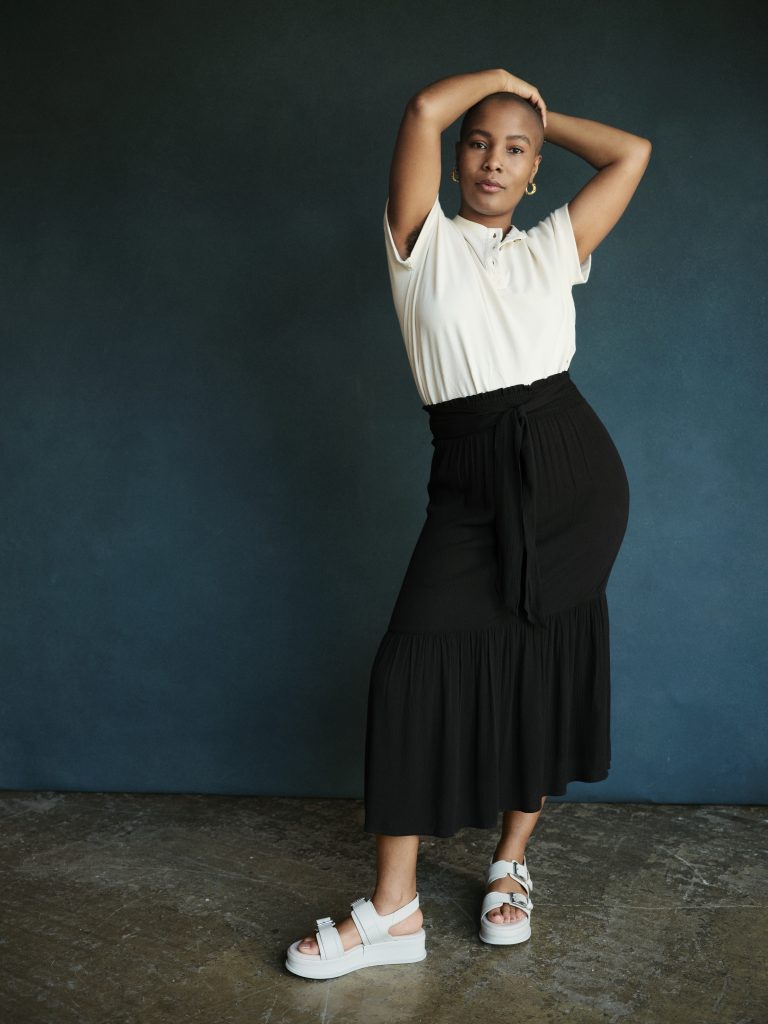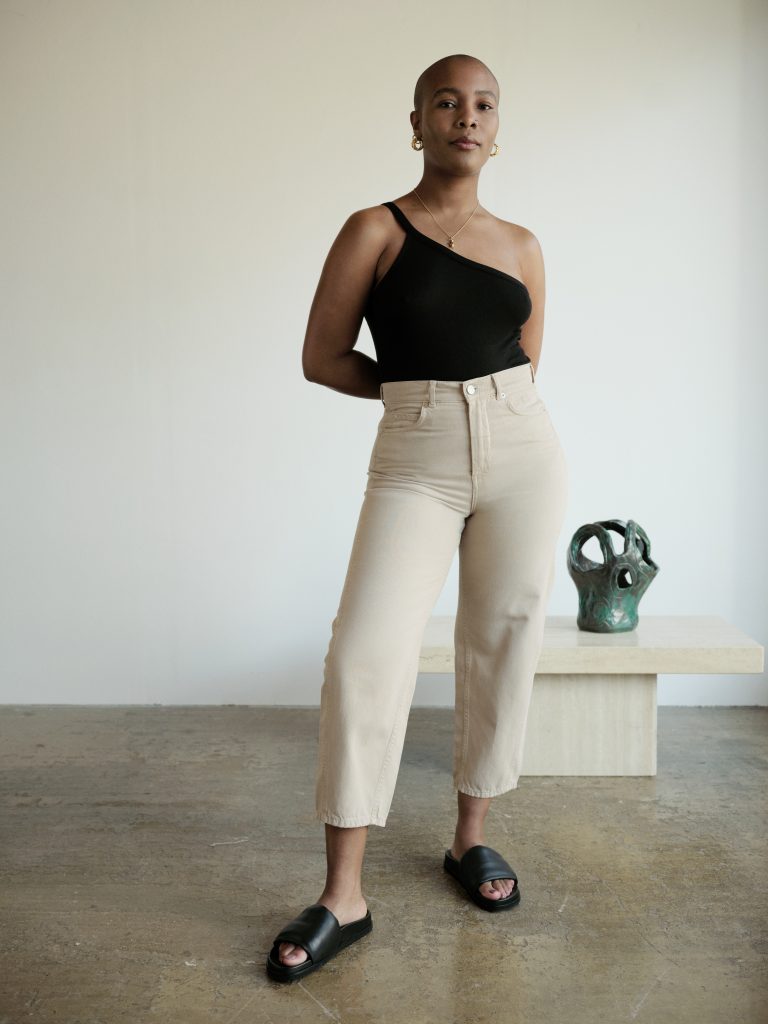 How do you stay inspired when it comes to writing?
One of the best things about doing script writing right now is that it's a good excuse to watch lots of TV – I've been watching different types of shows in different tones. Otherwise, it's all about reading as a source of inspiration for me.
Where is your favourite place to write?
If I could, I would write in nature all the time or in a cottage in the countryside. I find London quite stifling. I'm actually moving to Margate though, which I think will be a good setting for writing.
"I have a WhatsApp group with two friends where we discuss fiction; we're all figuring out what our voices look like in various contexts. They're great to have around."
Which signature item in your wardrobe brings you the most joy?
I love a bright colour. I have an orange puffer jacket which makes me feel like sunshine. It makes people smile, which I love. I'm excited for spring-summer so I can bring more colour to my wardrobe again.
Has your style changed over time, if so how?
Definitely. I prefer to invest in pieces I love now that will last a long time. I like the feeling when I wear something I know could last 10-20 years – that tends to be coats for me. I think I've got more girly with time too.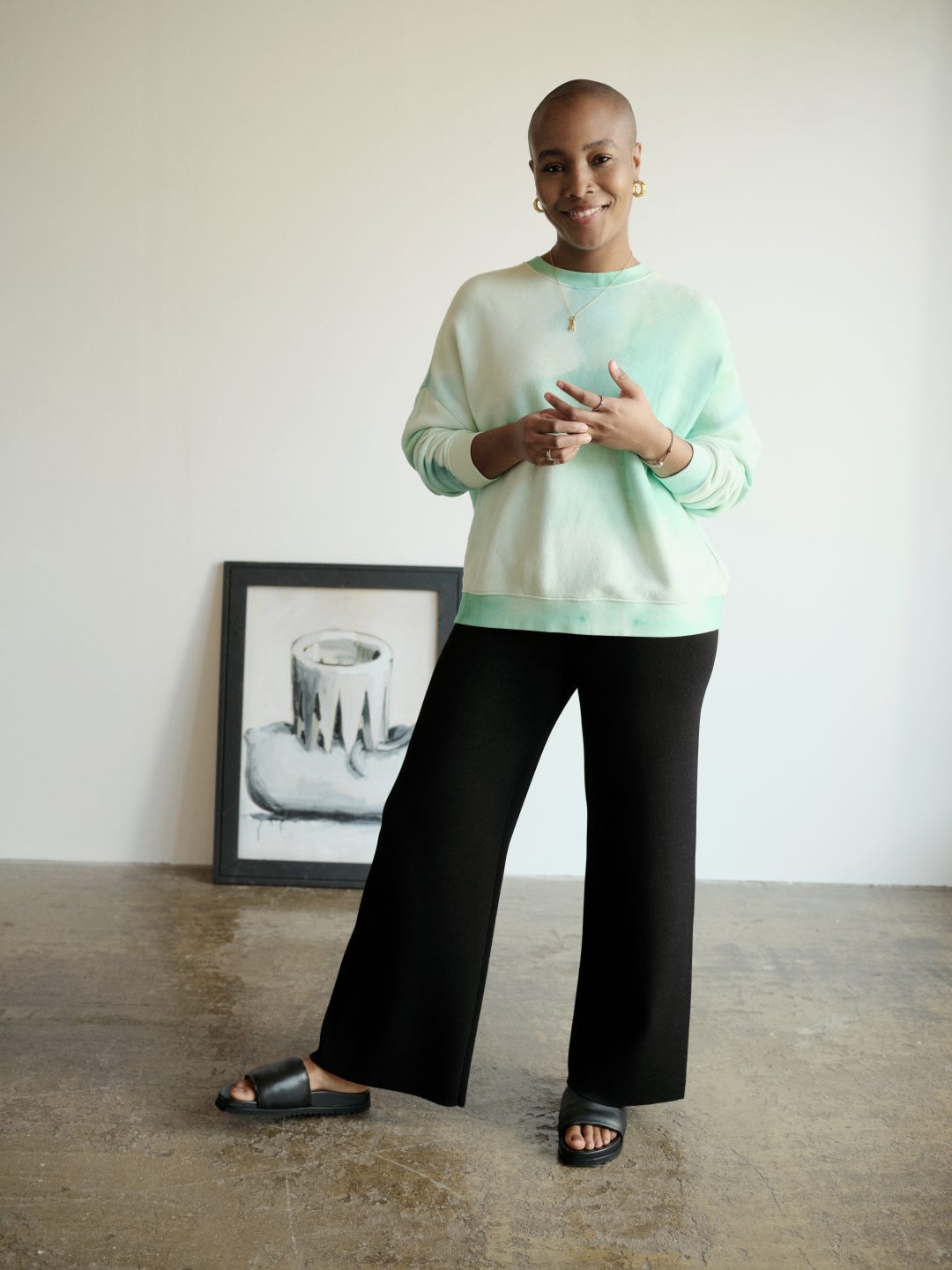 What have you been listening to lately?
I've loved driving in my car with the windows down and listening to the radio lately, which I never used to do. It's been refreshing.
Favourite spots in London you can't wait to revisit?
Me and eating out is a love affair. Laxeiro is an amazing family-run tapas restaurant near Columbia Road that I can't wait to go back to. I hope we make the move to Margate soon too, as the food scene is so good there.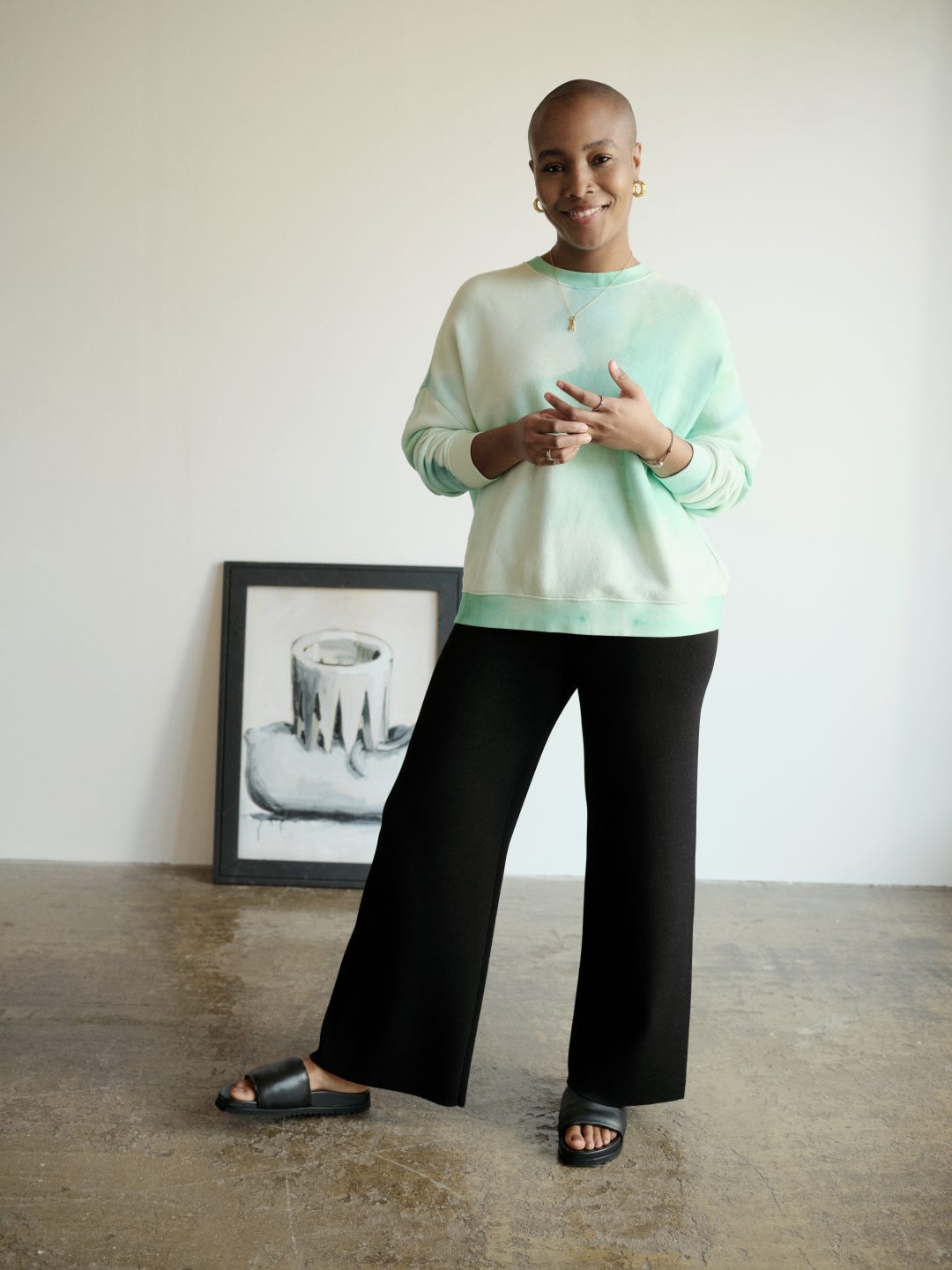 Who do you look up to?
There are so many. I can even just look to my peers, who are amazing. Some of my closest friends are incredible writers, authors and film-makers – they're so inspiring. I have a whatsapp group with two friends where we discuss fiction; we're all figuring out what our voices look like in various contexts. They're great to have around.
What (if any) advice would you give to your younger self?
There's probably so much… yet I also feel I wouldn't do anything differently, because it's all been important in terms of experience; whether it's been comfortable or uncomfortable. I'd say, be confident in your voice and prioritise your happiness in all your decisions. Life throws things at you. I've experienced loss and grief and it makes you reflect on what you want in your life. Put yourself first and don't be afraid to do so.
What advice would you give young creatives looking to break into the media industry?
Be persistent and try lots of different things – keep speaking to people in different spaces and send out your applications. Being proactive has always served me well. If you've got the ideas and enthusiasm, you'll be fine. And if you're genuinely in love with what you're doing, it'll always serve you well.
MORE FROM WHISTLES SIGNATURES