Whistles Book Club: Join Today
In celebration of World Book Day, we're offering a selection of live readings for both parents and children to enjoy from a range of bestselling books – all tailored to different age groups. Tune into Instagram each day at 4pm for enchanting titles to escape with and modern illustration stories.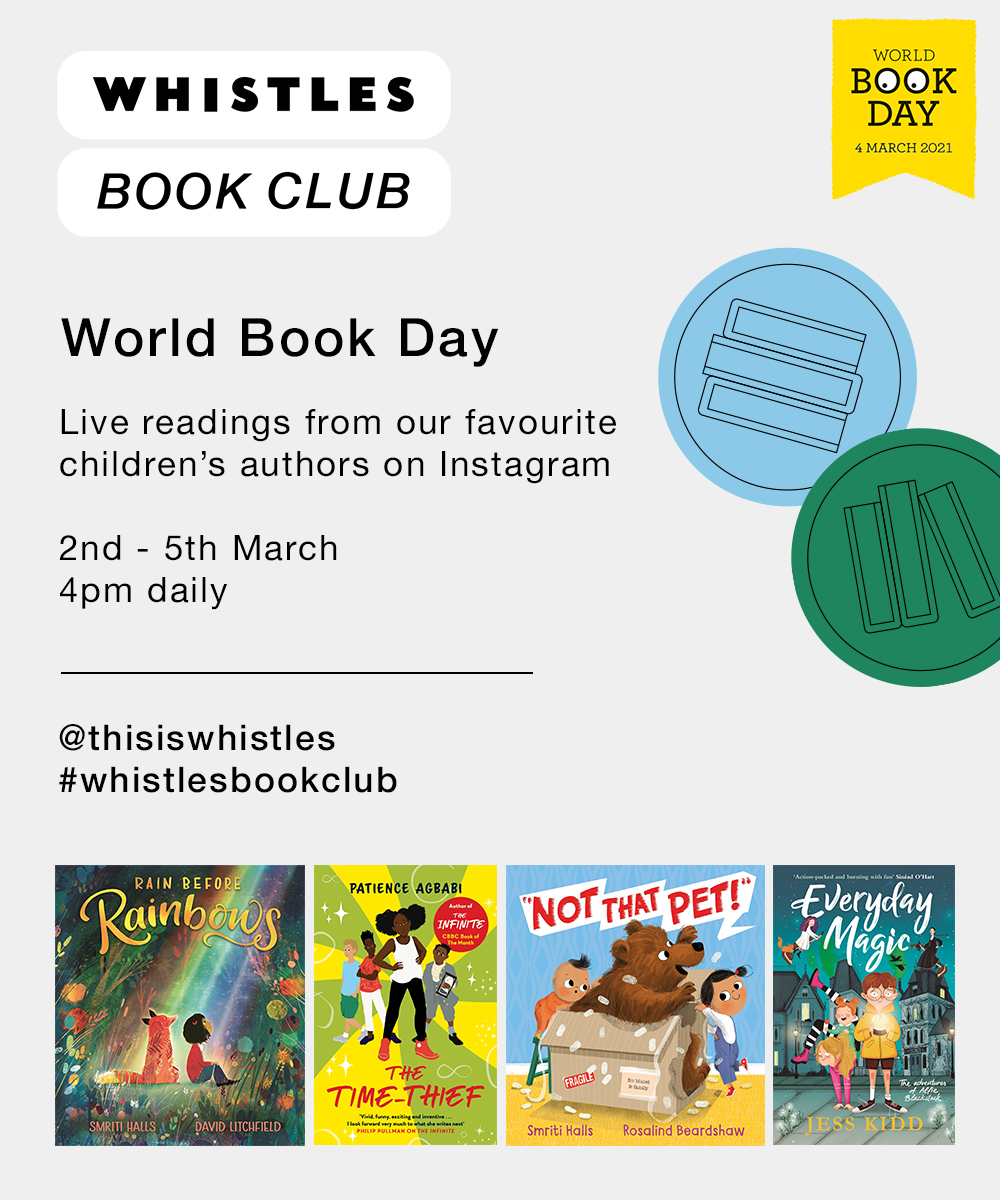 Our World Book Day live event schedule
Tuesday 2nd March, 4pm
(For ages 9+)
Spoken word poet Patience Agbabi and author of The Infinite reads from her latest book The Time-Thief: a story about very rare children, known as 'leaplings,' following the lead character Elle Bíbi-Imbelé Ifíè's race against time.
Wednesday 3rd March, 4pm
(For ages 3+)
Join us for a reading from Smriti Halls (with illustrations by David Litchfield) from her 2021 book Rain Before Rainbows – an uplifting book about finding optimism in the darkest of places.
Thursday 4th March, 4pm
(For ages 3+)
Smriti Halls returns to read from Not That Pet, a laugh-out-loud rhyming story about finding the perfect pet – with numerous hilarious plot twists along the way.
Friday 5th March, 4pm
(For ages 9+)
Children's author Jess Kidd reads from Everyday Magic. Magical, mischievous and mysterious, Everyday Magic is an enchanting story reminiscent of The Witches, Nevermoor, and Lemony Snicket all mixed together.
World Book Day changes lives through a love of books and shared reading. Their mission is to promote reading for pleasure, offering every child and young person the opportunity to have a book of their own.
Sign up to our virtual book club today to receive updates about all future literary events, exclusive book content, reviews and interviews with your favourite authors...